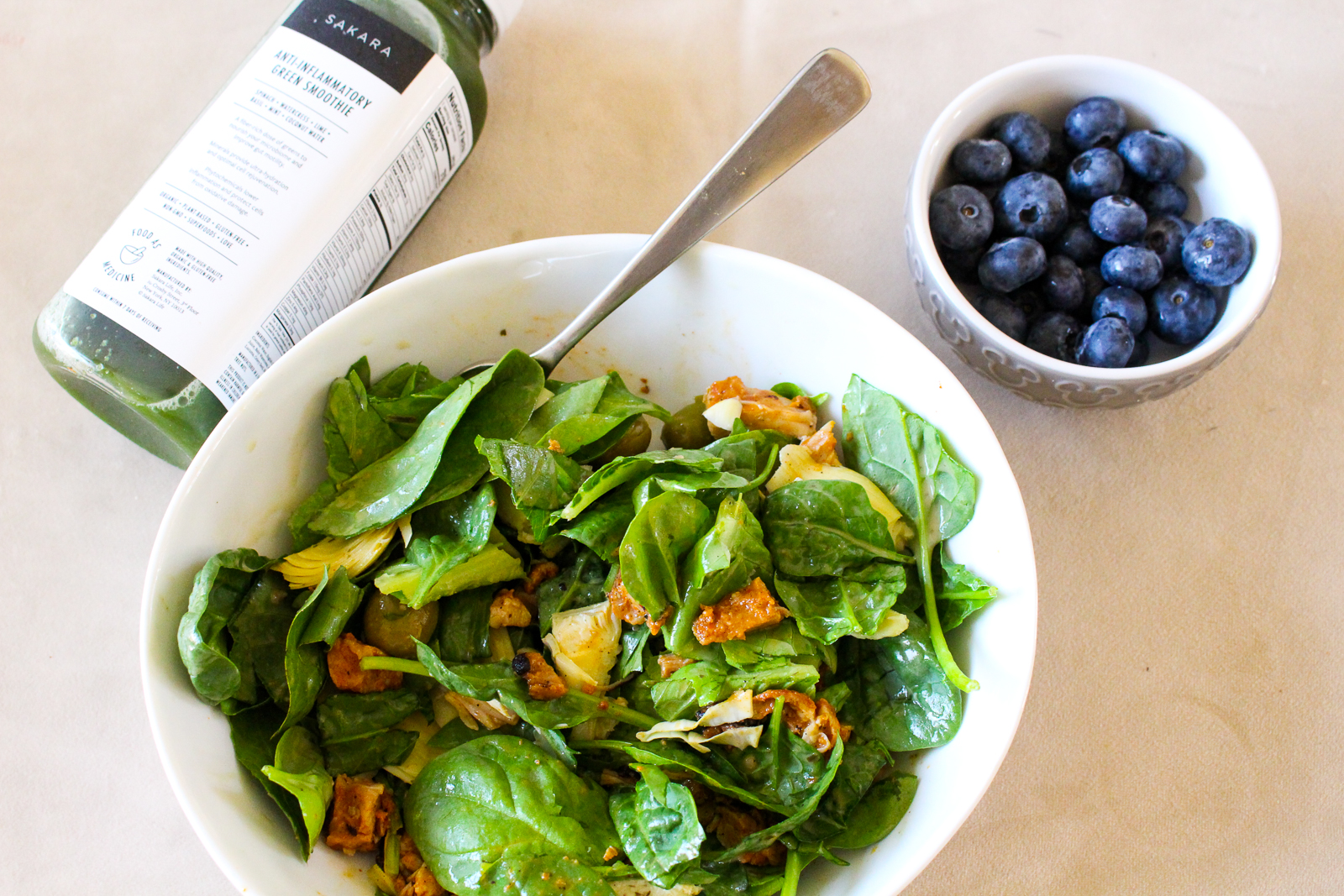 Sharing a whole day of eats from start to finish. 
Hey hey! Happy humpday! What's going on this morning? I have 1:1 calls all morning and getting a podcast episode edited and ready to go. I hope you have a lovely day ahead.
For today's post, I thought I'd share a WIAW (What I Ate Wednesday) since it's been a while. I always love getting healthy meal inspiration from friends, so I like to share these posts for an idea of what a typical day of eats looks like. I can understand why these types of posts may not be helpful for everyone (sharing my thoughts on that here!) but I tried some a couple of new recipes and am excited to share them with ya.
Here's what a full day of recent eats looked like from start to finish! (I took these pics a couple of weeks ago but am just sharing them now! The kids weren't at camp this particular week, so I was juggling work stuff in between making sure they were happy, fed, and entertained. The Pilot was also out of town for work so I was doing the solo parenting thing. I also let them watch some extra TV while I got things done, let's be real.)
8:20am
I slept in until 8 (summer, I love youuuuuuuuuuuu) and then started my day with a large glass of water with Sakara Beauty drops (minerals that are completely tasteless. I like adding these to my water since I filter it with the Berkey, and my stress level is a bit higher lately, which can deplete minerals)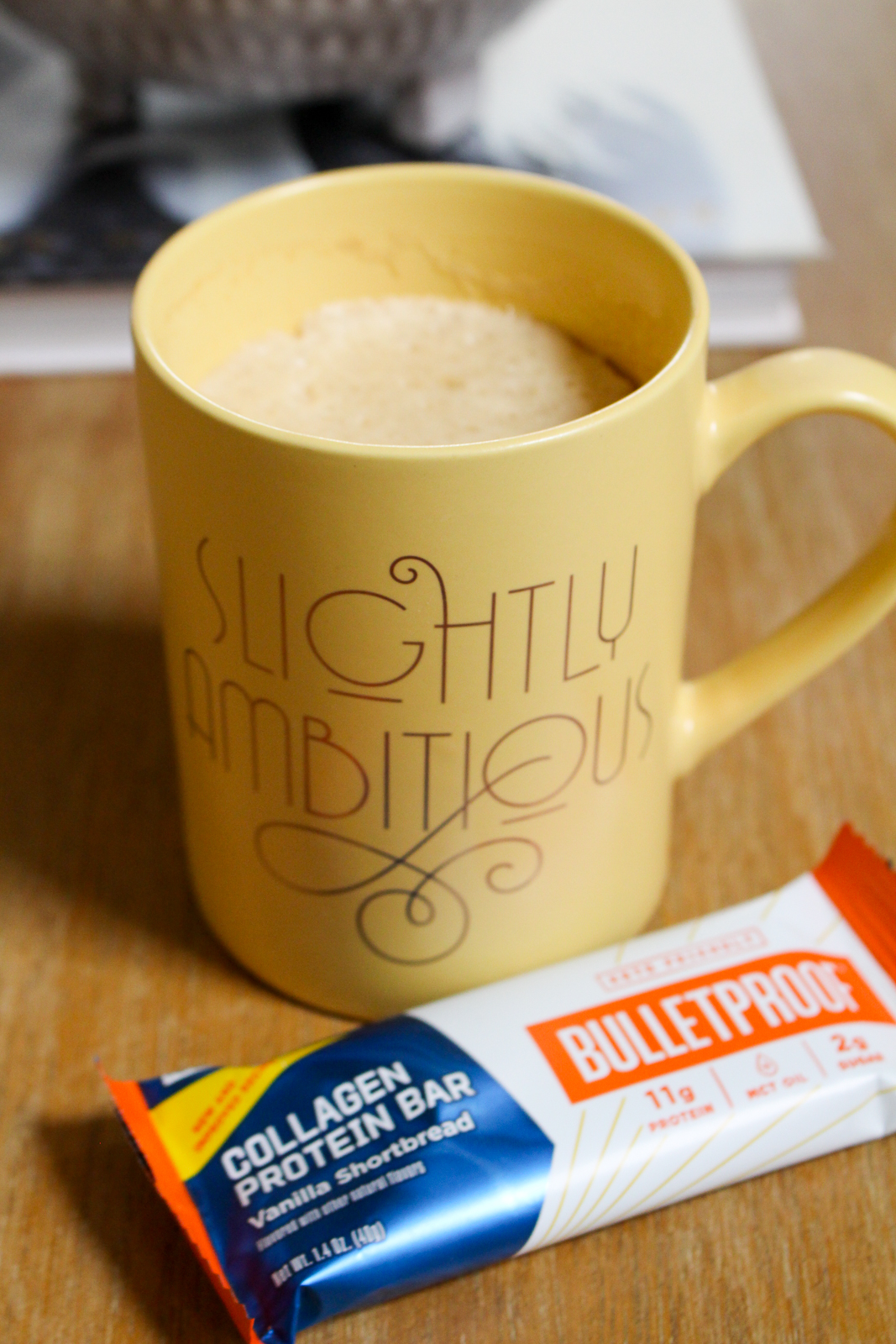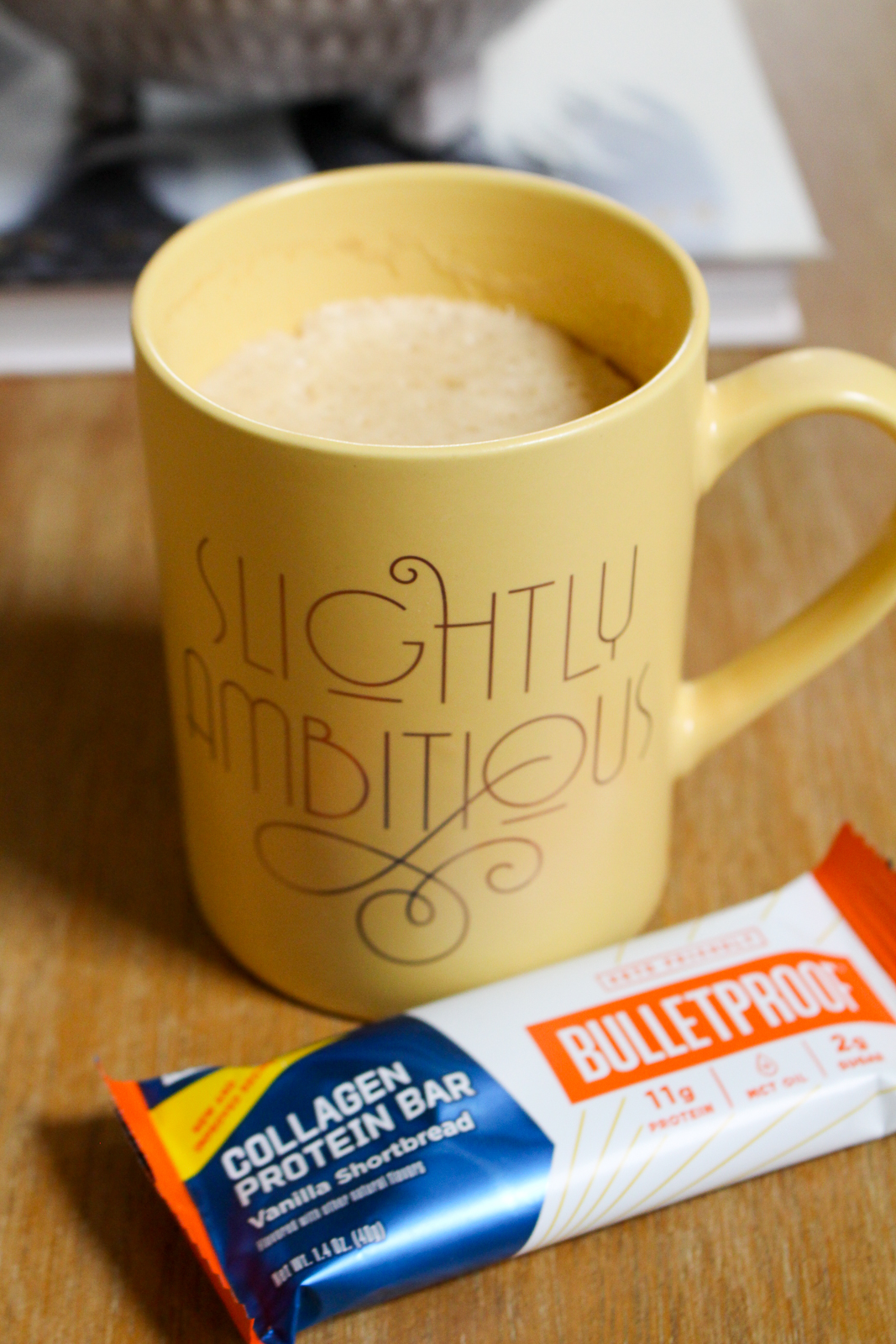 Since it was a busy morning work-wise, I had a Bulletproof bar and a cup of coffee (decaf with raw milk, Stevia, and collagen), probiotics/digestive enzymes from Sakara and made the kids a quick breakfast. I sat at the kitchen table with my computer and helped the kids while they worked on their summer packets.
10:15am
Watered the plants and had the rest of my breakfast: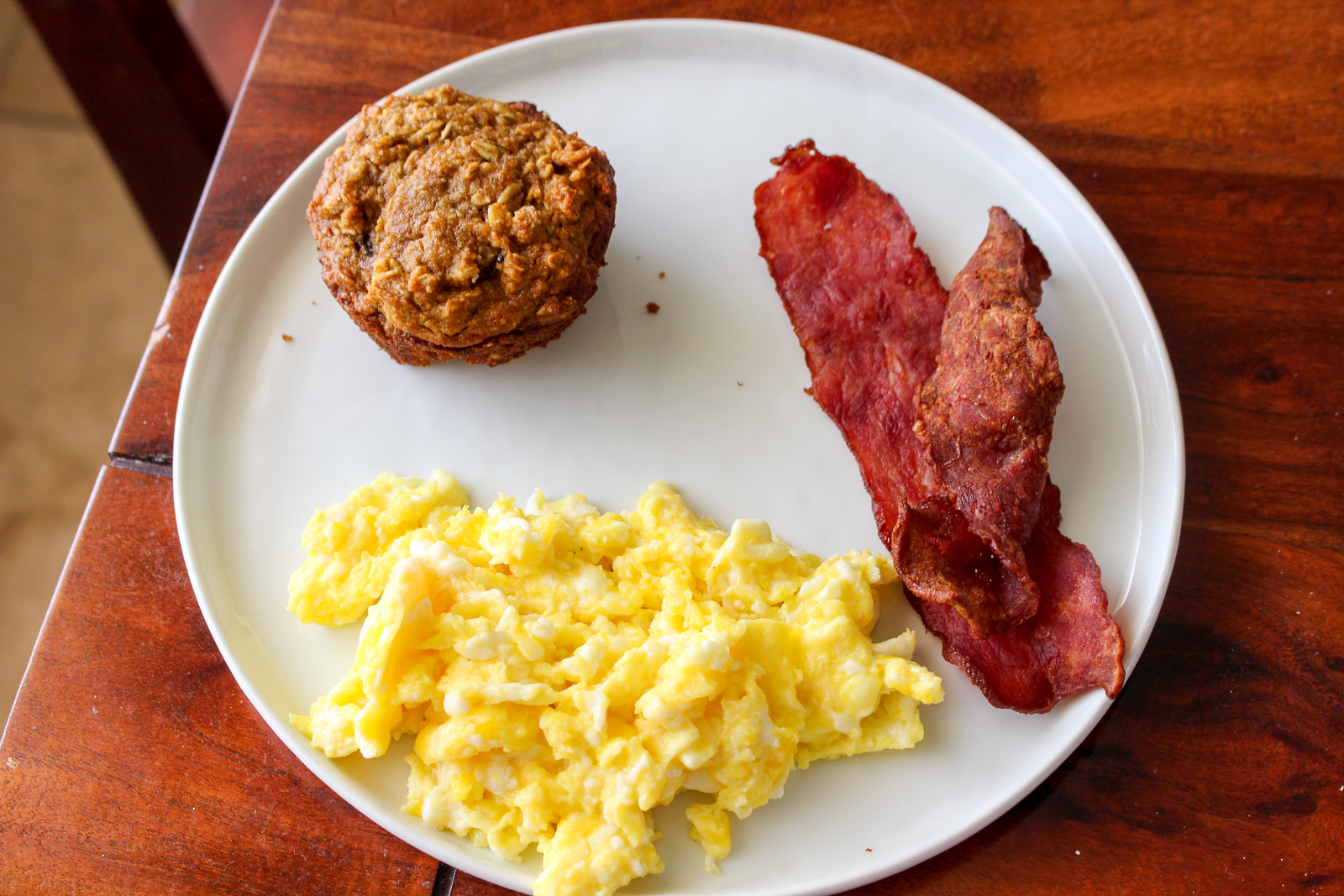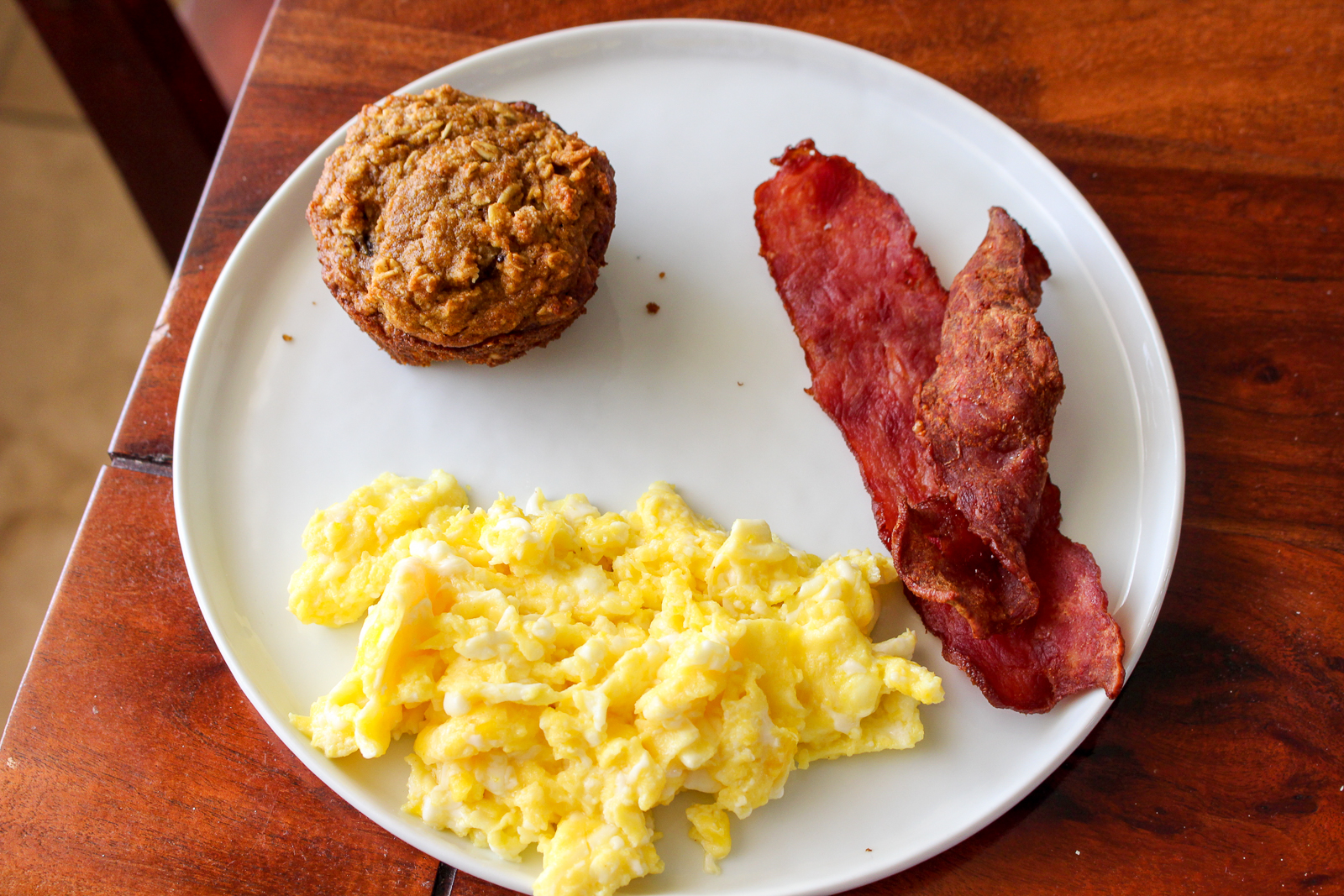 2 scrambled eggs, 2 slices of turkey bacon, and a reheated Super Hero muffin from this cookbook. These muffins are SO good and the kids loved helping me make them. Whenever we make breakfast staples, I try to make a double batch and freeze them for quick options.
I sat by the pool writing while the kids swam, hopped in for a bit to cool off and play, and took two 1:1 coaching calls upstairs while the kids dried off and ate their lunch.
1:30 pm: Lunch
Chopped chicken salad with green olives, artichokes, spinach, Primal Kitchen Goddess dressing, a bowl of blueberries, and a Sakara green smoothie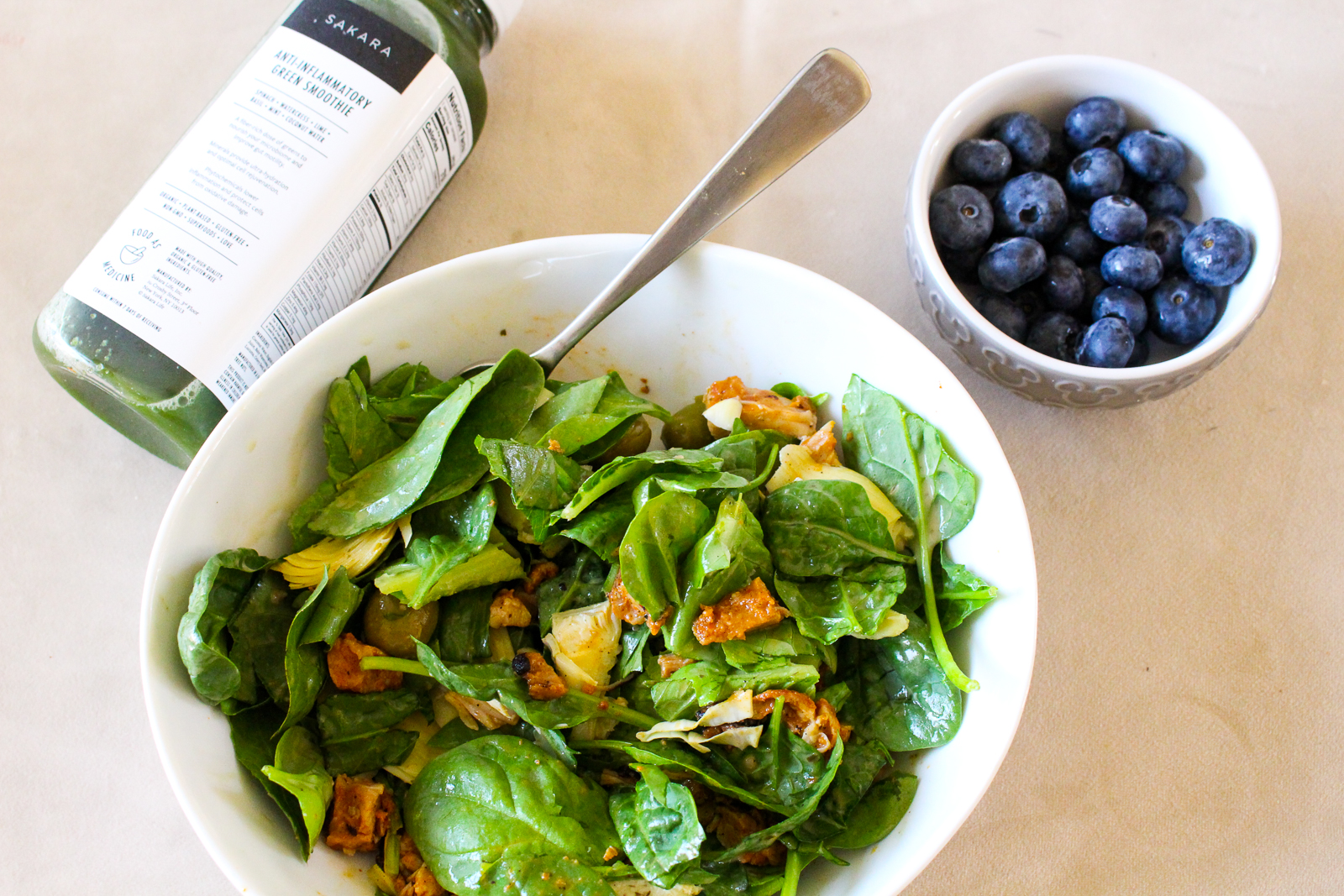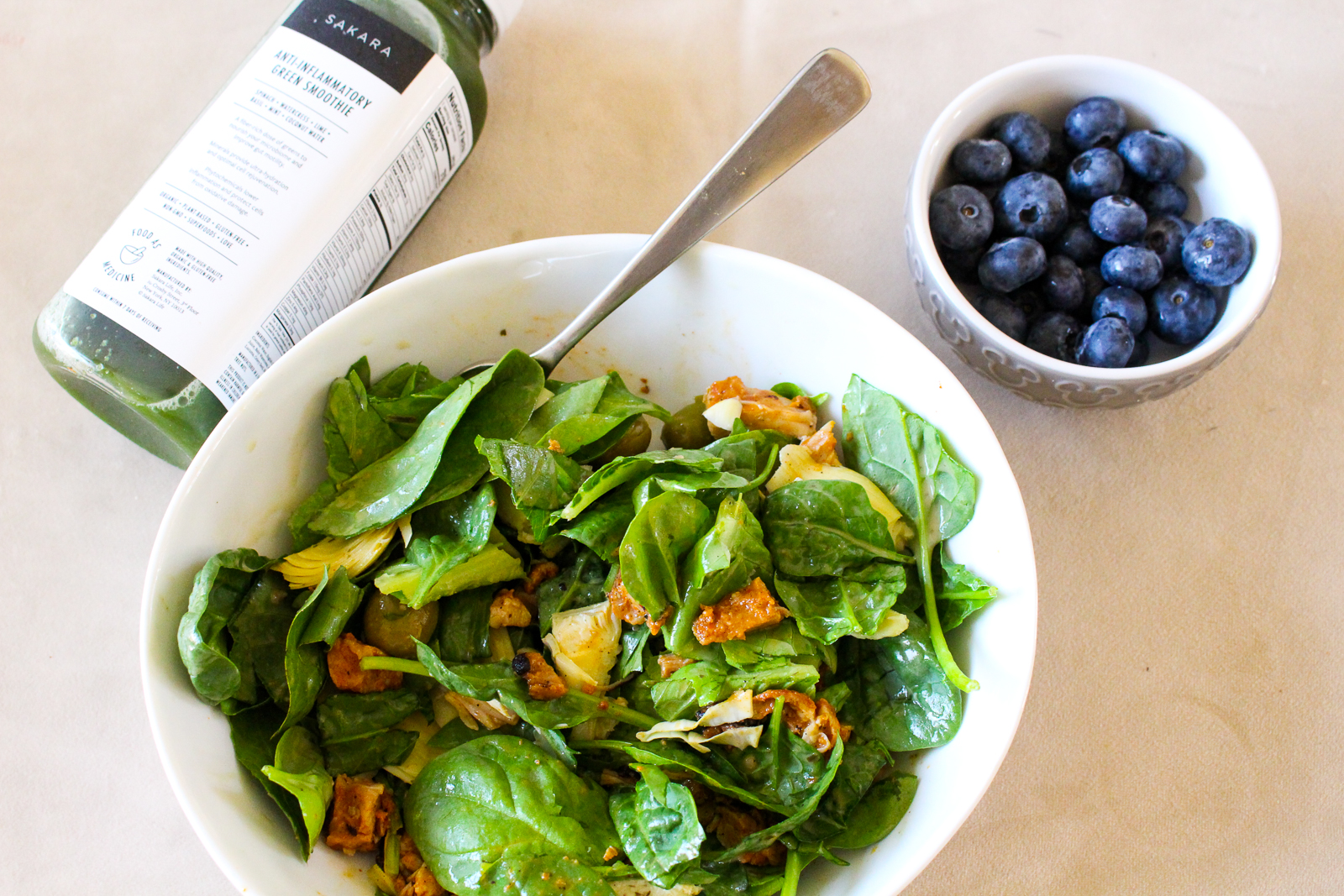 (My fave veggie hack = the Poshi packs from Thrive Market. They're perfect for adding to salads, scrambles, and wraps.)
+ a mug of green tea while I finished loose ends and logged out for the day.
I got dinner into the Instant Pot, and the kids and I spent the rest of the afternoon at the trampoline park (with a stop at DQ for cones for the girls on the way home).
5:30pm: Dinner
This is one of our go-to soup combos whenever someone is feeling under the weather, or when a soup craving hits. Even when it's 100+ degrees here, soup always sounds good to me. We each had it with a hunk of sourdough bread and the kids loved it, too!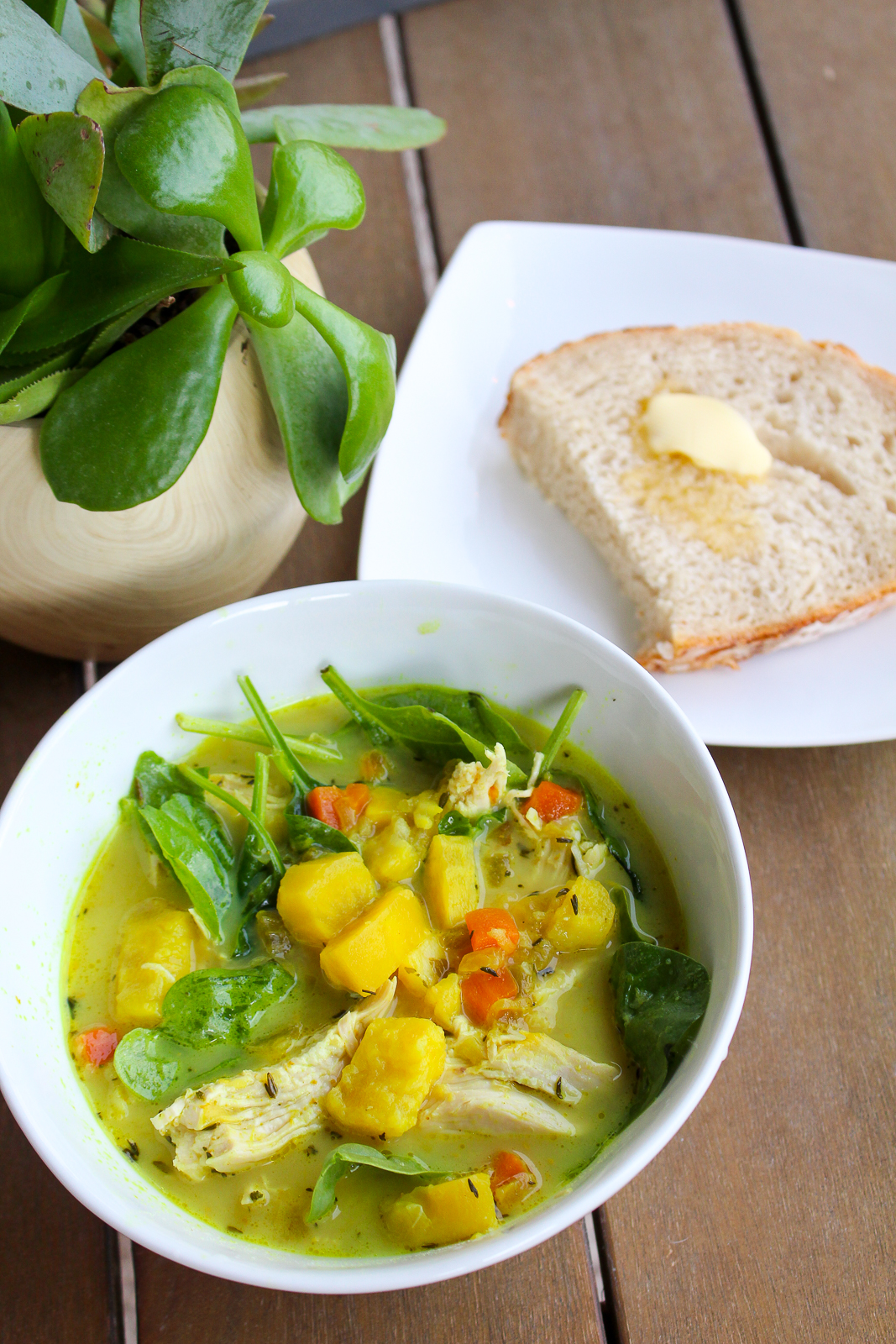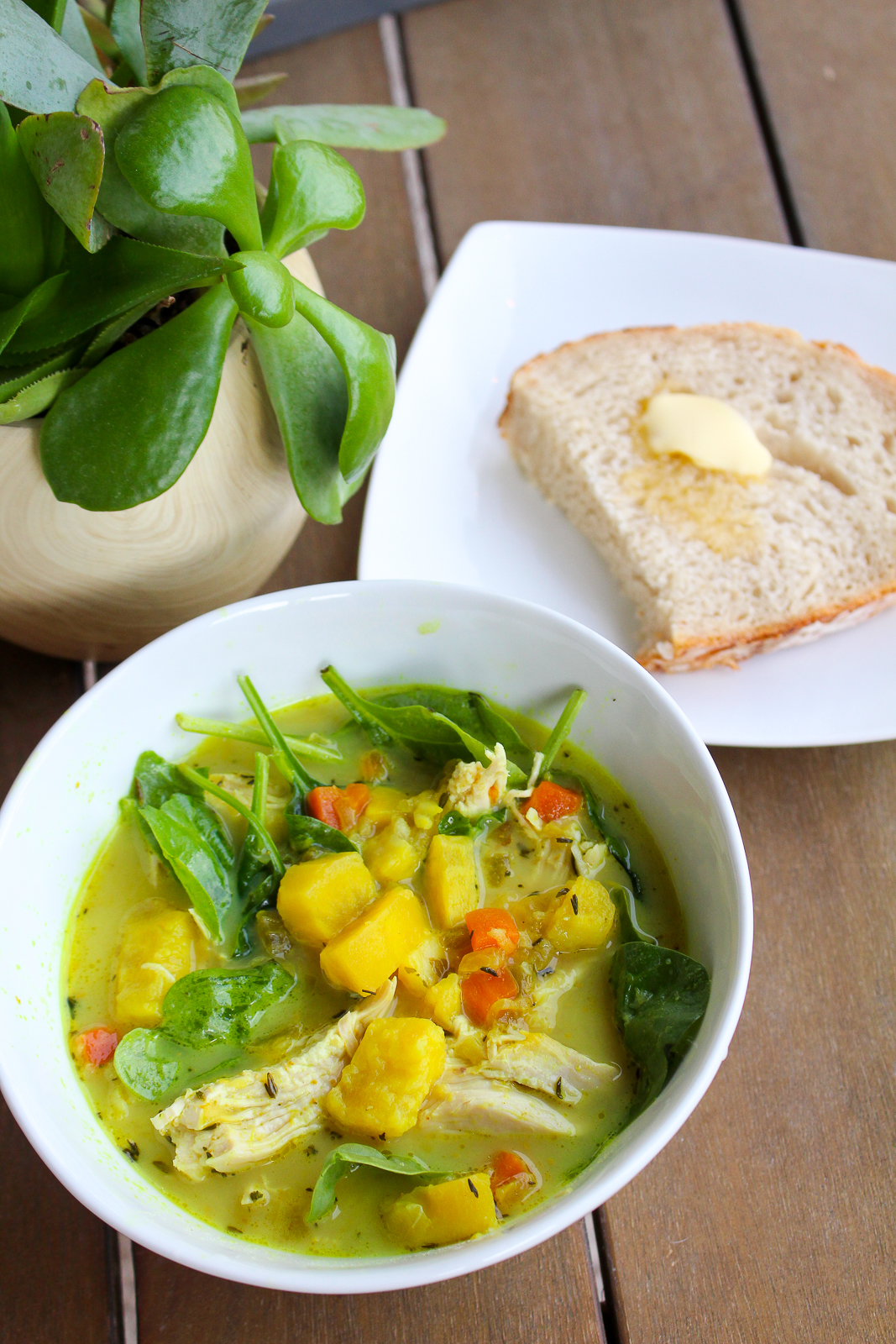 After dinner, we took Maisey for a short walk around the neighborhood. Caro chose to remain snoozing on the couch.
8:30pm baked apples for all. The kids and I wanted a little sweet bite after dinner, and we all love this evening snack. You just chop an apple, microwave it in a bowl with cinnamon for about 2 minutes, and top with peanut butter and/or chocolate chips. (In this case, it was chocolate peanut butter. SO good.) I also had a mug of warm almond milk with Organifi chocolate gold.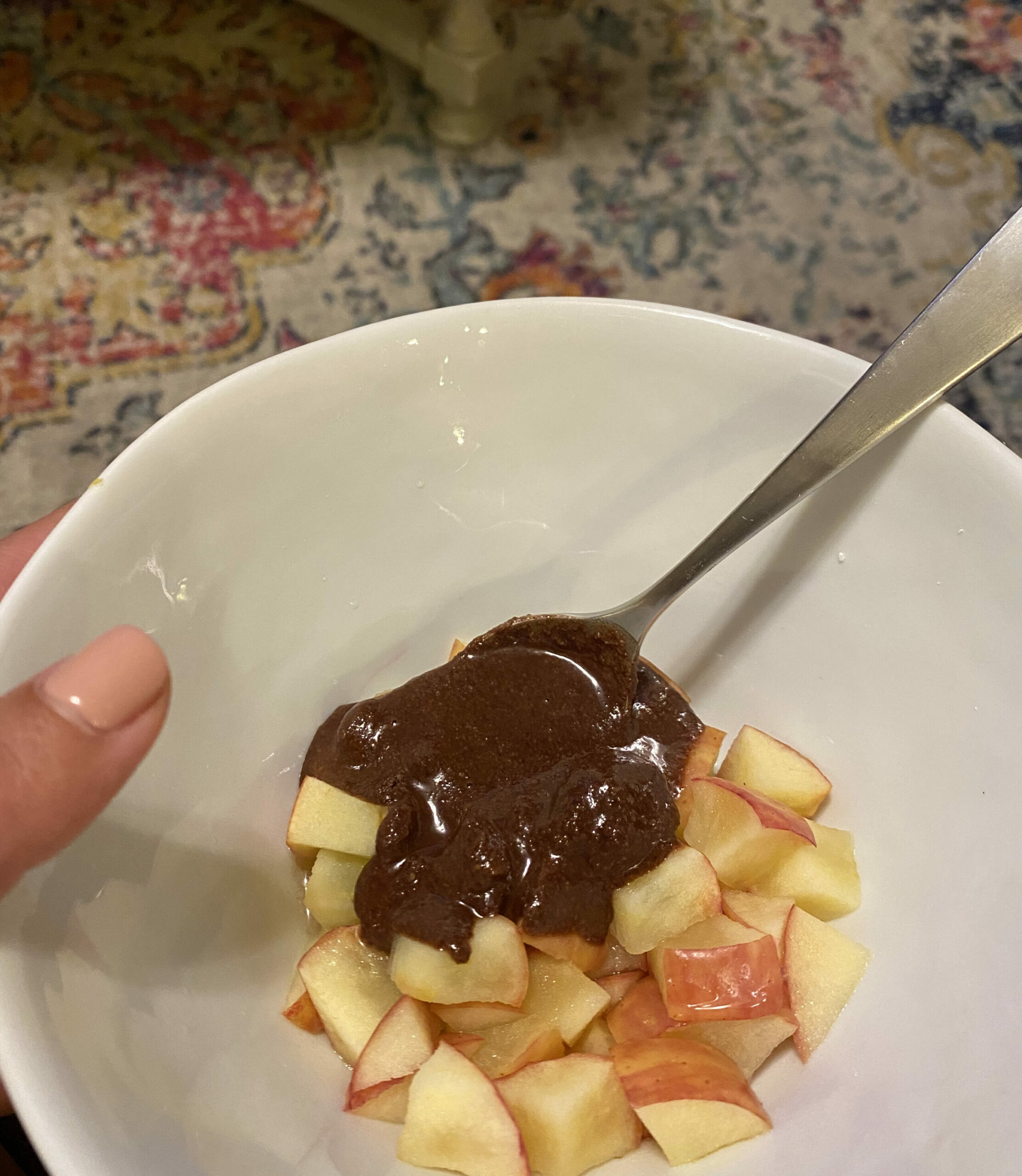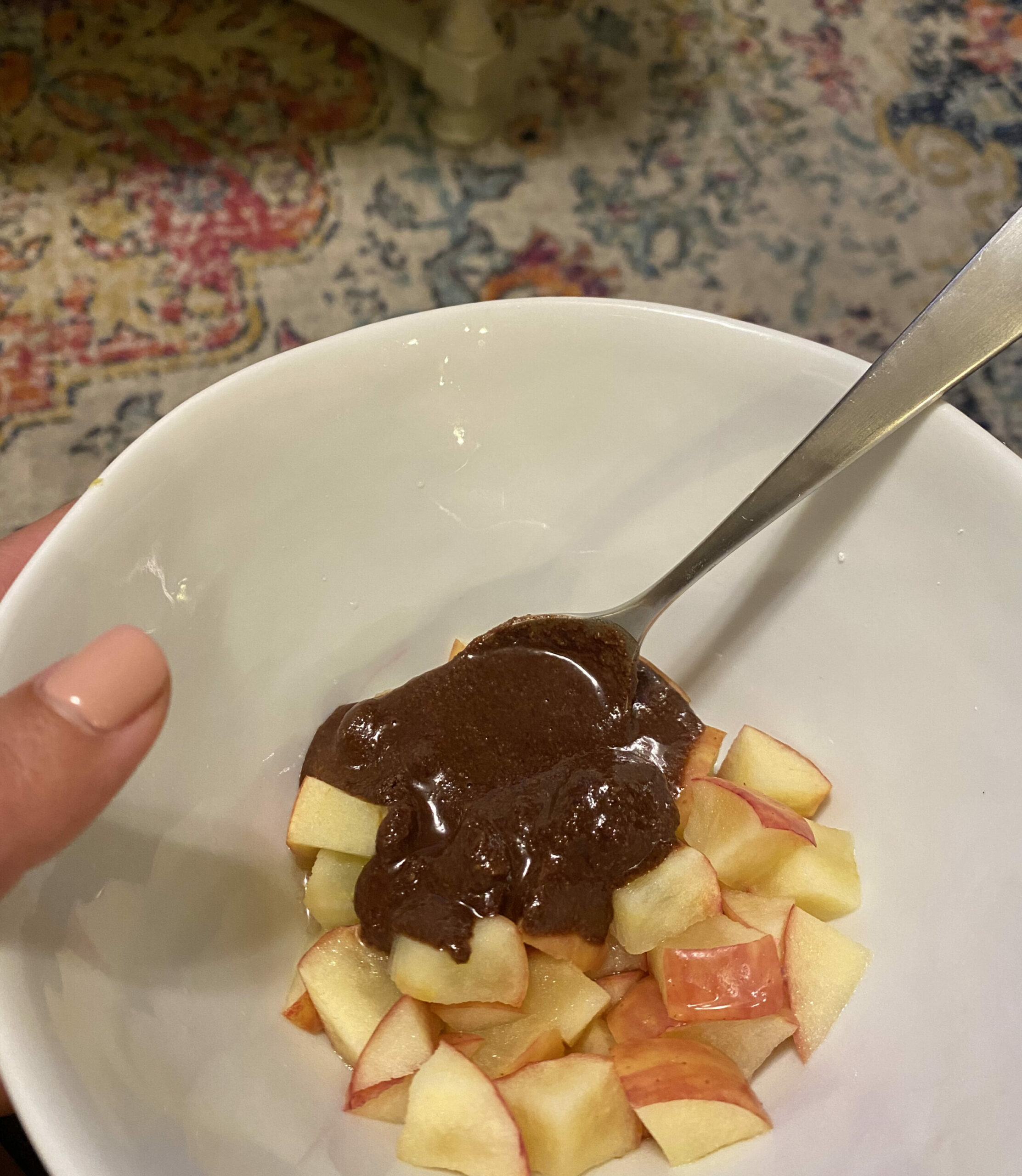 I showered the crew, we read books, and I put them to bed, and cranked out some last minute work: finished a blog post, drafted social media shout outs, edited a reel while listening to an IHP module. I read a few pages of a book (finishing this one) before crashing out at around 11:45.
What I liked about this day:
I hit my protein goal, but most importantly: it was a day of filling and satisfying eats. The kids enjoyed this day of meals, especially the soup and the breakfast. (For lunch, they had a deconstructed version of the salad and their breakfast was the same + some strawberries and banana.) I was also proud of myself for having real meals!! It can be difficult to juggle work and the kids during the day (which is why I usually sign them up for at least half-day summer camps or ask our babysitter to come over for a few hours) because I feel stretched and like I'm always ignoring something or someone.
On days like this, unless I've prepped a lot in advance, I tend to have bites of things in between tasks and chores, or eat at the computer or in the car. This particular day, I had rounded meals, sat down to enjoy them, and I feel pretty pumped about that.
What I would have changed:
I would have found a way to add some veggies to breakfast to increase my servings just a bit. I also would have preferred to eat breakfast first instead of the bar, but it was enough to hold me over until I could eat a full meal. Since I stopped eating meals at the computer, I can't do it anymore! It feels so much better to wait until I can sit down and actually taste the food I'm consuming. 😉
What's the best thing you ate yesterday? Anything you're currently loving or new cookbook faves?
xo
Gina
More posts like this here, here, here, and here.