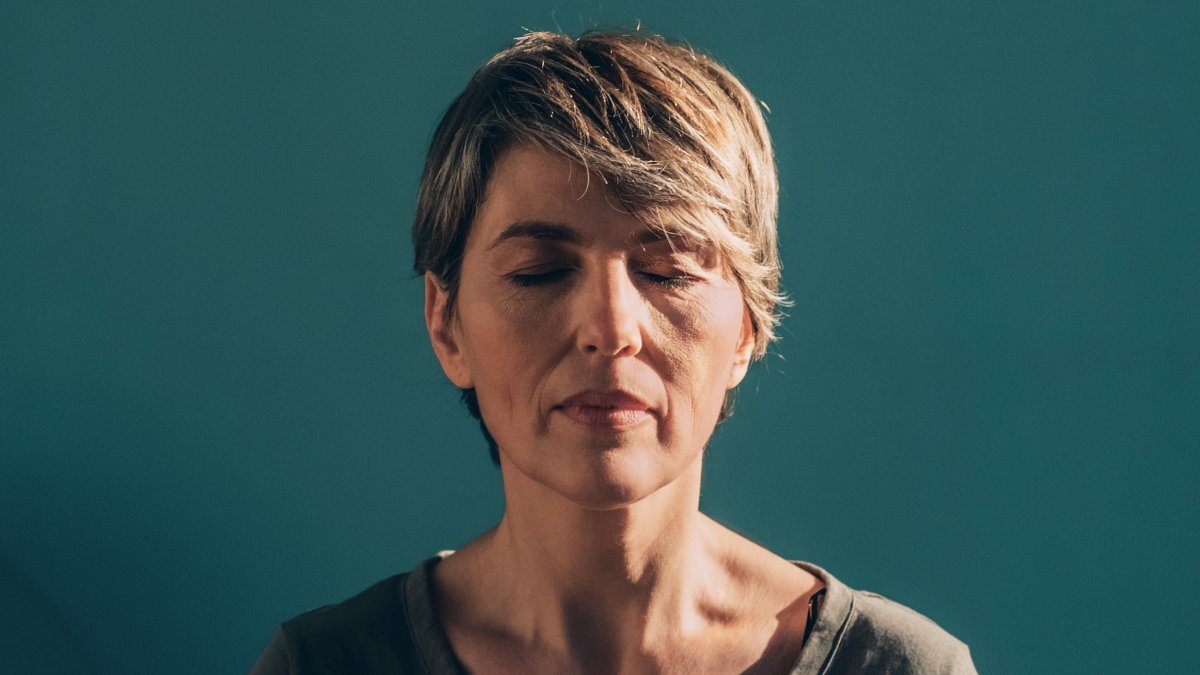 mbg Spirituality & Relationships Writer
By Sarah Regan
mbg Spirituality & Relationships Writer
Sarah Regan is a Spirituality & Relationships Writer, and a registered yoga instructor. She received her bachelor's in broadcasting and mass communication from SUNY Oswego, and lives in Buffalo, New York.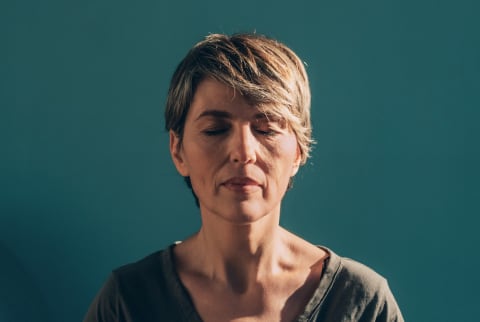 Image by STUDIO FIRMA / Stocksy
July 27, 2022
Those who meditate regularly swear by it—and those who don't, well, may have some trouble getting started. In either case, choosing the right app for you and your specific needs is a great way to take your meditation practice to the next level.
So, we rounded up our top seven picks for the best meditation apps of 2022, plus why now is as good a time as ever to start your meditation journey.
The benefits of meditation.
Meditation comes with so many benefits, and the good news is, there are a ton of different types of meditation to suit a variety of needs and experience levels.
Whichever style you opt for, meditation has been found in research to lower stress, pain, anxiety, and depression, as well as improve mindfulness, memory, and overall efficiency. On a physiological level, it even shows benefits for heart and brain health, increasing gray matter in the brain, and lowering blood pressure, among other things.
And these benefits are sure to make their way into even the smallest areas of your life, helping you to make more mindful decisions and operate from a place of ease and presence every day.
How we picked:
When choosing these apps, we only included those we've tried ourselves (and loved), ones recommended by a meditation instructor, and a few more with outstanding user reviews. It's still a good idea to try out a few to find the right fit, but you can trust that all of these picks have been well vetted.
Meditation should be accessible for everyone—especially considering it only requires you and your mind. The apps we've chosen offer the best quality for the best value, with a range of different price points for every budget (yes, including free ones!).
And of course, everyone's meditation practice is going to look a little different, so we chose apps that offer various types of meditation, diverse instructors, and additional tools to explore.
Lastly, all of these apps allow you to start for free before committing to a subscription. Not that we think you won't like them—but it's always better to see for yourself!
mbg's top picks for the best meditation apps of 2022:
Pros
Website content is free
Progress and personal statistic tracking
Ability to add friends
Options to set reminder notifications
Cons
Majority of meditations are the voice of the founder
Best for: Getting started
Trial period: 14 days
If you're new to meditation, Headspace is a great option to start with. The app is second only to Calm in terms of the number of downloads, and over 900,000 users have given it a 4.8-star rating on average. What's great about this app is how it teaches foundational aspects of meditation, such as body scanning, compassion, and mindfulness, so you can grow your practice from the ground up. And it was actually founded by former Buddhist monk Andy Puddicombe (who narrates many of the meditations), so you know it was created with heart.
Cost: $12.99/month or $69.99/year
Pros
Large library of yoga, movement, and meditation content
New videos daily
Sound bath, breathwork, and yoga nidra content
Cons
More of a yoga/fitness app than a meditation app
Best for: Mindful movement goals
Trial period: 14 days
While Alo Moves is thought of more as a yoga app, don't be fooled—they've got loads of great meditation content, too. (Plus, yoga and meditation traditionally go hand in hand.) Sound healer and meditation expert Susy Markoe Schieffelin tells mbg that she loves this app because it frequently offers discounts and its collection is constantly expanding. "They're going to start offering reiki, they're going to start offering face yoga—really interesting things," she explains. Along with Alo's meditation content, the app also offers sound baths, yoga nidra, breathwork, and more.
Cost: $20/month or $199/year
Pros
Variety of experts (and celebrities) featured in the app
Range of meditations for different goals (i.e., sleep or stress)
User-friendly with regular updates
Offers progress and mood tracking
Additional masterclasses
Best for: Lots of options
Trial period: 7 days
With over 1.5 million five-star reviews, there's a reason Calm made it on our list. Arguably the world's most popular meditation app, Calm is all about using mindfulness to improve your quality of life—and the resources they offer can help you do so. They have everything from walking meditations to breathwork techniques to a new meditation (coined the "Daily Calm") every day. We're just scratching the surface of all the great perks of this app, but luckily you can try it for free to see for yourself—and even keep it free if you like.
Cost: Free for basic access, with premium plans at $14.99/month, $69.99/year, or $399.99 for life. (Student, family, and corporate plans also available.)
Pros
Simple timer function
Ability to add friends
Milestone and progress tracking
Additional courses and workshops
Cons
Lots of options can be overwhelming
Certain extras have to be paid for outside of the premium subscription
Best for: Building up your existing practice
Trial period: 30 days
According to Markoe Schieffelin, Insight Timer is a classic, go-to meditation app for good reason. "I only use it for the timer, but I always recommend it to people, because there are thousands and thousands of options," she tells mbg. And she's right: If you simply want to use the timer function for a silent meditation, that's a possibility. But the app also has meditations for sleep, stress, and so much more.
Cost: Free for basic access, with a premium subscription available for $60/year
Pros
Emphasis on spirituality and personal development
21-day series
Journaling series
Quiz for personalized experience
Cons
No ability to add friends
Best for: Deepening spirituality
Trial period: 7 days
If you're looking to incorporate more meditation into your spirituality, we'd recommend the Chopra app. Founded by none other than world-renowned guru and mbg Collective member Deepak Chopra, this app puts a focus on discovering your true essence—mind, body, and spirit. It even includes a quiz to personalize your experience so you can get the most out of the app. With hundreds of meditations, 21-day programs, journaling prompts, and more, this is worth a test run if you want to learn more about meditating—and yourself.
Cost: $69.99/year
Pros
Longer trial period than most
Emphasis on better sleep
Easy-to-operate interface
Podcast in the app
Cons
You have to email support for access to the monthly subscription
Doesn't provide foundational spiritual knowledge
Best for: Improving quality of sleep
Trial period: 7 days, 30 days
10 Percent Happier holds our spot for the best meditation app for sleep, with a wide catalog of meditations available to help you ease stress and doze off. The app was founded by retired journalist and author of 10 Percent Happier Dan Harris, who was inspired to share all the benefits he found from his own meditation practice. The extremely accessible interface makes the app feel approachable, with a focus on developing a consistent, yet simple, mindfulness practice. It's worth noting that in order to access a monthly subscription, you have to email support@tenpercent.com—and keep an eye out for 30-day trials, as the trial is usually only seven days, but they occasionally offer 30.
Cost: $99.99/year (email support to inquire about monthly subscriptions)
Pros
Totally free
Customizable meditation tracks
Lots of content about breathing/breathwork
Cons
Less variety than other apps
Best for: Mitigating stress
Trial period: Free—no trial required
And last but certainly not least, we have the Oak meditation and breathing app. That's right—if you want to learn how to harness the power of your breath to beat stress, this is the app to try, with plenty of guided breathing and breathwork content. And while their library may not be as expansive as some of the other options on this list, sometimes that's not a bad thing. As one happy reviewer writes, "All the other apps have thousands to choose from that it's too overwhelming that I don't feel like meditating. This app has helped me extremely with the stress and anxiety I've had." And did we mention it's totally free? Because it's free!
Cost: Free
FAQs
Are meditation apps worth it?

Whether you're new to meditating or you want to deepen your existing practice, meditation apps have a wide array of content, meditation styles, workshops, and more, to take your practice to new heights. Ultimately, anyone can benefit from these tools.
How do meditation apps work?

While each app has its own unique bells and whistles, they all provide meditation content to people all over the world. They allow users to access videos, audio, etc., to meditate in their own homes or whenever they need a breather. Most meditation apps nowadays also have a notifications function, giving a gentle reminder to meditate when you can.
Headspace versus Calm

Headspace and Calm hold the top two spots for the most downloaded meditation apps, and while we're not looking to pit them against each other, we will say one may be better than the other depending on your needs.

For one thing, Headspace is a bit more beginner-friendly, and the monthly subscription costs a bit less. Calm, on the other hand, has a bit more to offer in terms of content but might be better suited for someone with a little more experience. One isn't inherently better than the other, it really just depends on your needs. Luckily, they both offer free trials, so the best way to answer the Headspace versus Calm question is to try them both out yourself!
The takeaway

Meditation has so much to offer in terms of spiritual, physical, and mental well-being. While getting started may seem intimidating, these seven vetted meditation apps are here to help. Even if you've been meditating daily for years, with these on your phone, there will always be something new to discover.