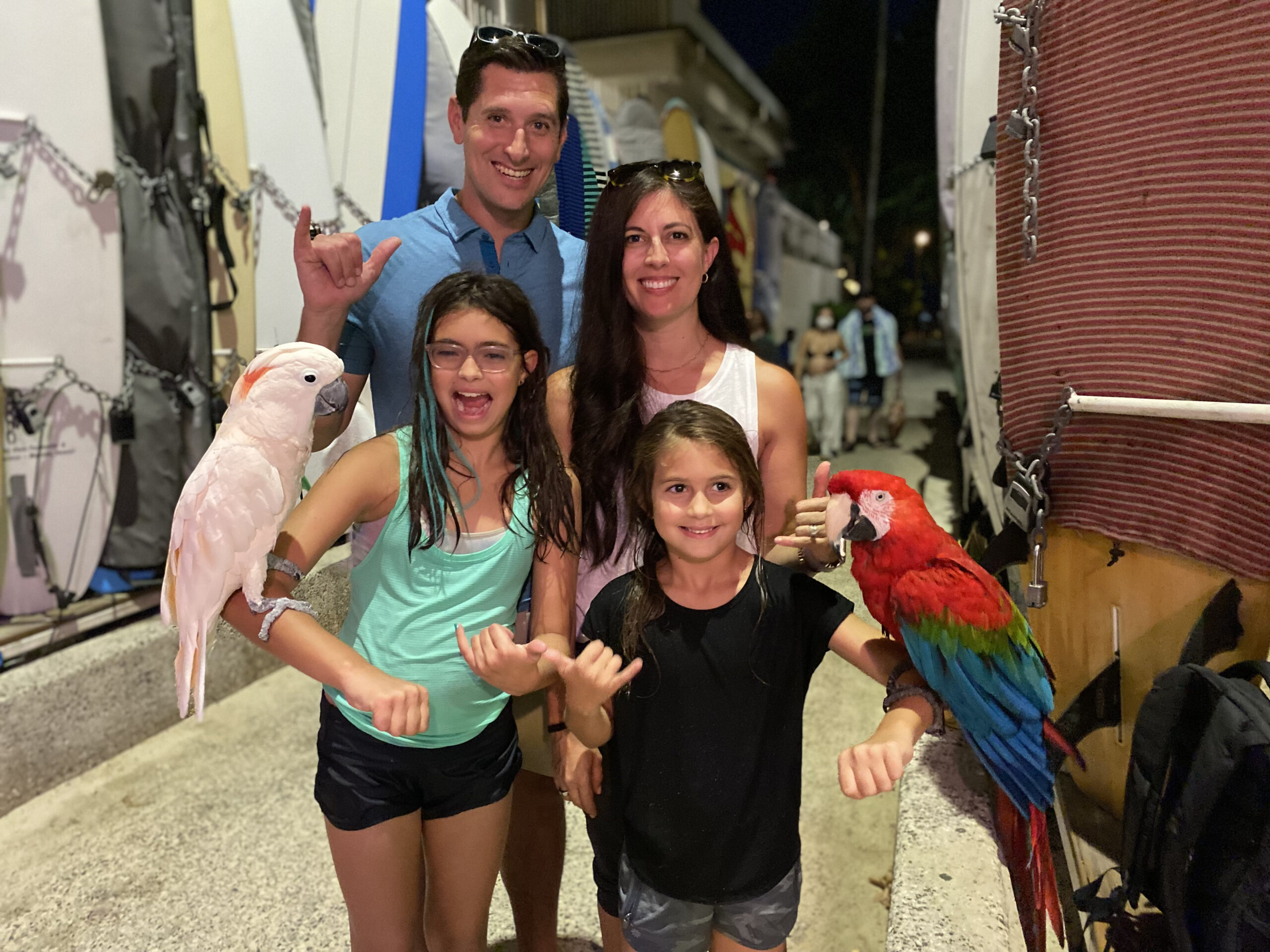 Hi friends! I've missed you! This is the longest I've been away from blogging for a long time, but I'm back now and excited to chat with you. I hope you had a wonderful weekend and that those of my parent friends with kids heading back to school have an amazing week.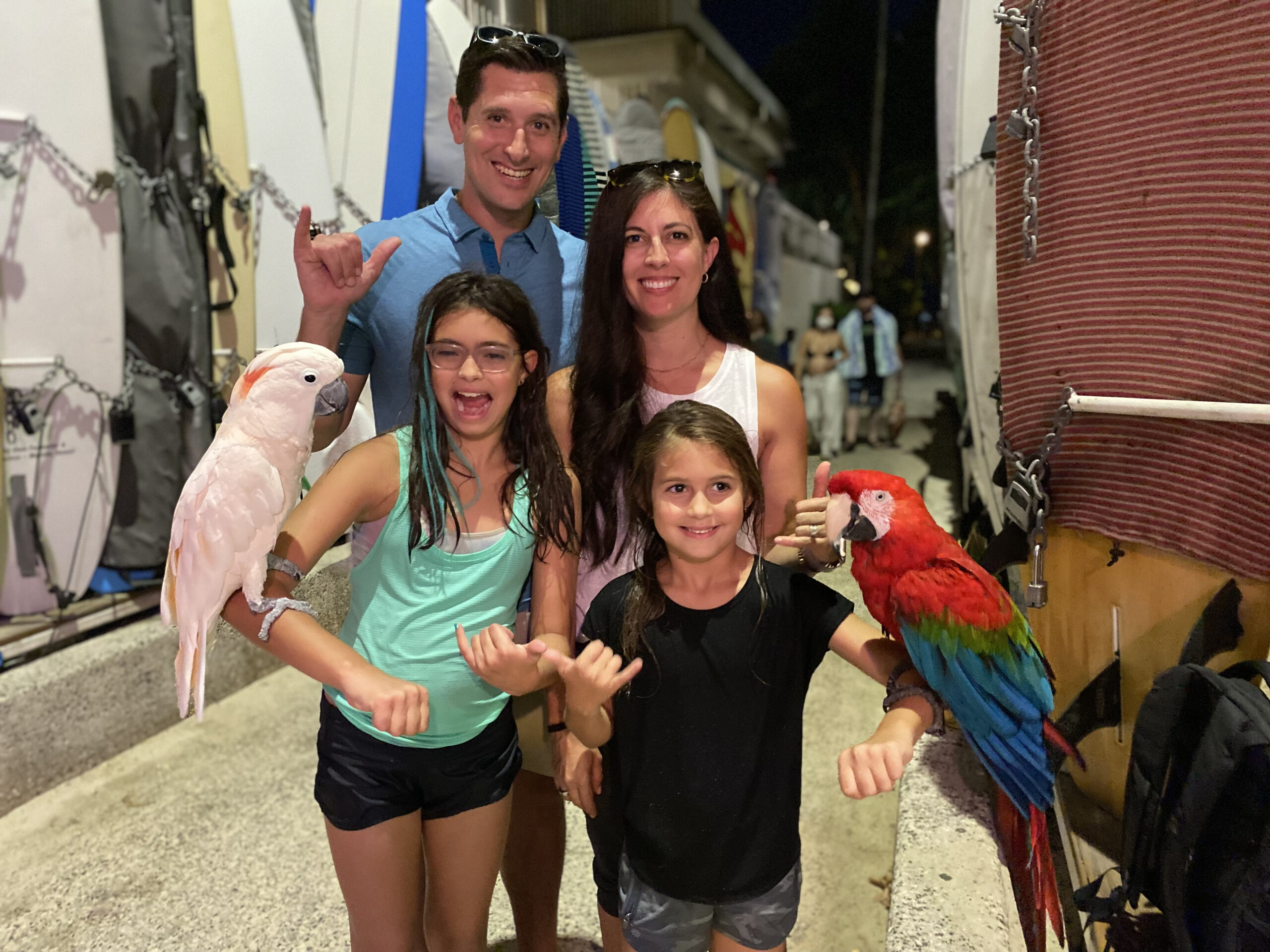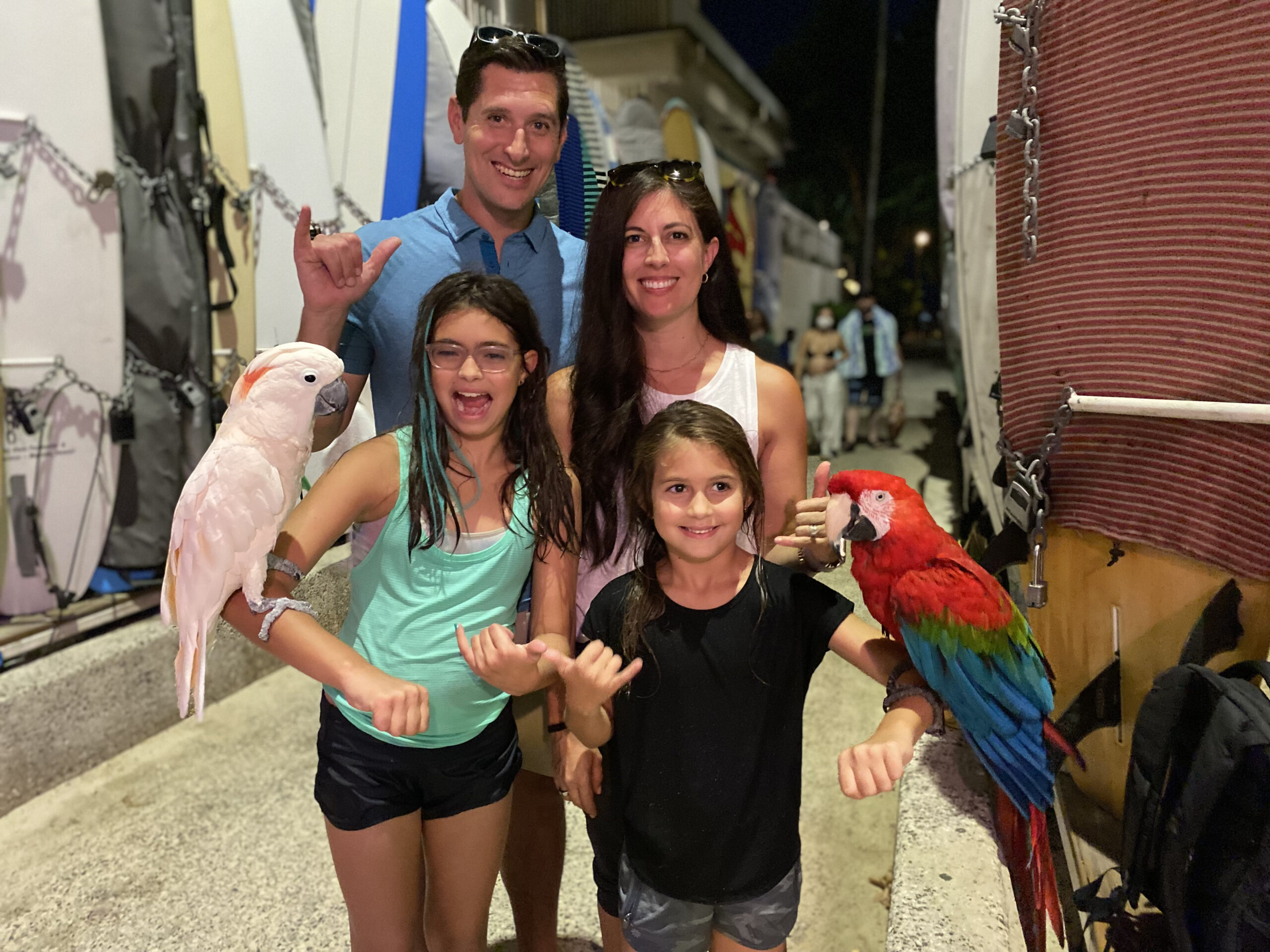 We're back from Hawaii and I have so much to say. It was our first time in Oahu, and it was seriously the most magical, beautiful, relaxing trip. I feel so refreshed and my heart is very happy after a week away. It's been a whirlwind couple of months (Vegas, staycation, dance competitions, family in town, and then our entire family got sick) and this was the perfect way to cap off an awesome summer.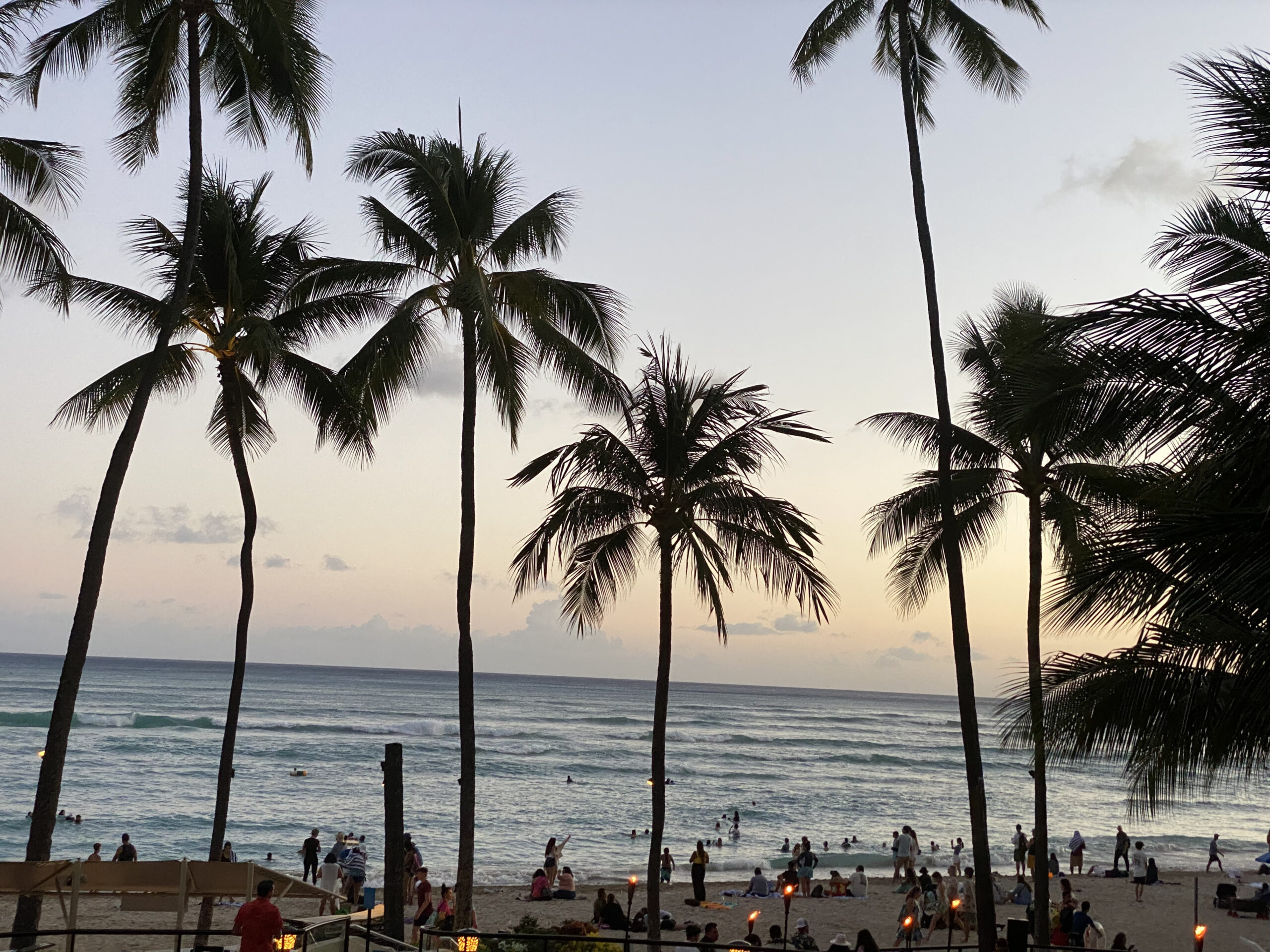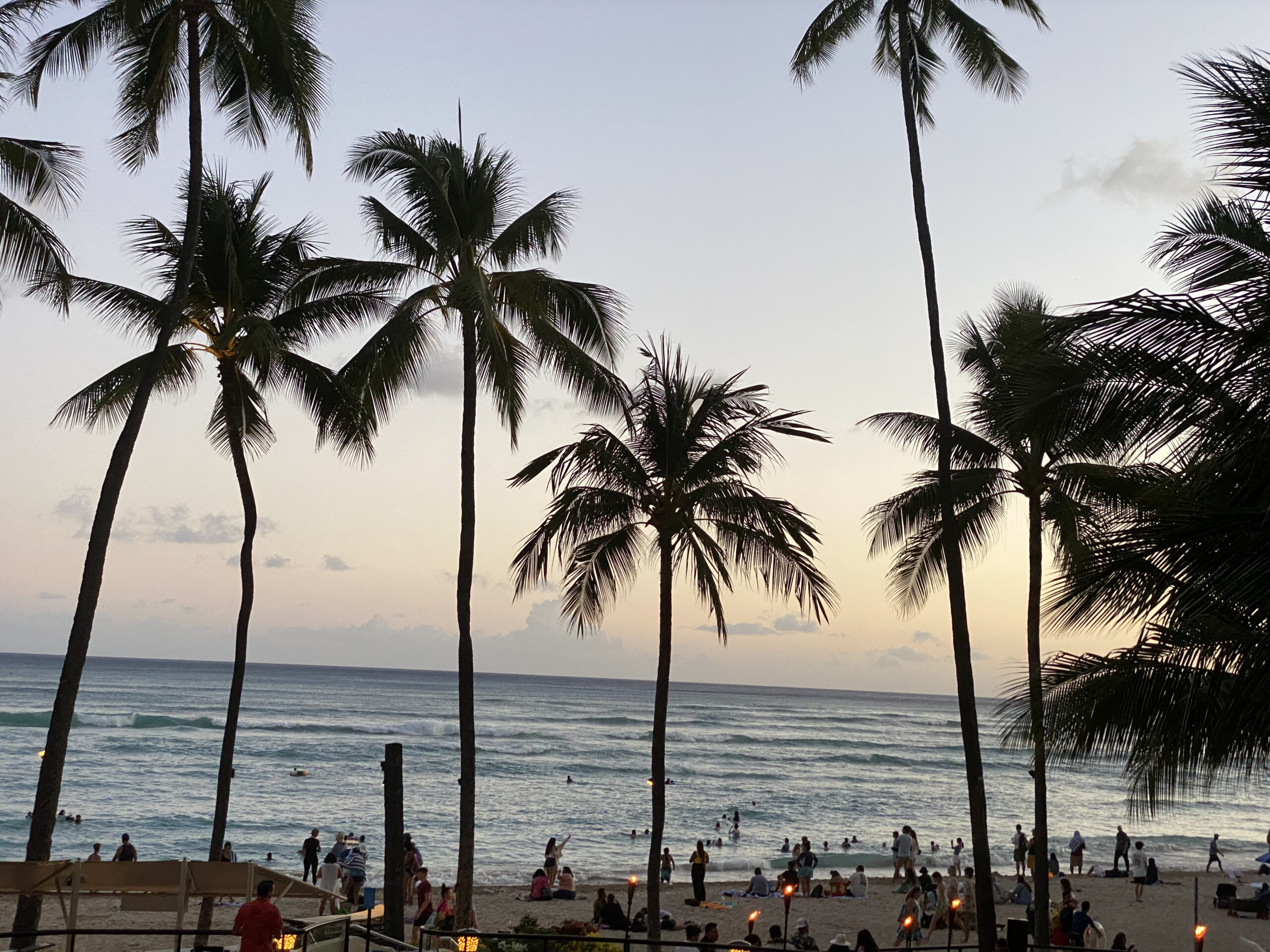 I'm excited to share a recap from our trip, some of the adventures we enjoyed, and some of the food we ate!
The FOOD. It was everything.. and I'm still having malasada withdrawals….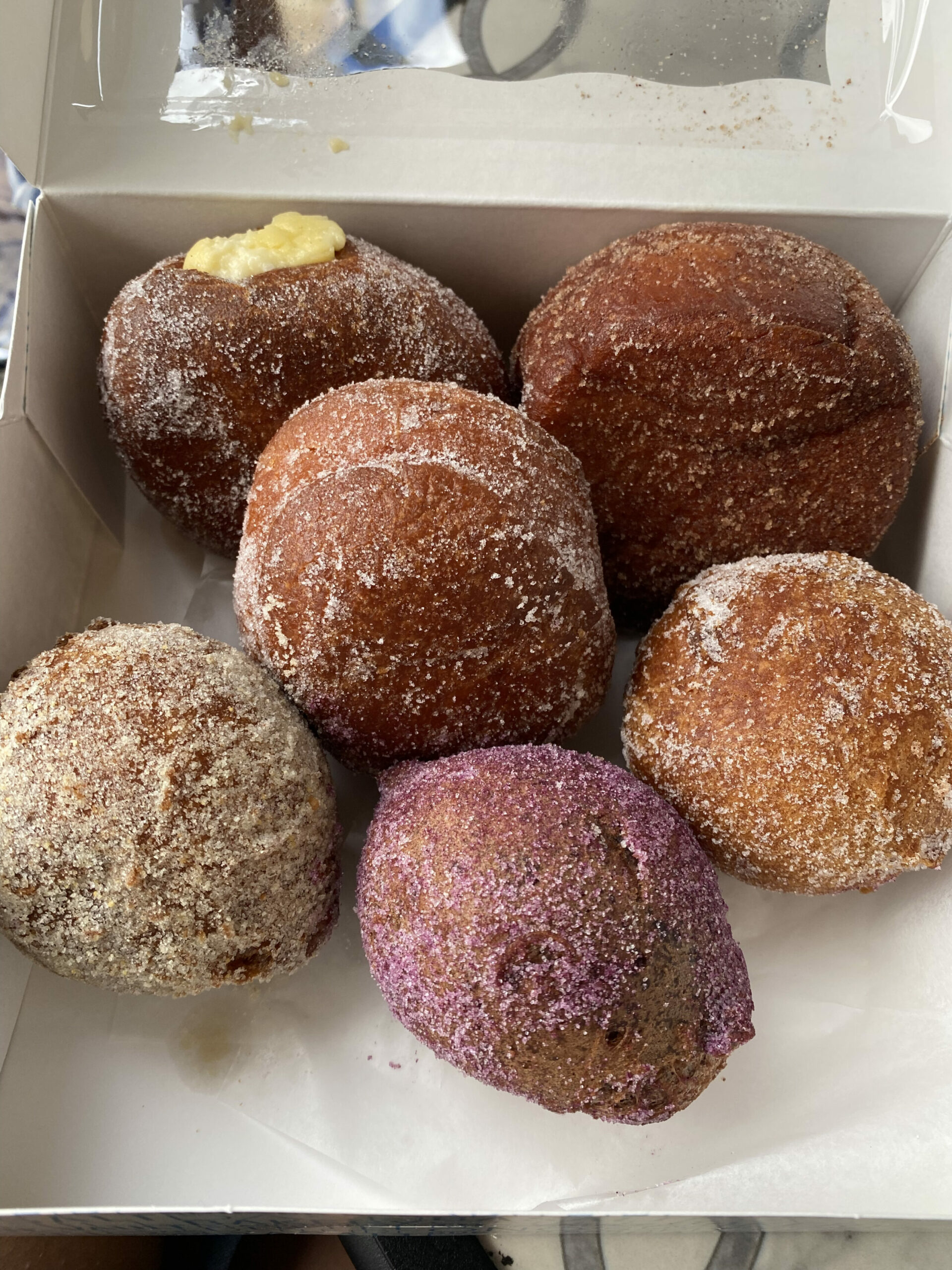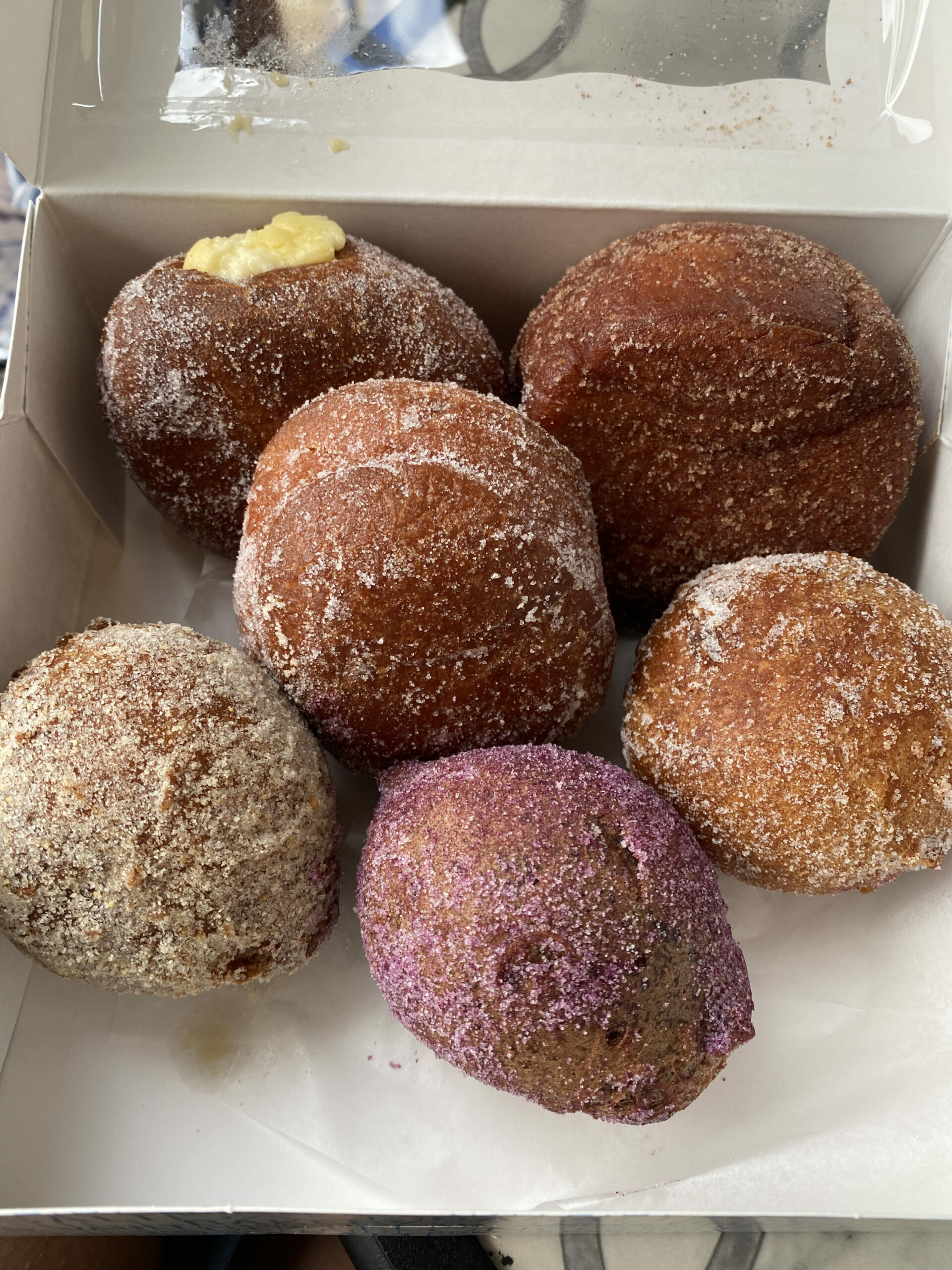 (These are the malasadas from Duke's Market, which we had a few times. They're made from rice flour, slightly crunchy on the outside, soft and chewy on the inside. The purple ube one was my fave, followed by the haupia filled one. Haupia is a gorgeous coconut custard. #2 on the list of best donuts in my life)
One of the best parts is that my mom was able to join us! The Pilot had to work some of the days we were there, so we asked if we could fly her out to join us. We were all so pumped that she was able to make it and we had the best time with her there.
Our Waikiki Recap (+ what to do and where to stay)
Waikiki adventures:
Beach days
I knew that the kids would be happier just going to the beach than planning excursions with lots of travel time, and that was exactly correct. Also, for many of the snorkeling or sea turtle adventures, you need to be 10, so P isn't quite there yet. The kids were perfectly content swimming in the waves and building sand castles for hours, so that's exactly what we did. A huge advantage is that we were still on Tucson time, so we woke up super early the first few days and could rent two lounge chairs and an umbrella in the front. (For the day, it's around $88.) I'd recommend getting in line by 7:30 or 8am for a good spot.
Paradise Cove Luau
The luau was incredible. I was wondering how the kids would hang since it's a longer event (you get there around 4:30 and leave around 9pm) and they were captivated the entire time. This particular luau had lots of activities in various spots around the property, including canoe rides, spear throwing, photos with birds, and crafts. They had the Inu ceremony (where the unveiled the pig, which had been cooking underground), multiple artists and dancers, and then the full show, with hula dancers, singing, and fire dancing. The girls' jaws were on the floor the entire time, and they've been taking about it all weekend.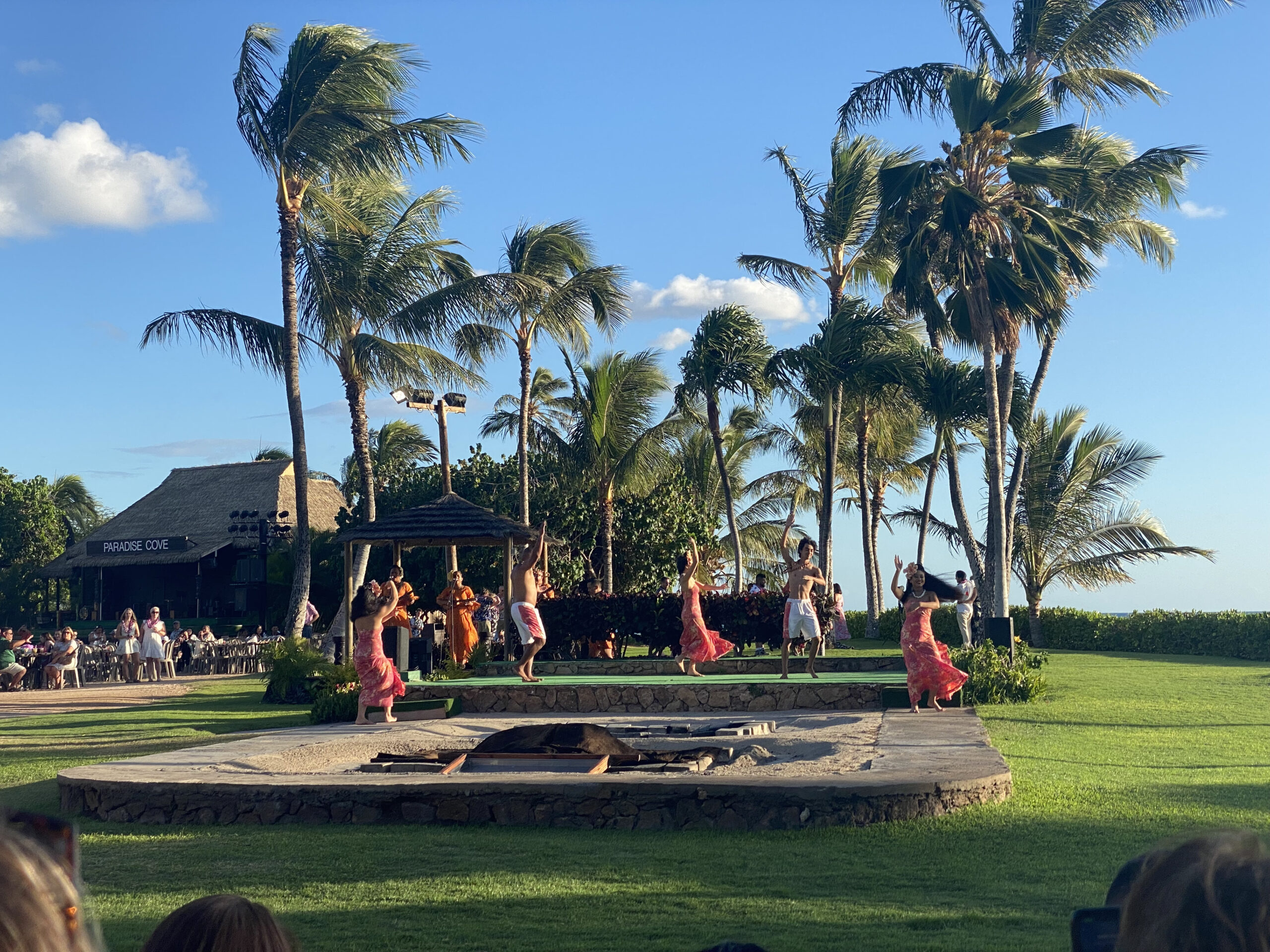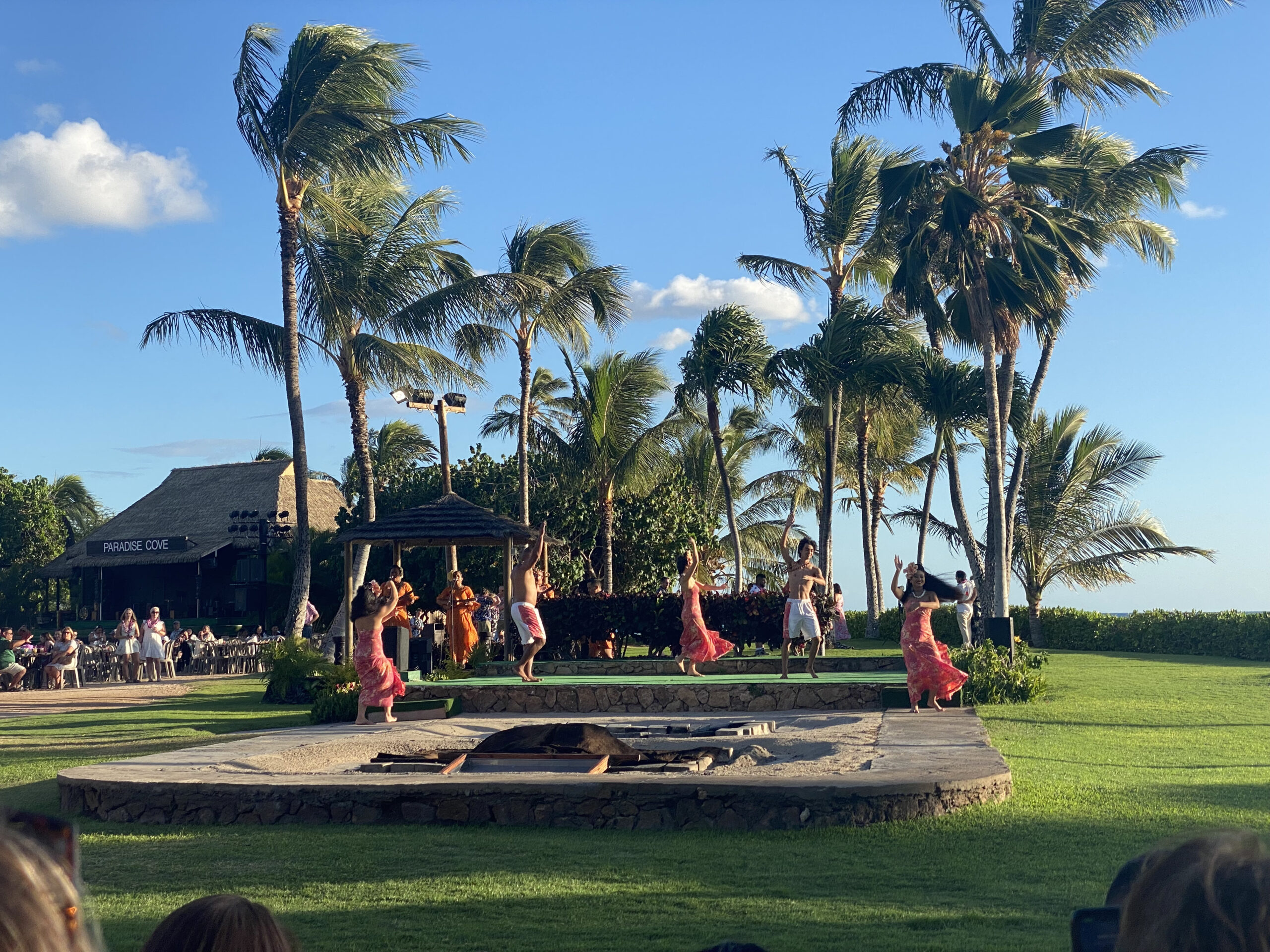 As far as the food goes, I would give it a solid C-. When I read the reviews online, the food reviews were iffy, but this was one of the only luaus close by that wasn't fully booked, so I went for it. It was ok; just mass produced and didn't feel as special as the other meals we enjoyed in Honolulu. (Like the frozen veggies that were simply reheated.) The fish and chicken were great, they had a couple of salads (pasta salad broccoli and crab salad, three bean salad), rice, rolls, haupia (my fave), fruit, and cupcakes. The girls loved it and all of the adults agreed that it was ok. The drinks were… not good. Save your money on the drinks haha.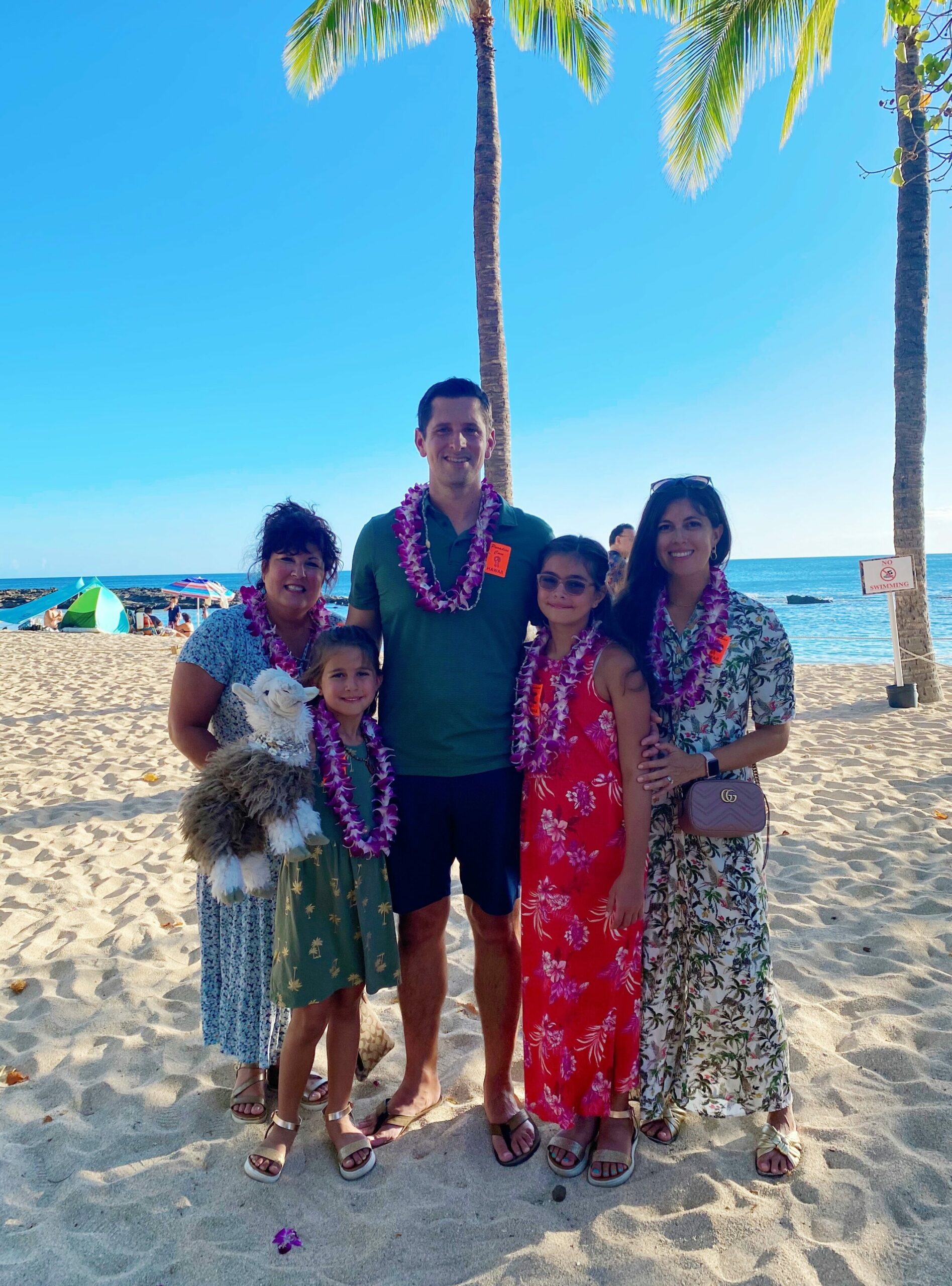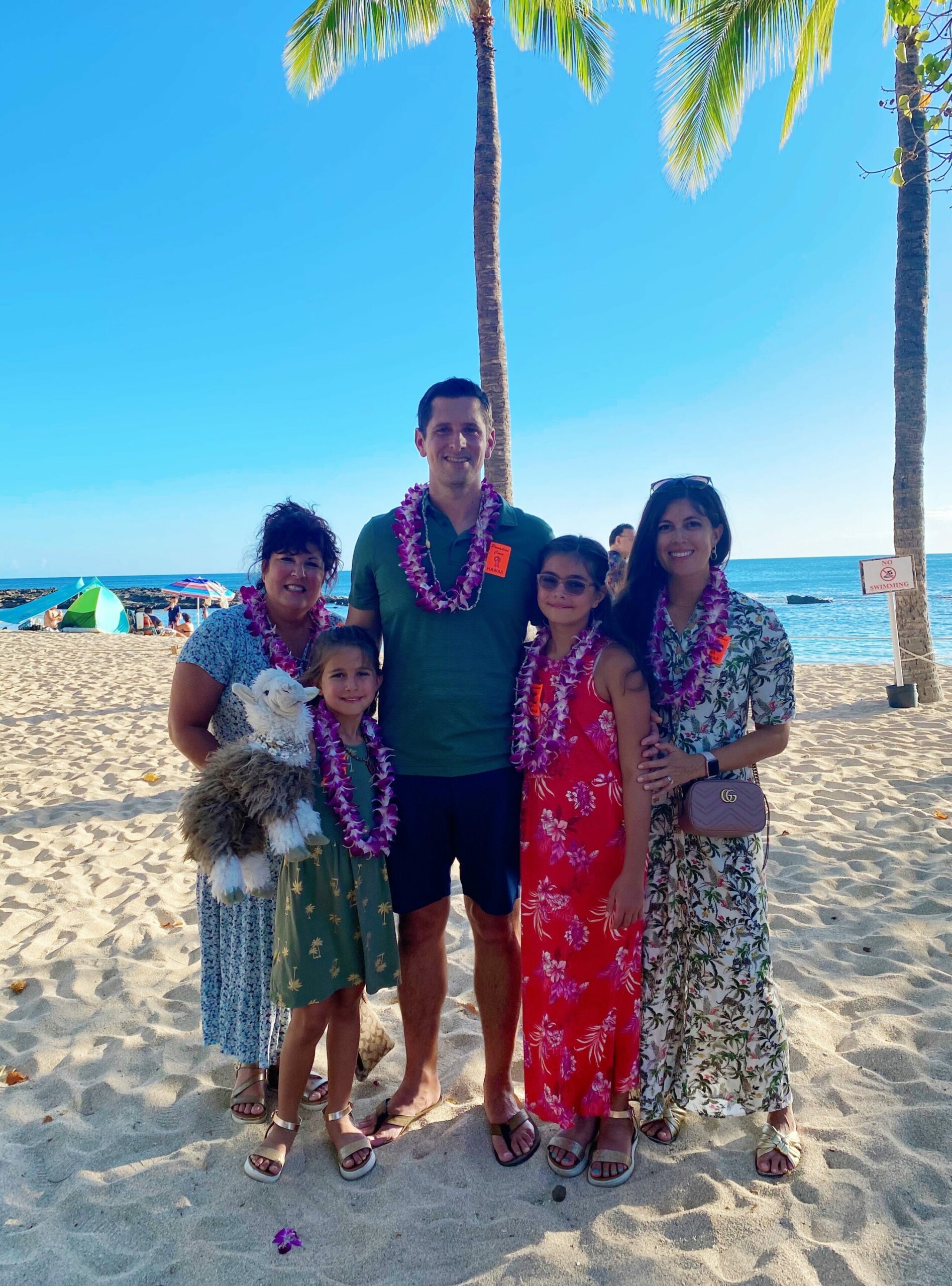 All in all, the entertainment made it totally worth it. We loved the show and the entire experience. If you go, I recommend the Orchid package. The seating is right in the middle (so you can see well) and it's fun getting a lei and drink when you arrive. (P was like, "That place was so fancy. They gave me a punch when we got there and I loved it.")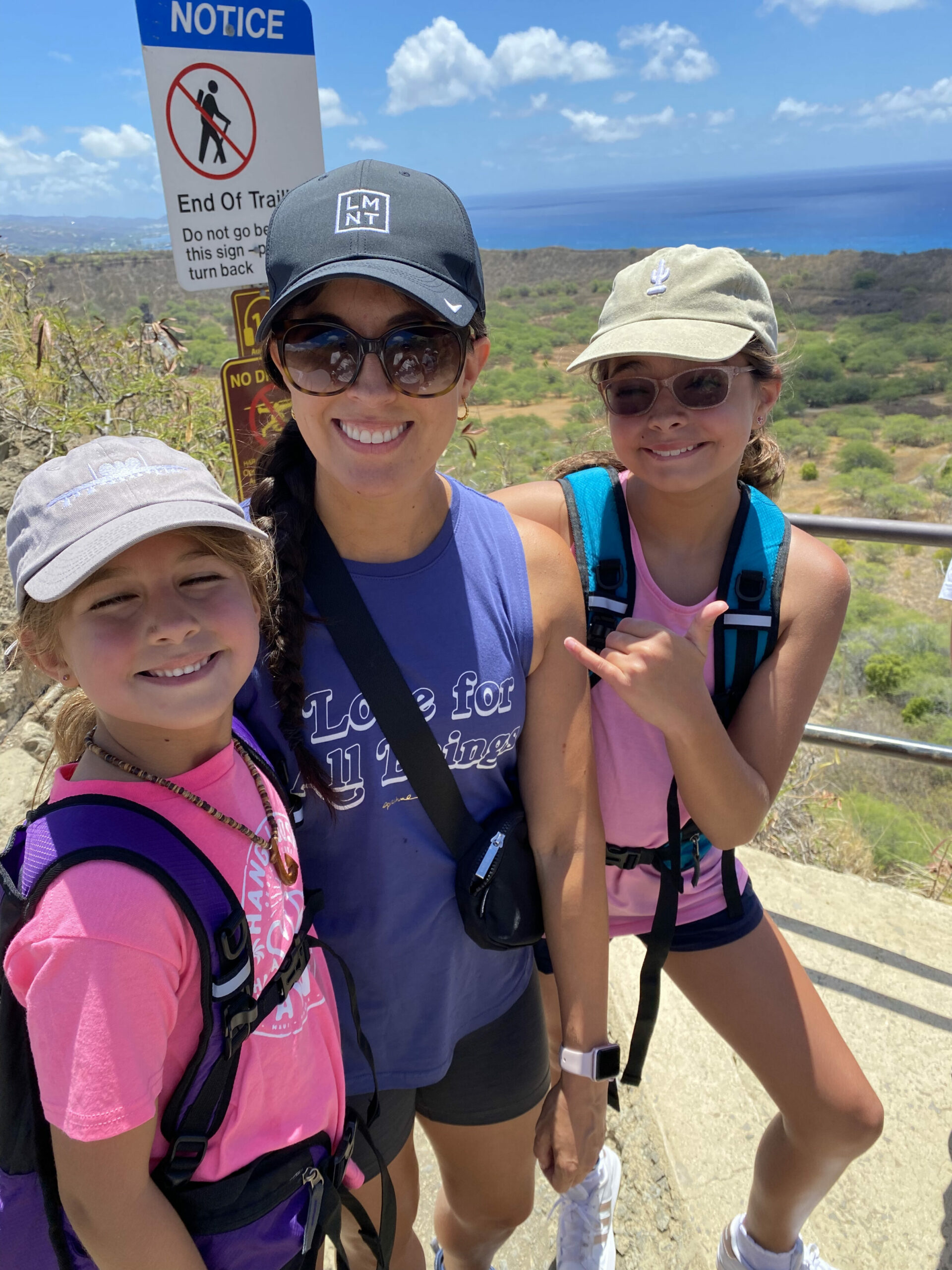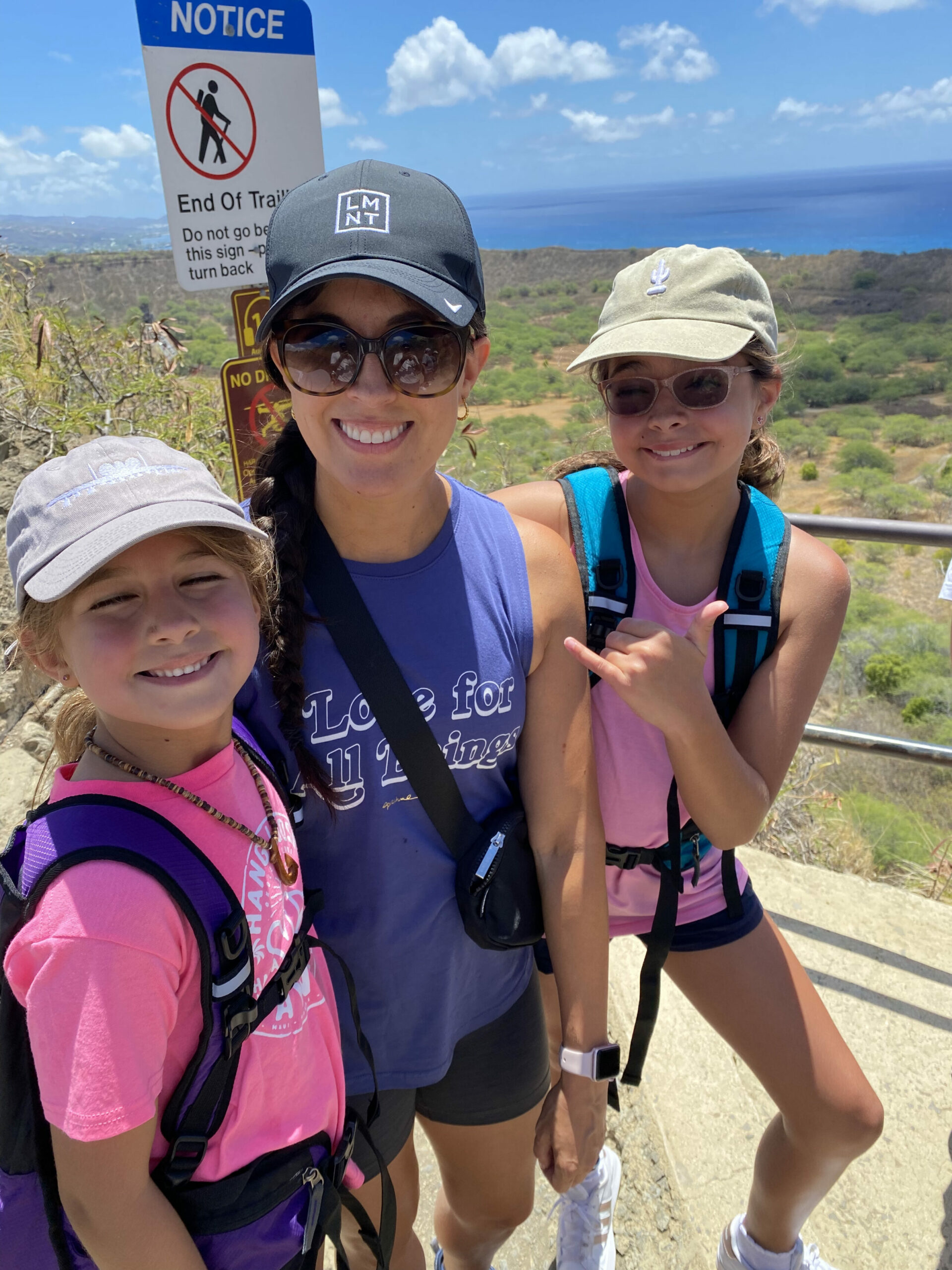 Hiking Diamond Head Crater
This was one of my highlights of the trip! I feel like hiking is the best way to explore a new place, and this particular hike had excellent reviews. It's about 1.8 miles out and back, with sweeping views of Honolulu, the ocean, and you're on top of a crater!
There's also a cave, which was a huge hit with the girls. The whole thing took us about an hour and 10 minutes, with lots of water breaks and time to stop and enjoy the view at the top. You need reservations in advance, just a heads up. You pick your time slot, pay for entrance and parking online (or you can Uber there), and the guard gate will scan the QR code from your phone.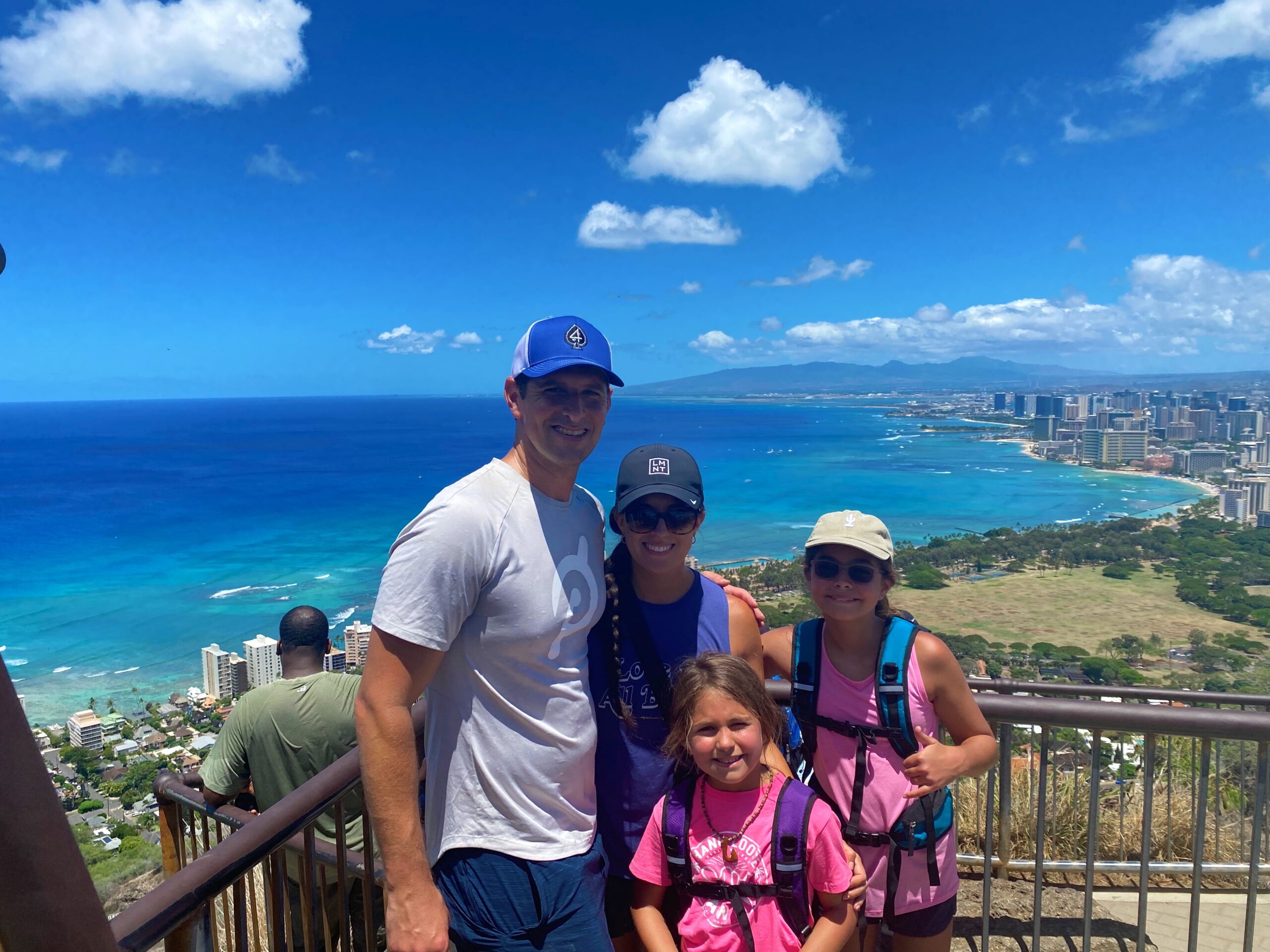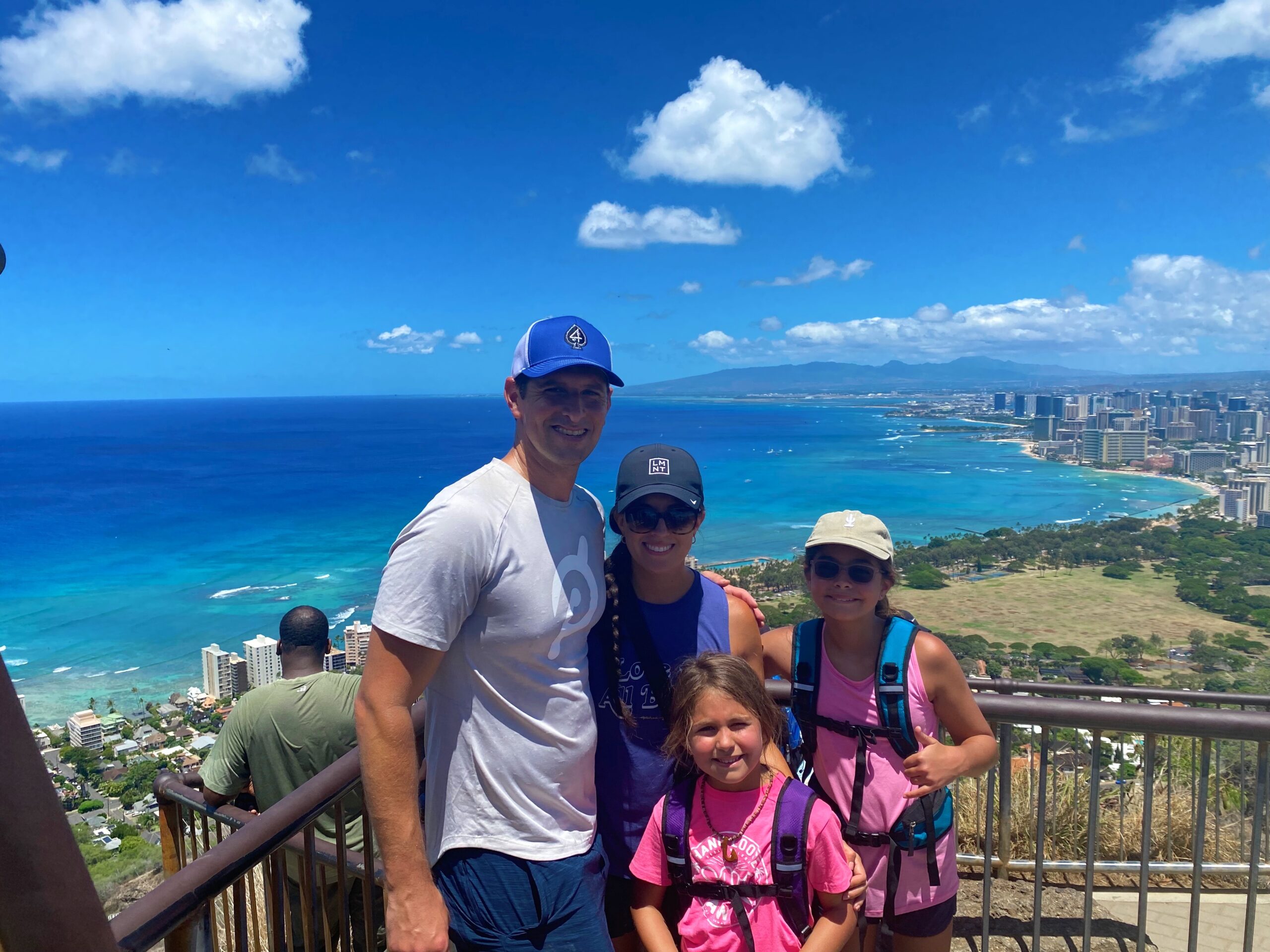 Kid City Adventures
The kids went wild here and I WISH we had something like this in Tucson. If you're visiting Honolulu with kids (any age, from toddlers to 11 or so), definitely make a stop here. It was raining one afternoon and a quick google search led me to this treasure. It's a two-story indoor playground, with obstacle course, trampolines, a sand play table, imaginative play area, ball pit, Legos, a huge water play area, and it's SO clean and beautiful. I reserved a two hour spot for the girls and they begged to go back every day!! Also: they have amazing massage chairs for the adults. My mom and I enjoyed 15 minutes of shiatsu bliss.
*Tip: make a reservation online. Kids can be barefoot or in grippy socks, and adults have to be in socks.
One more little note/tip: this booster seat is my fave for travel. It fits in my backpack and inflates easily for an Uber ride. I brought it with us on the plane in case we got stranded anywhere on the way, and it was so much more convenient than toting around a full booster seat.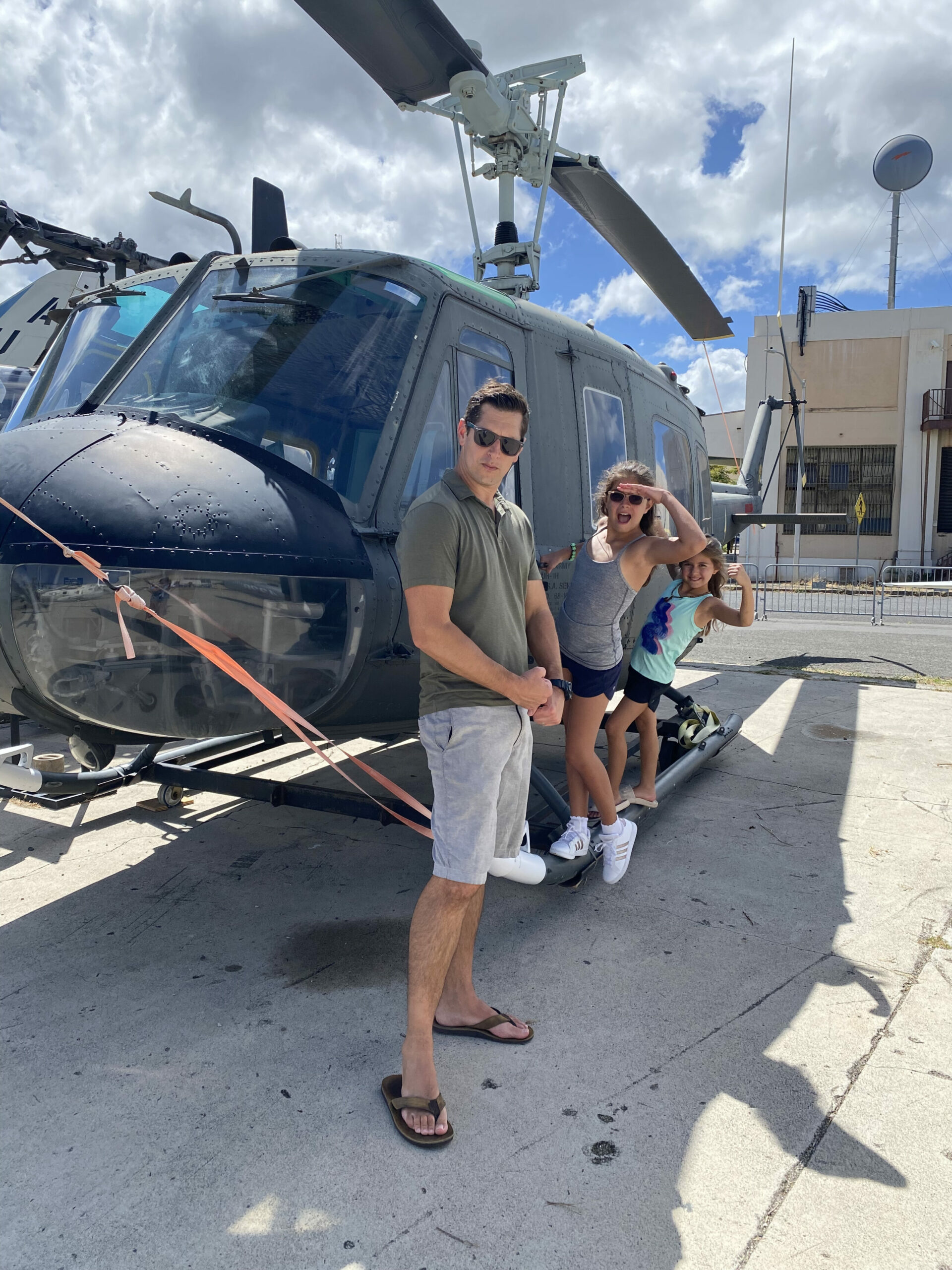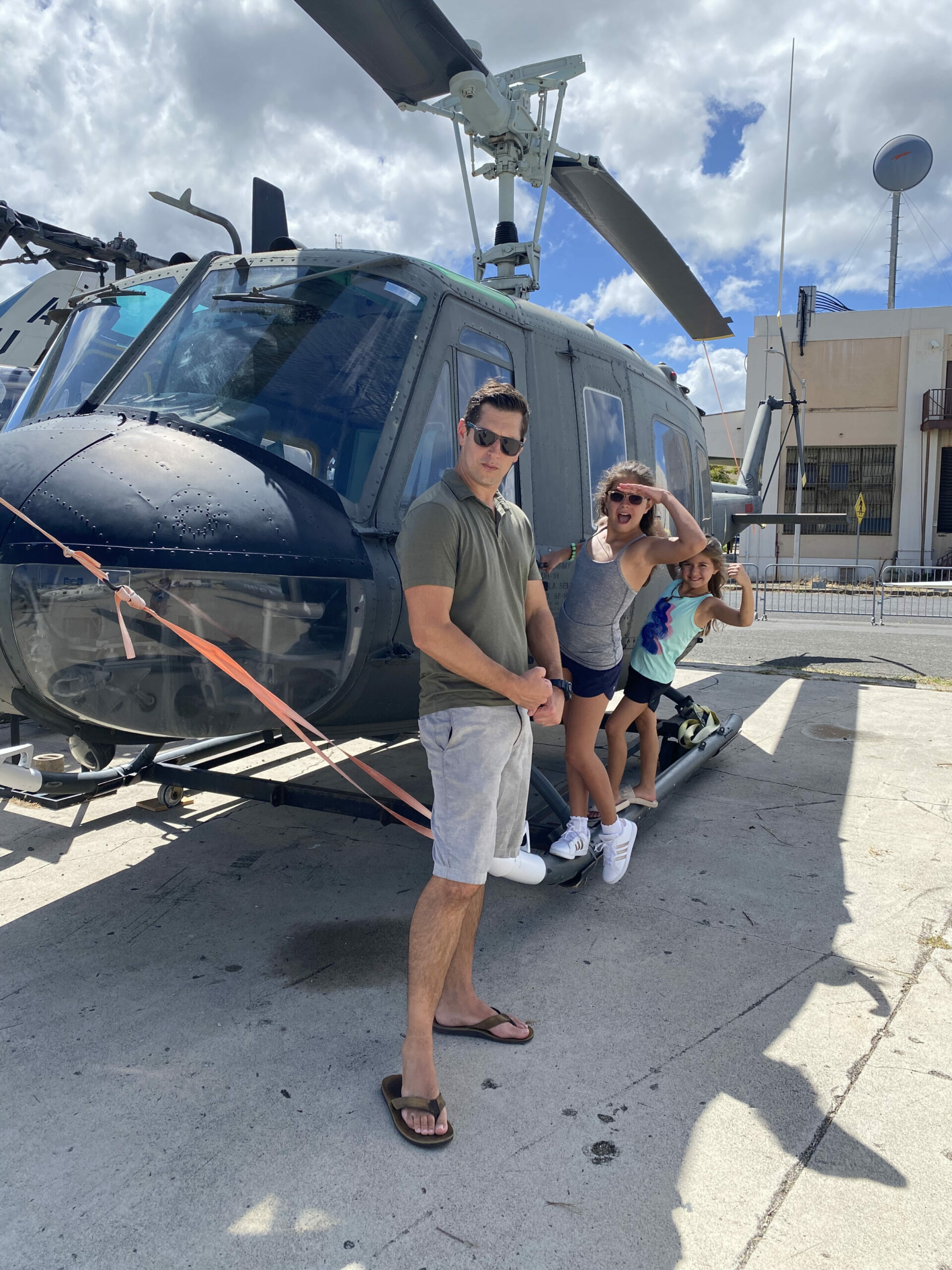 Pearl Harbor
We visited Pearl Harbor and also had a fantastic tour guide aka the Pilot who explained the background about the various sites. He even shared some really interesting facts about what occurred that day, and while it was a somber experience, I'm glad the girls were able to visit and learn about the history behind it.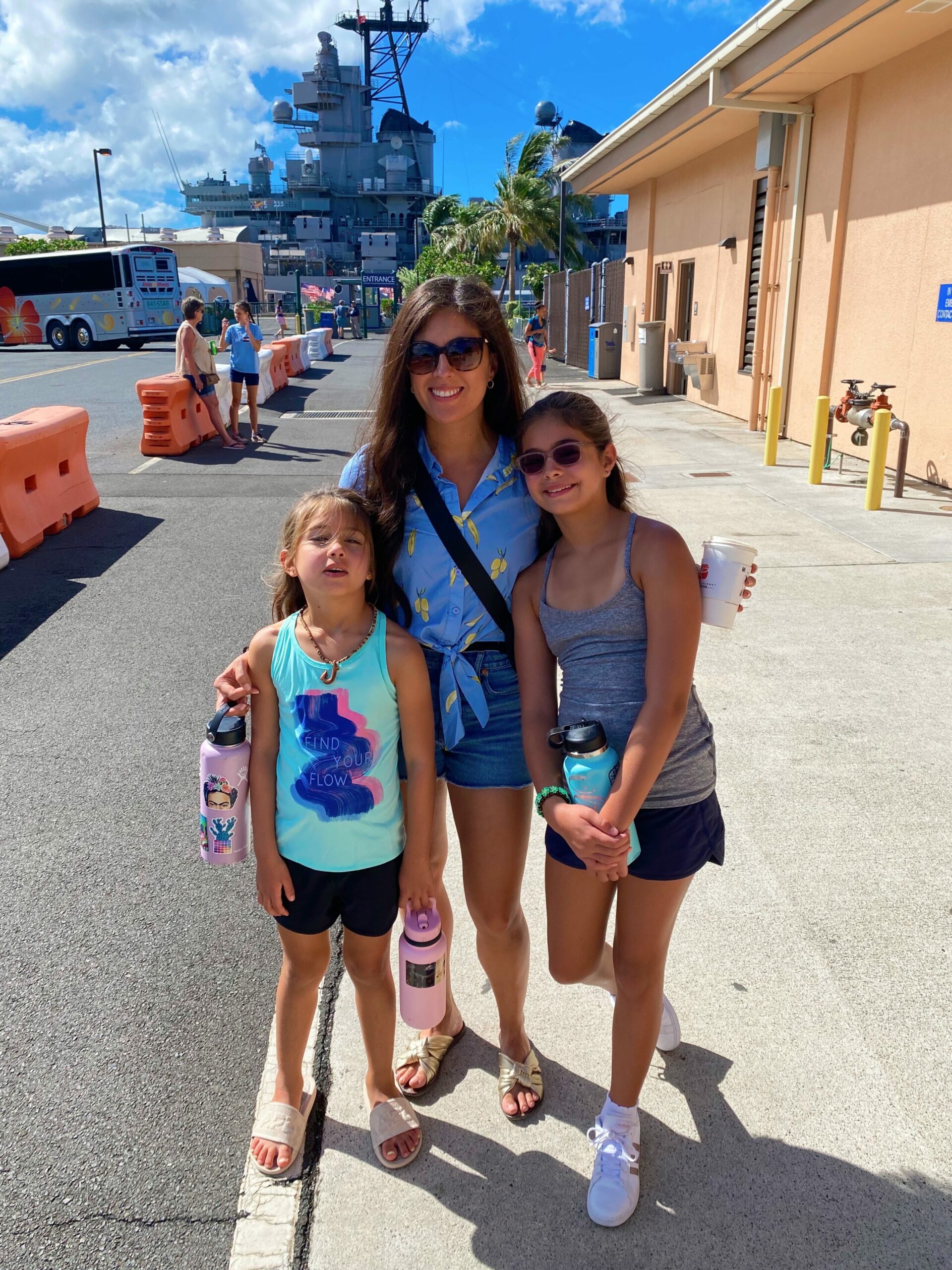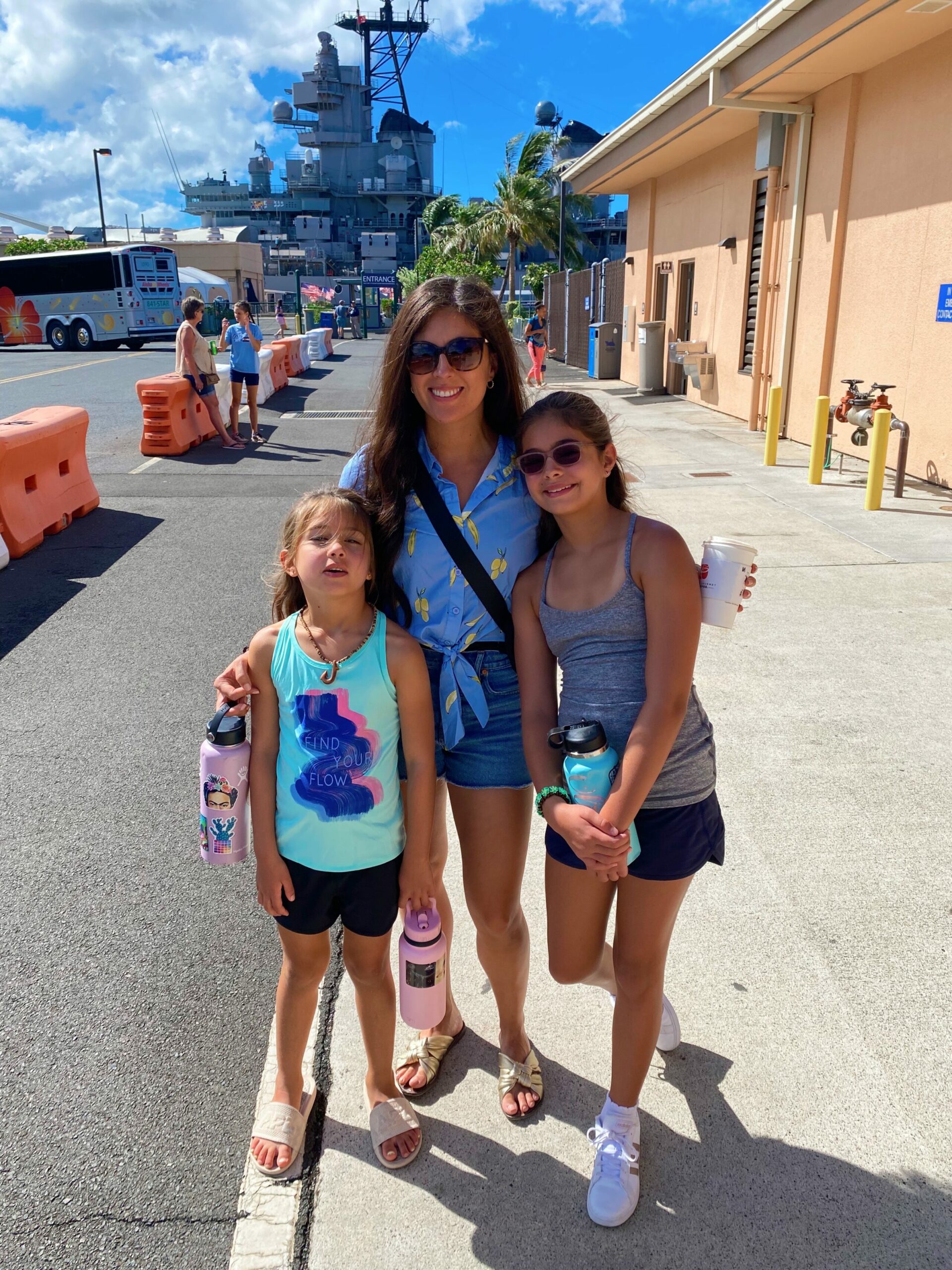 (Banana print top with these shorts <– on sale. Also I found P's APL slides at Nordstrom Rack for $40! I was pumped.)
Standout meals in Waikiki:
Tommy Bahama
This was our first *real* meal in Oahu and it did not disappoint! They're an in-house farm-to-table restaurant, using local ingredients and making everything in house (even all of the sauces). We had coconut shrimp, chips with guac and salsa, and I had the steak salad for my entree. The dessert (a chocolate caramel tart) was everything and the Mai Tai was one of my favorites from the trip. 10/10 recommend.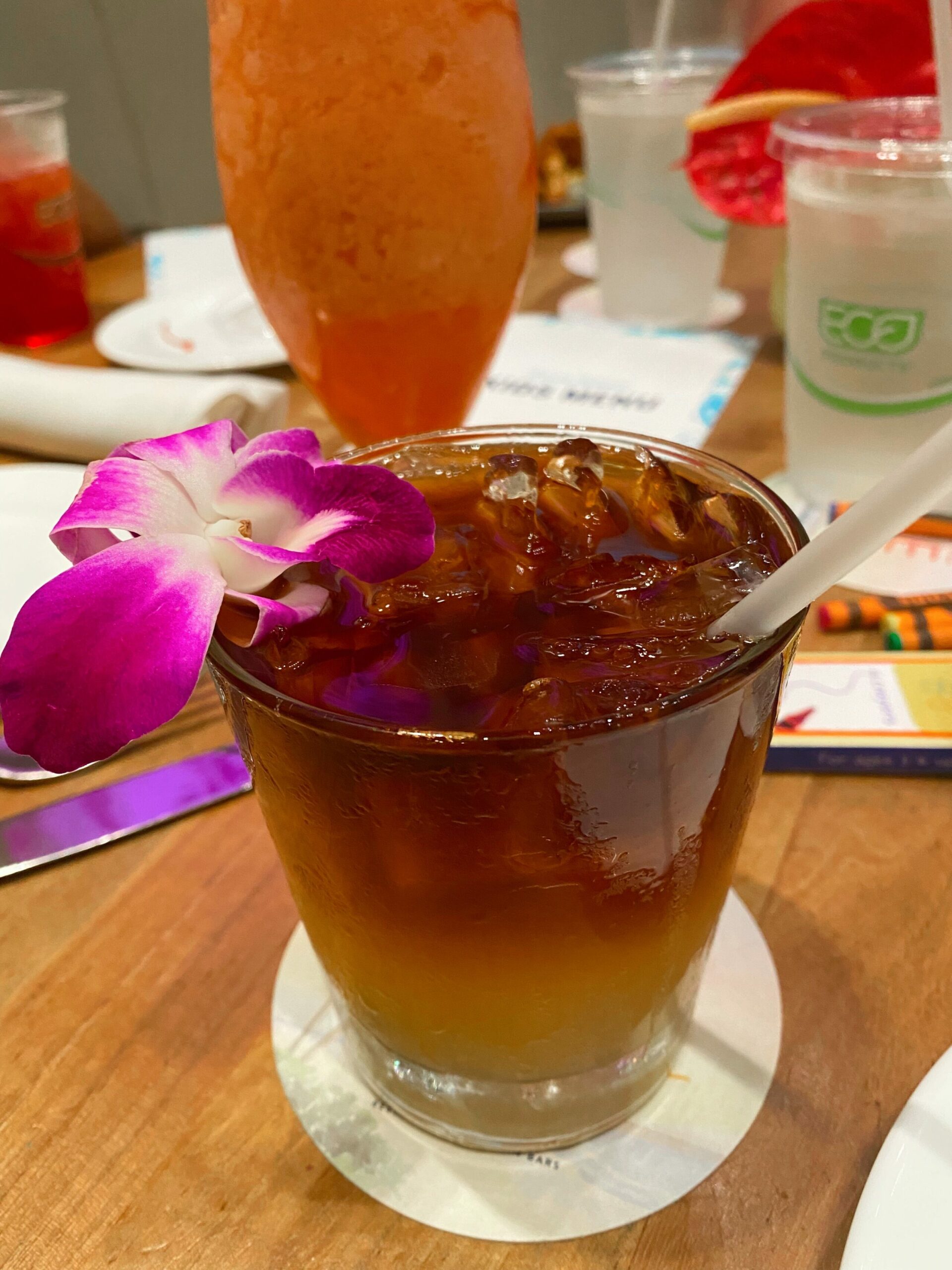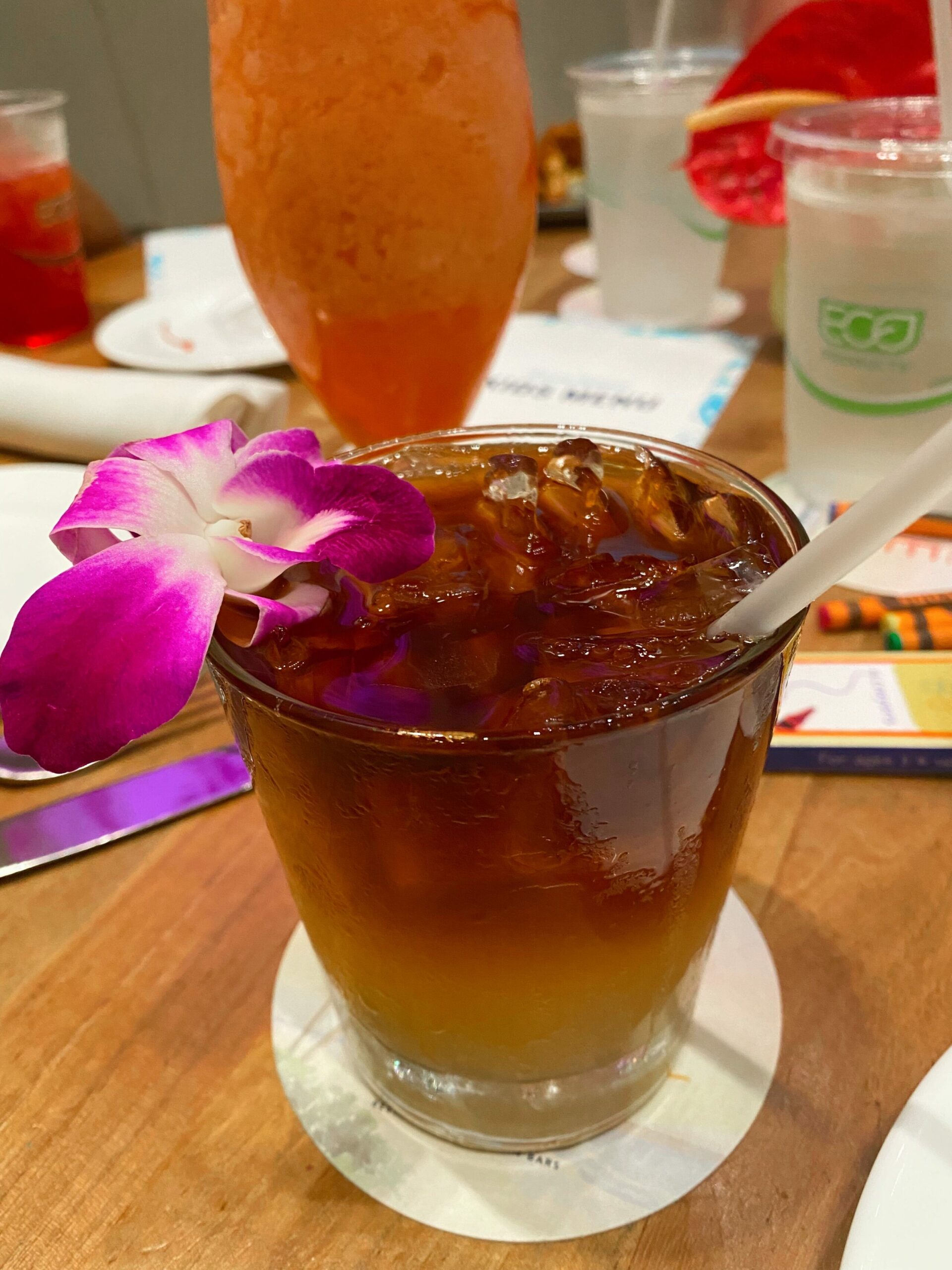 A House without a Key
This is such a special spot and I'd love to make it back here. We sat outside, surrounded by the ocean and lush grass, an enormous tree, and enjoyed live music and hula dancing with our meal. The service was AMAZING – everything was so fast and perfectly prepared- and I was blown away by this meal.
We had the coconut shrimp for an appetizer, I had the sea bass (with a miso ginger broth and veggies, with purple sweet potato) for my entree, and shared coconut cake for dessert. Highly, highly recommend, especially for more of a date night or special occasion spot.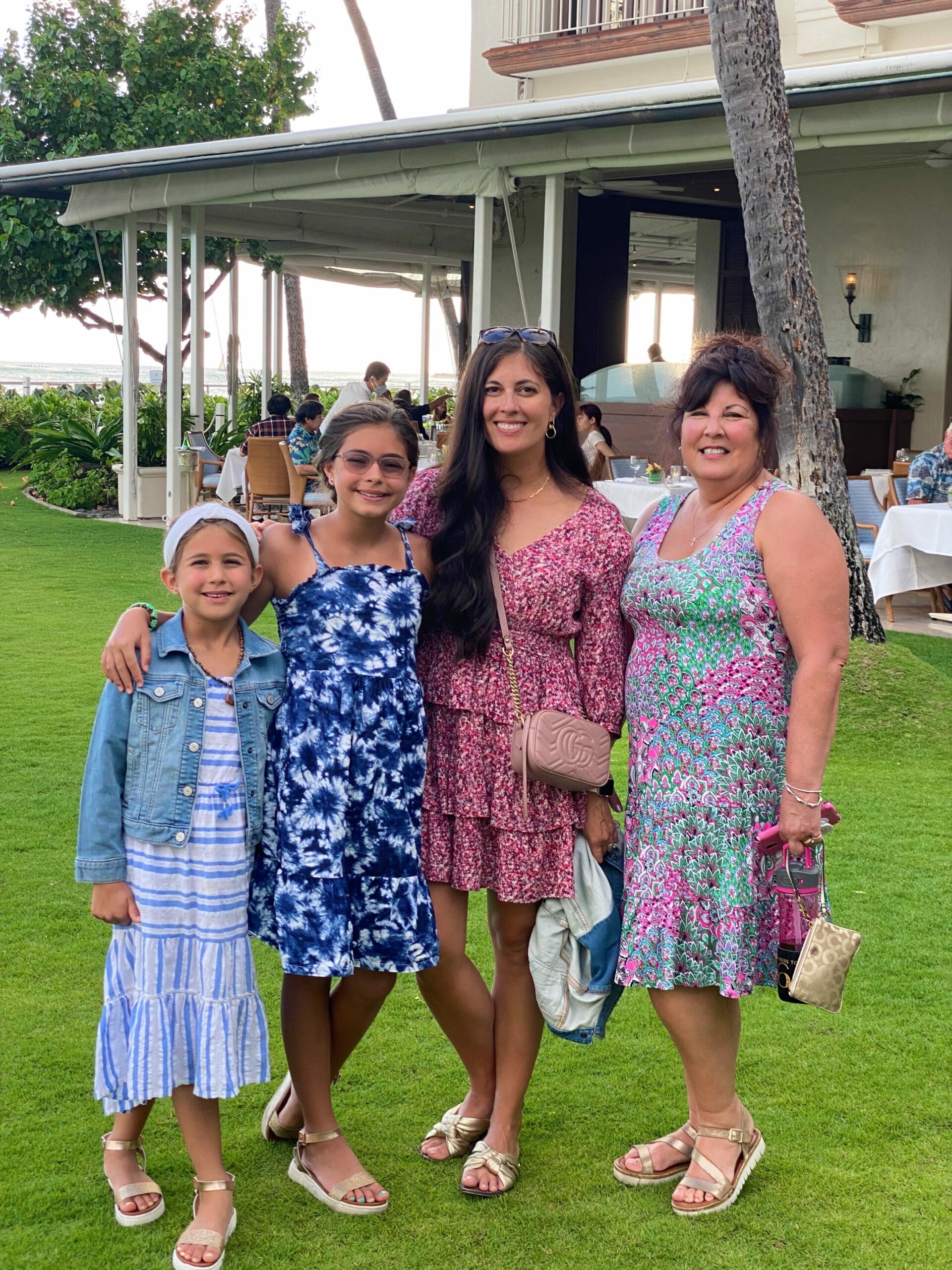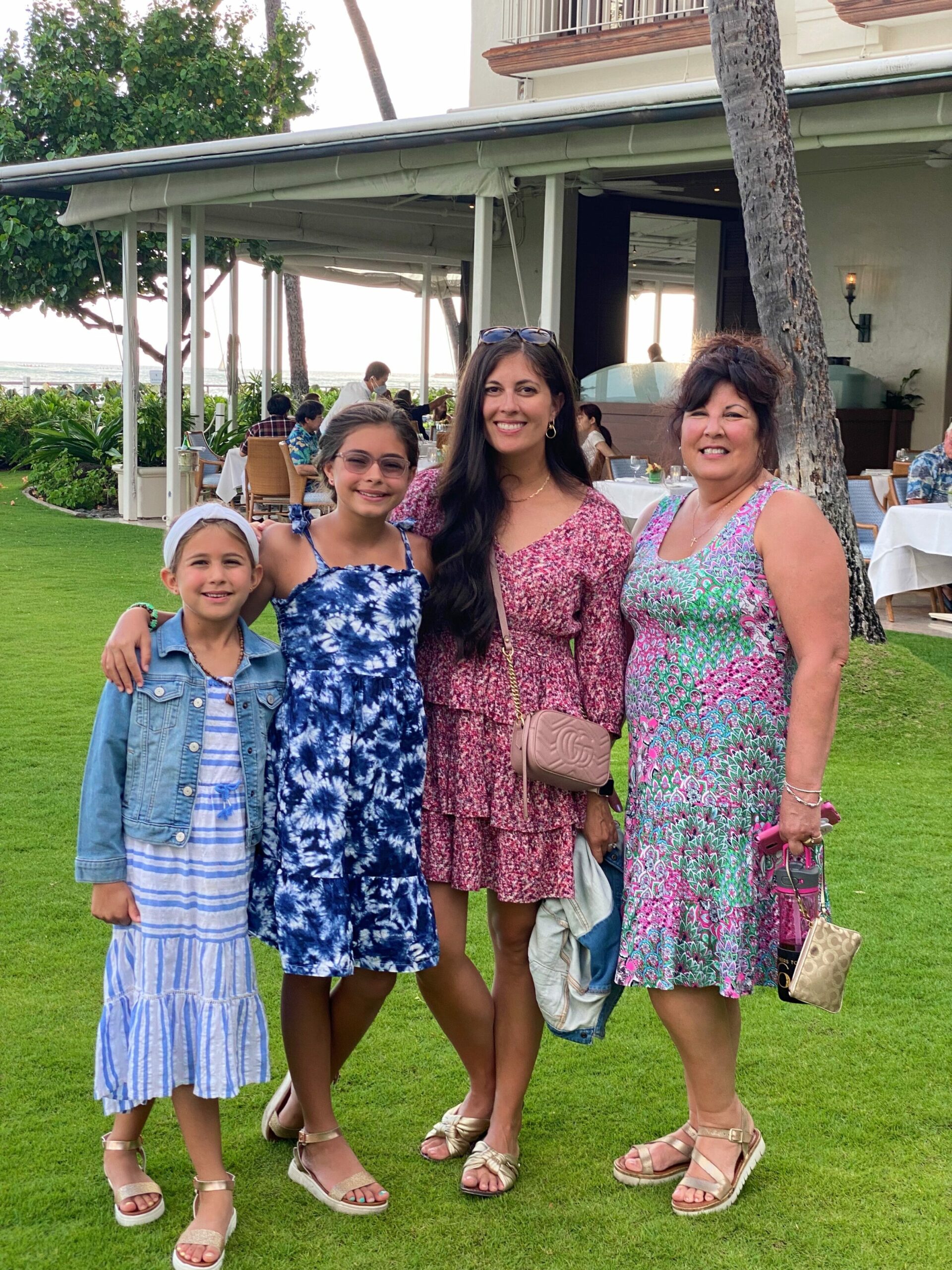 (dress is here)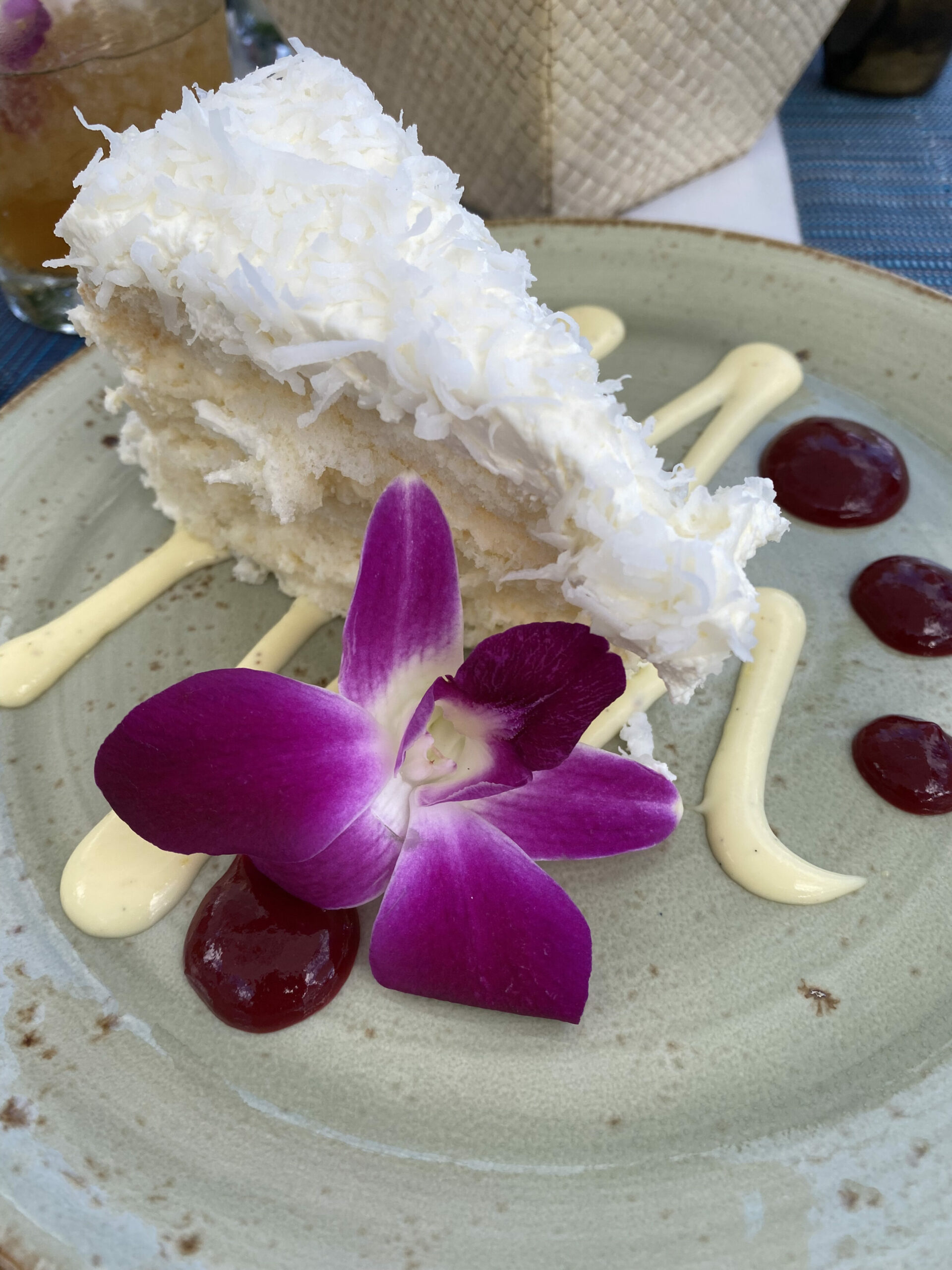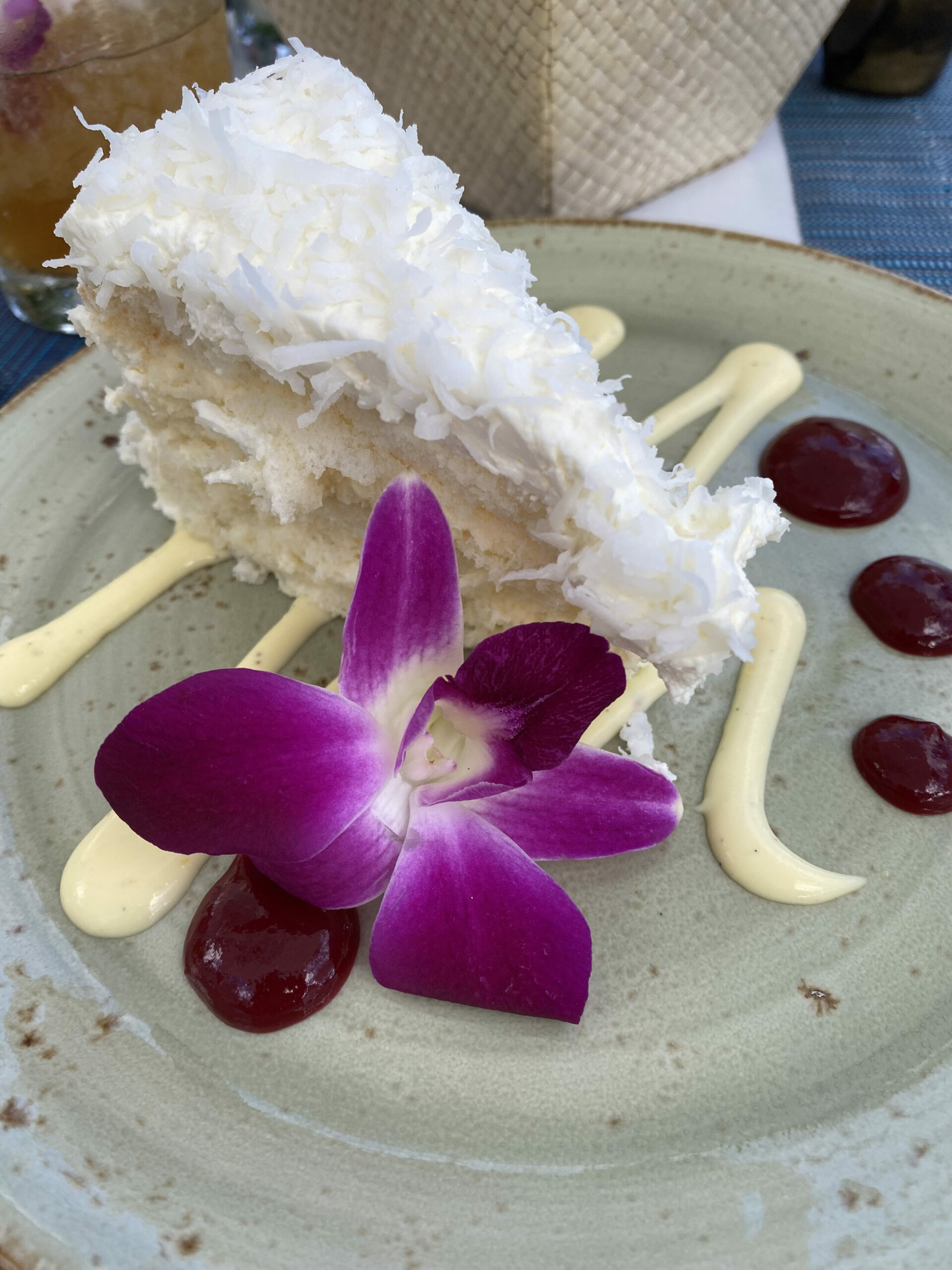 Poke Fix
We had many poke bowls while in Waikiki (P wanted one every day, so I joined her!), and this is the #1 spot. The Pilot scoped it out before we got there and found this amazing poke bowl place, which has pickled garlic, kimchi, super fresh fish, and if you get salad greens instead of rice, they top it with a lovely ginger dressing. The girl working there put so much care into making the poke bowls, and everything was SO fresh and good.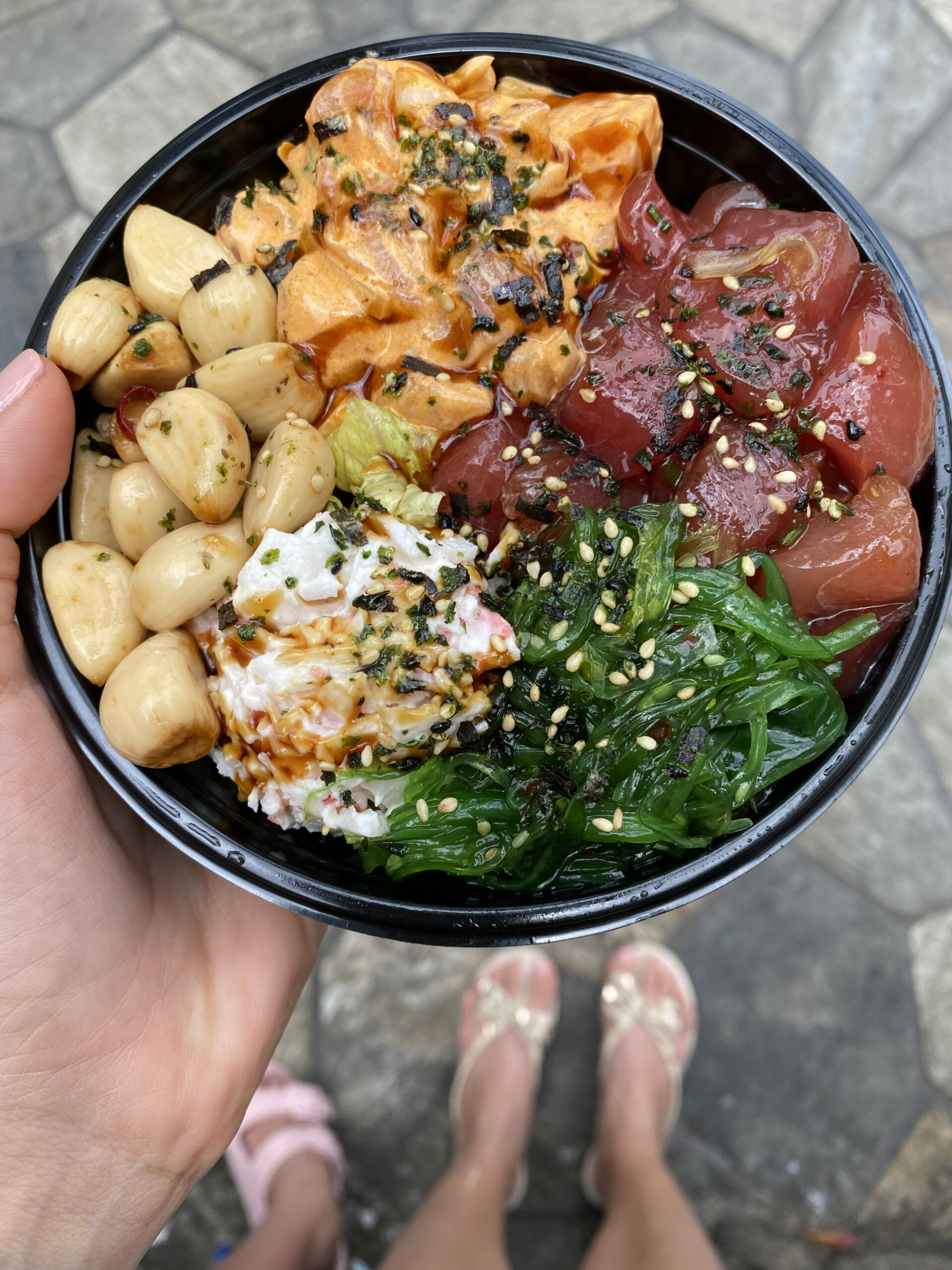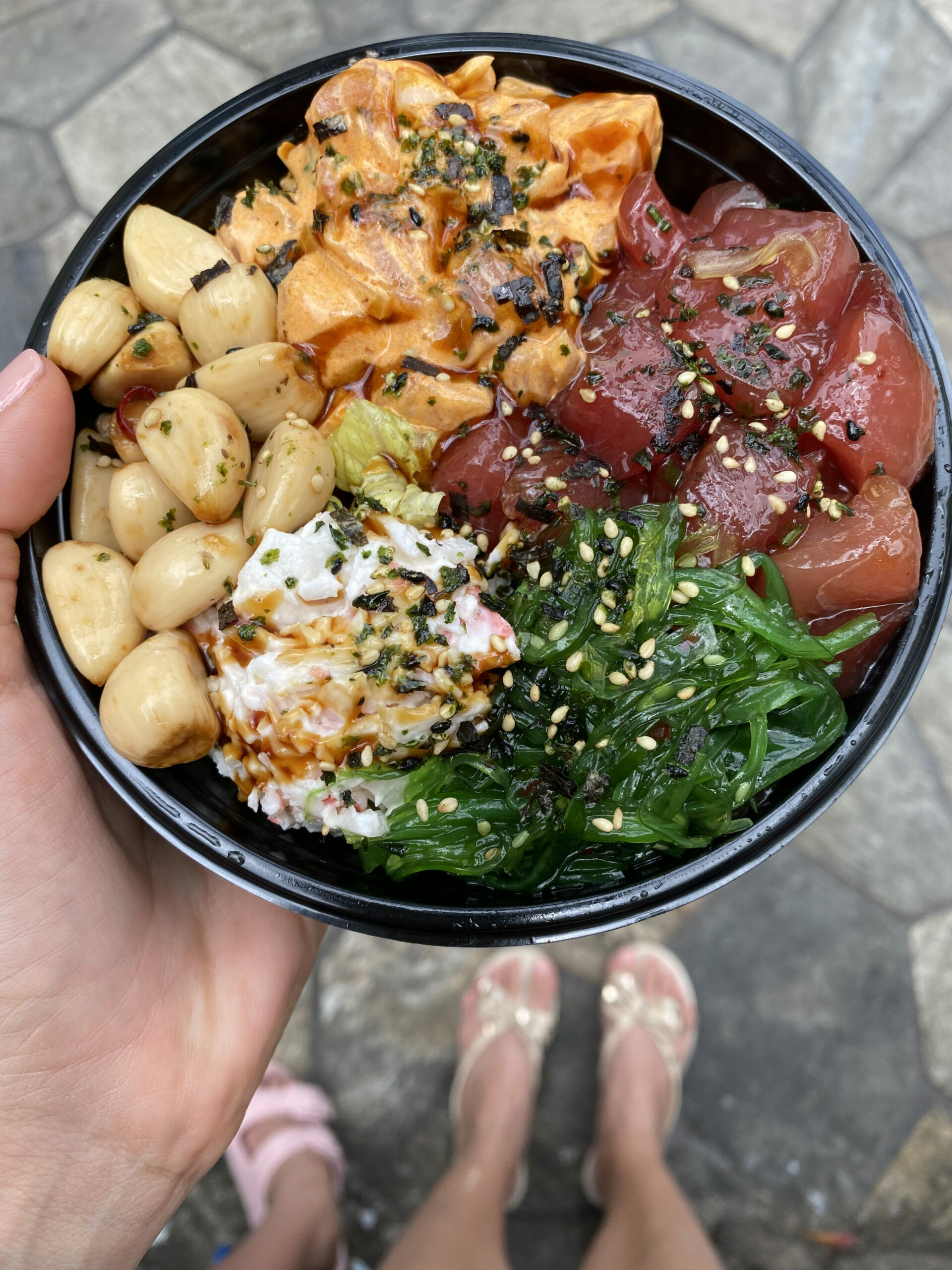 I'm salivating looking at this pic right now.
Hula Grill
We had this for a more casual dinner, and enjoyed our spot on the patio, overlooking the Outrigger pool and the beach! Everything was amazing, and this was my mom's #1 Mai Tai pick.
Alo Cafe
This was another spot the Pilot found before we got there for the best acai bowls, and they make their peanut butter in house. It was EVERYTHING. All of the acai bowls in Tucson will be blah and sad from now on.
Duke's Market
Duke's was right down the street from our hotel, and we went many times. They have the fresh malasadas in the morning, incredible coffee, pastries, and quick bites, like salads, wraps, masubi, and breakfast options. We had fried rice with over easy eggs on top one morning, and I also tried a veggie omelet with potatoes. This is the spot if you're looking for a quick bite, or even want some more convenience type options (like drinks, fresh fruit, anything you may have forgotten).
Marakume Udon
This udon restaurant has a line out the door, at least 15 people long, from the time it opens until the time it closes. It's for a good reason, too. They make the udon noodles fresh in-house, and the broth is one of the best things I've ever tasted. You can get your noodle bowl a variety of ways, with different sauces, meat options, eggs, and toppings.
The best pro tip I received from a friend: order your food online directly from the website. Don't even wait in line. Your meal will be ready on a rack in the back towards the kitchen and you don't have to wait! We got ours to-go and had a picnic lunch in the hotel.
Our hotel:
Beachcomber by Outrigger
This was booked through the Pilot's work and we all loved the vibe and central location. It had a gorgeous pool, was super clean and cute, and you could see the nightly luau at the International Marketplace from our balcony. They also had laundry which was highly appreciated, as most of our clothes were drenched and covered in sand each day.
After exploring and checking out some of the nearby hotels, I'd love to stay at Moana Surfrider, Halekulani, or Aulani next time. (I was supposed to visit Aulani for a work trip years ago and still want to make it one of these days!)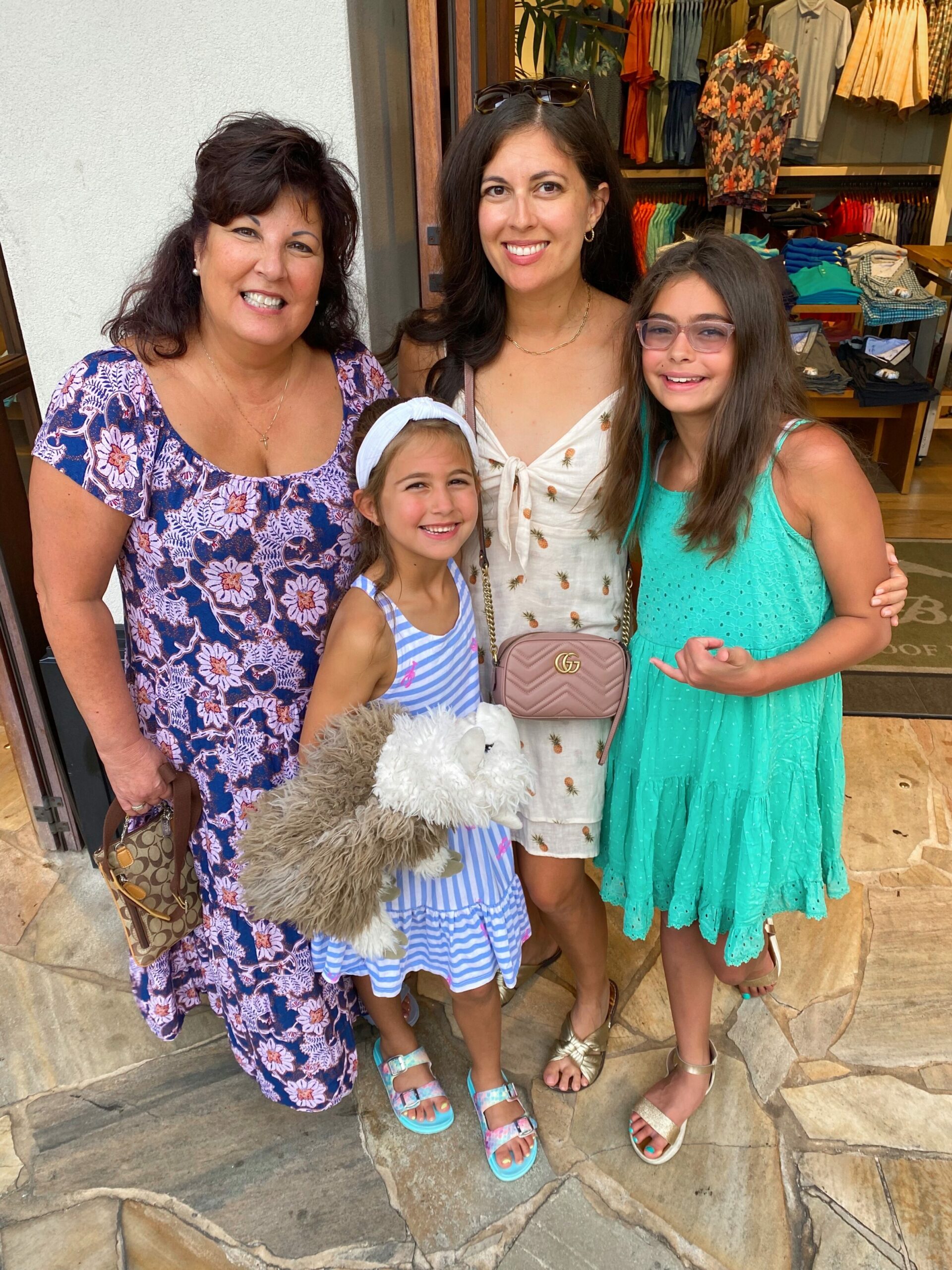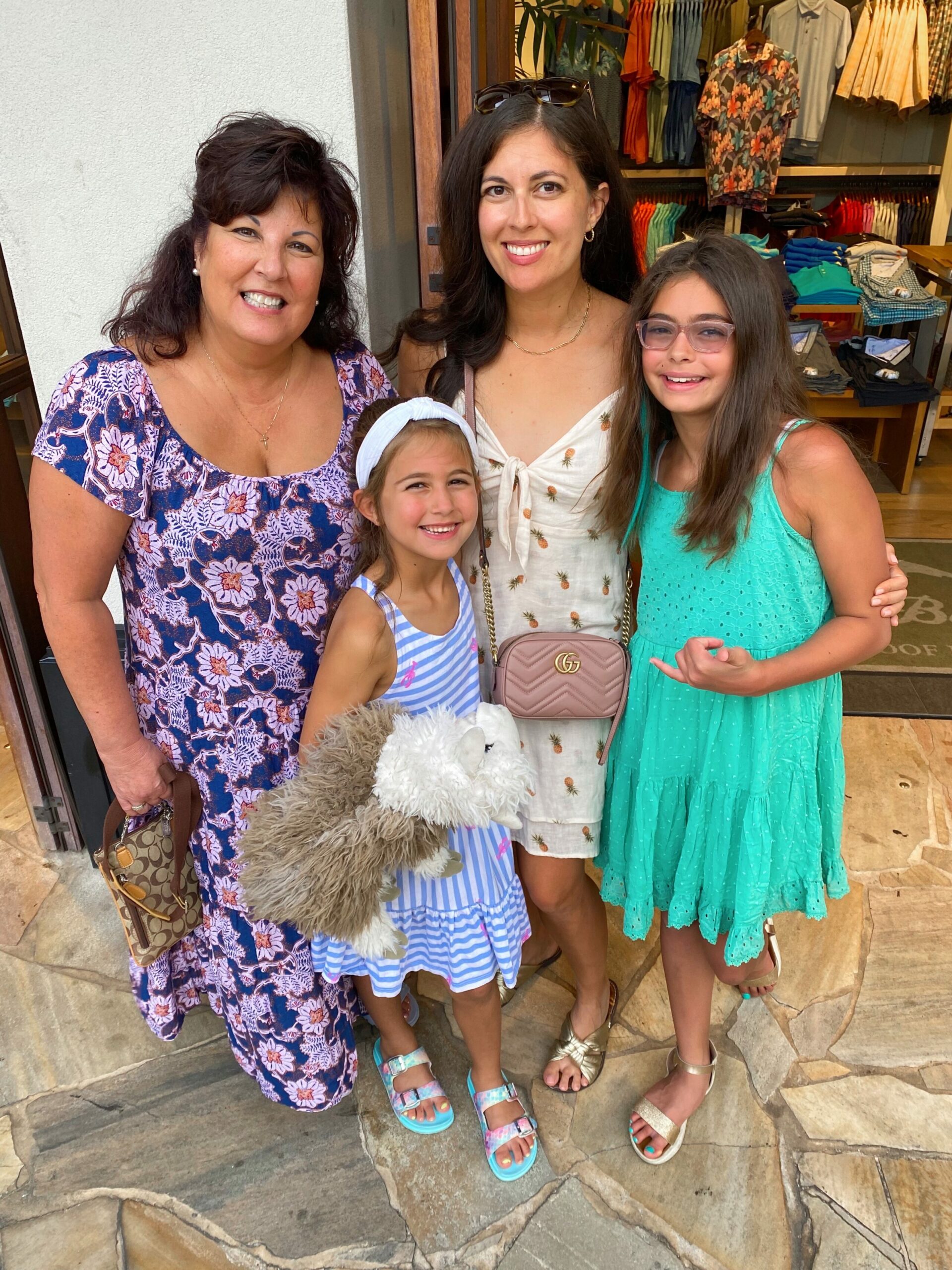 (Pineapple dress is an old one from Rails)
My thoughts on staying in Waikiki:
I remember last time we went to Hawaii, and I was researching which island to visit and where to stay, and I saw so much Waikiki bashing. "It's too busy." "It's too touristy." It did not feel too busy to me and was no different than visiting Orlando or Las Vegas.
Also… I am a tourist. Obviously I'm not going to fly across the ocean to dine at Cheesecake Factory (give me all the local spots!), but if you plop me in a spot that's surrounded by awesome restaurants and shopping, this makes me happy. I feel like when we plan certain vacations to get away from everyone, I wouldn't want something like this – Sedona is more of an escape spot for us – but in this case, I loved the fact that there were people around, music playing constantly, and a bigger city feel.
The next few weeks are going to be busy with return to competitive dance for Liv, soccer and horseback riding for P, my high season on the blog and with coaching, and the kids going back to school. I'll definitely be thinking of happy Hawaii memories, poke bowls and beach days when things feel overwhelming. It was a lovely trip with my favorite people. 🙂
I hope you have a happy Monday and I'll see ya soon!
Have you visited Hawaii? What are some of your must-dos?
What's on your vacation list right now?
xoxo
Gina