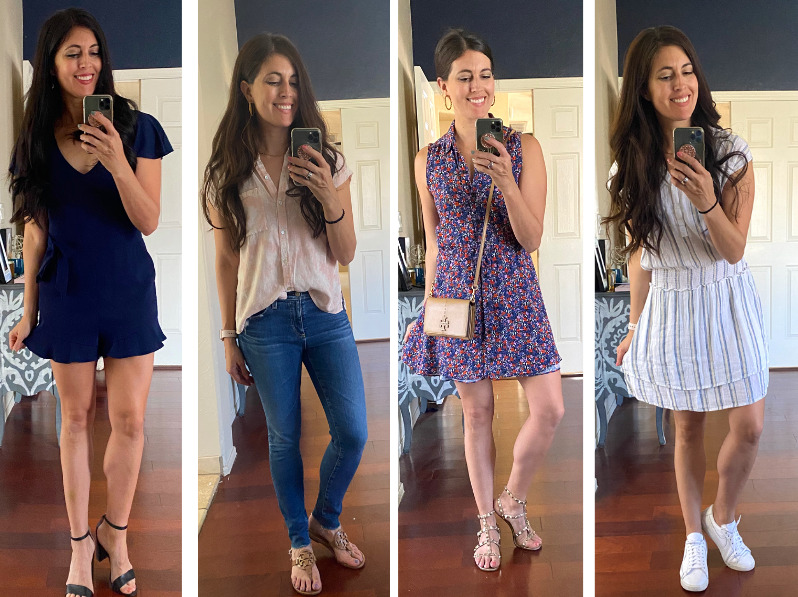 I originally wrote about Rent the Runway services in a 2016 post. I wanted to write an updated review that included my experiences with Rent the Runway Unlimited, so here are my full thoughts!
Hi friends! Happy Monday! How was the weekend? I hope you had a great one! The girls had double birthday parties, movie night at their school, soccer game, dance, and we met up with friends for dinner at the pool. It was a jam-packed weekend but so full of fun activities and chance to see friends. I got exactly zero chores done around the house and it was 100% worth it. I also slept for 9 hours on Friday AND Saturday night, so my battery is recharged and ready for another busy week ahead. I hope you had a great weekend, too!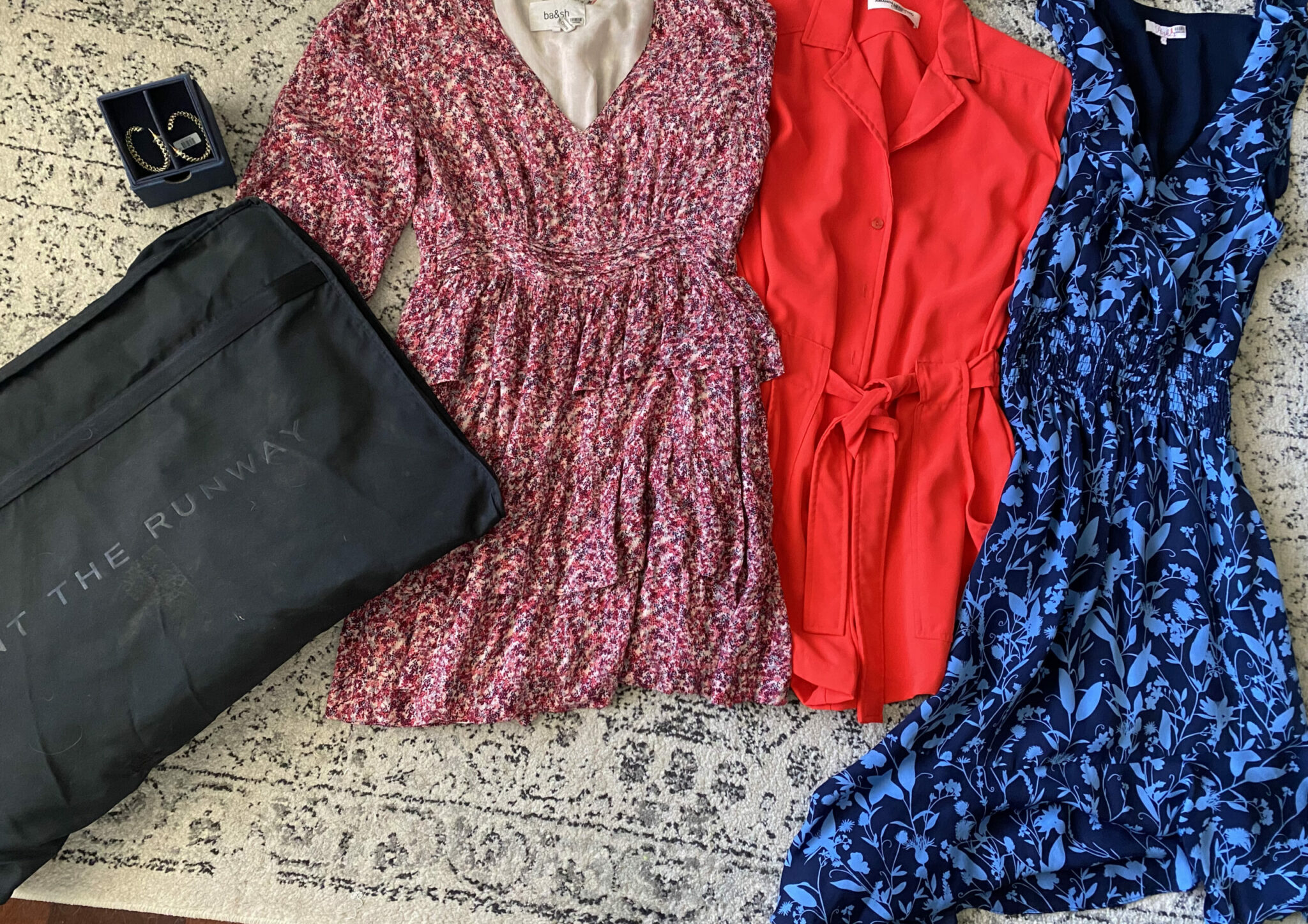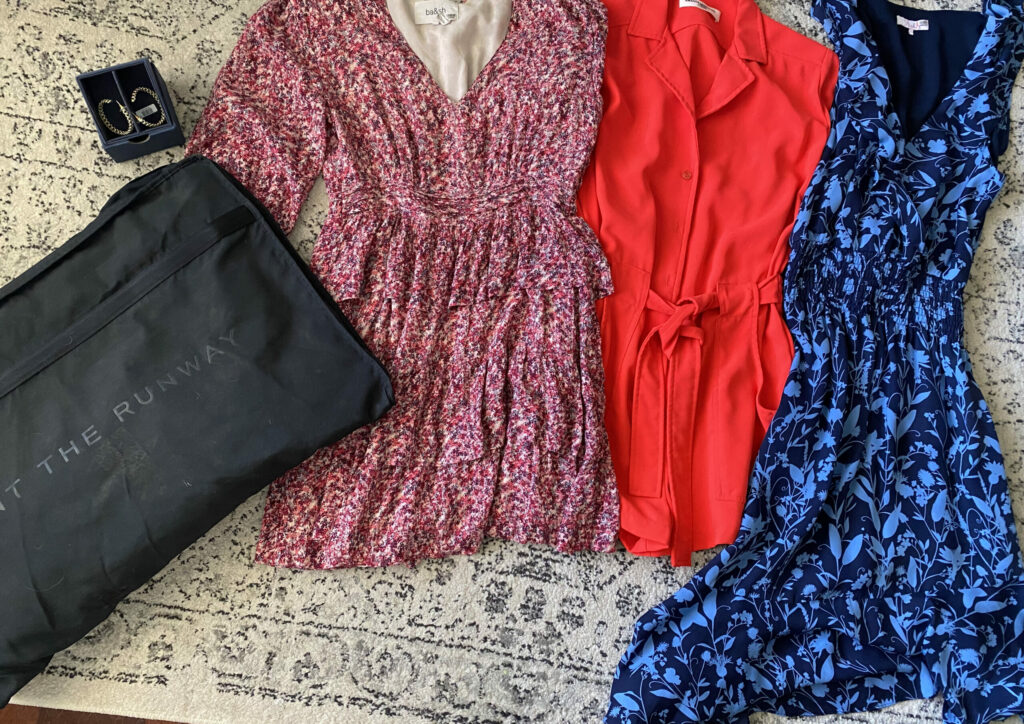 For today's post, I'm sharing an updated review of Rent the Runway Unlimited. Last time I wrote a review was when P was a baby, so I figured it was time to share my thoughts since I've been back in it for a few months and a lot has changed since the last time I used this service. If you have any questions about RTR Unlimited, please leave them in the comments and I'll try to help! This post isn't sponsored, but if you decide to give it a whirl, my referral link will get you 40% off your first month of membership.
My (updated) Rent the Runway Unlimited review
Here's how RTR Unlimited works:
– You pick a plan, a for a monthly subscription fee, you're able to rent designer clothes each month. These pieces can range from $100 to thousands of dollars and include an amazing variety of designers and brands (750+), like Monique Lhuillier, Paige, Parker, Rails, Amanda Uprichard, Tory Burch, SO many of my faves.
– You can swap out the items depending on how many shipments your plan includes, which helps ya get a constantly fresh wardrobe. Each shipment includes a return label that you use to mail the items back via UPS.
Subscription plan options and cost
RTR Unlimited has a new membership structure, and here's what it looks like:
4 items per month in 1 shipment per month. Basic closet access means that you have a more limited selection of options. Price: $69 trial month, $94 after
Up to 8 items per month in 2 shipments per month. Full closet access has a wider selection of items. Price: $99 per month for 2 months, $144/month after
16-item plan in 4 shipments per month. Full closet access. Price: $149 month for 2 months, $235/month after
I went with the four-item plan and have been very happy with it so far!
Some of the outfits I've received in shipments over the past few months: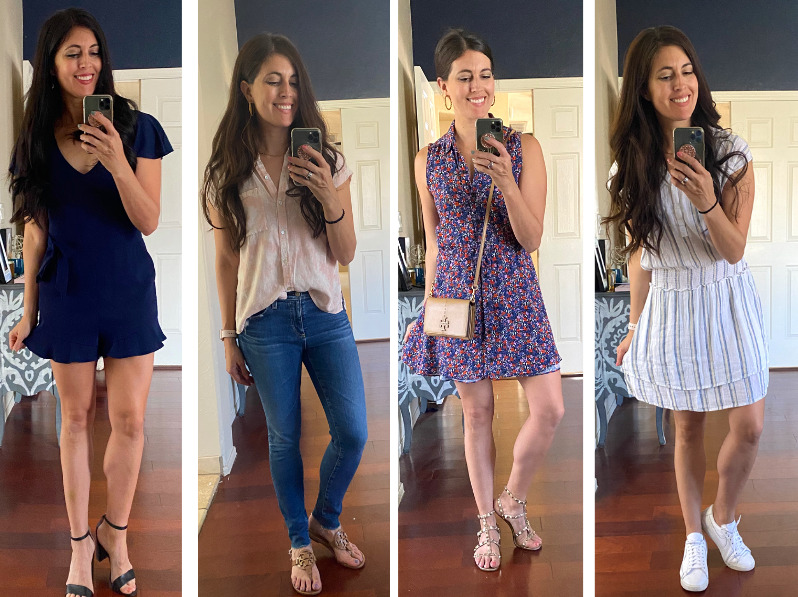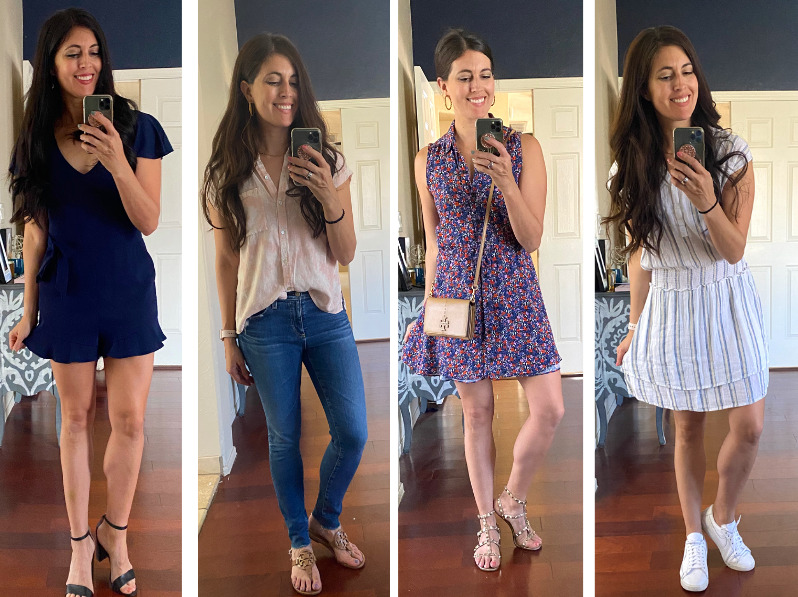 Pros of using RTR Unlimited:
– As someone who loves trendy pieces but doesn't necessarily love spending a lot of money on them, this gives me the chance to try new things without a huge commitment. I also love being able to try a pair of jeans or a dress before committing, especially if I discover I don't like them or they don't fit. Also this is a weird quirk about me, but I get sick of clothes very quickly. This enables me to try out new things and feel excited about my wardrobe without spending a ton of money. I'd rather invest in classic pieces and staples, and rotate in fun new things from RTR Unlimited.
– If you're someone who constantly attends weddings and events, this can be a huge money saver for formal wear. I haaaate dropping a few hundred dollars on a dress I know that I'll only wear once (like with formal military events). When you have a couple of events in a row, RTR Unlimited can be so helpful for this.
– Maternity options! If you're currently expecting, this can be SO amazing because great maternity pieces are $$$ and you only need them for a shorter amount of time. I would have loved to use this during my pregnancies, especially with maternity tops and jeans.
– Sustainability. The pieces are dry-cleaned and shipped in a reusable garment bag. They use plastic to separate the items (like bags from the dry cleaner), but are recycled when you return them. I also love the idea that a single garment is used by multiple users and has a longer life that fast fashion pieces that end up in landfills.
– Size variety. Sizes 00-22 are available on the site.
– Shipping is SUPER fast. In the past, I feel like I wait to wait a long time to receive shipments and was wasting membership time. They've really improved shipping speed! I'll pick my next 4 items for my swap, and before I send my shipment back the following day, the new shipment is already on the way to me. It typically arrives in 2-3 days.
Cons:
– It's pricey, buuuuut the average member rents 37k in clothing per year.
– Inconsistent sizing between brands. As I mentioned above, they have a lot of brands that I tend to wear often and love (especially Paige, Parker, and Rails), so when you know what size you wear in a specific brand, it helps a lot. They also do one full replacement if you find that most of the items in a single shipment do not fit; they give you a chance to get to know the brands and discover your size.
I also enjoy looking at the reviews and photos for each item, so it can give me a better idea of what it looks like in real life and if I think it will fit.
– If you feel weird about wearing clothes that others have worn, it might not be a fit for you. It doesn't bother me at all, and every single shipment I've received has been clean and smelling fresh. (I can't say the same about Nuuly. I got TWO stinky shipments before canceling.)
– Option to buy items you love at a super small discount. I feel like the prices aren't as great as they could be to buy, especially considering the fact that multiple people have worn this garment. It's like, "If you love this Rails dress, save 5% by buying it!" In that case, I'd rather buy a new one.
So, tell me friends: have you tried RTR Unlimited or anything similar?
What's your go-to spot when you're shopping for new clothes?
xo
Gina