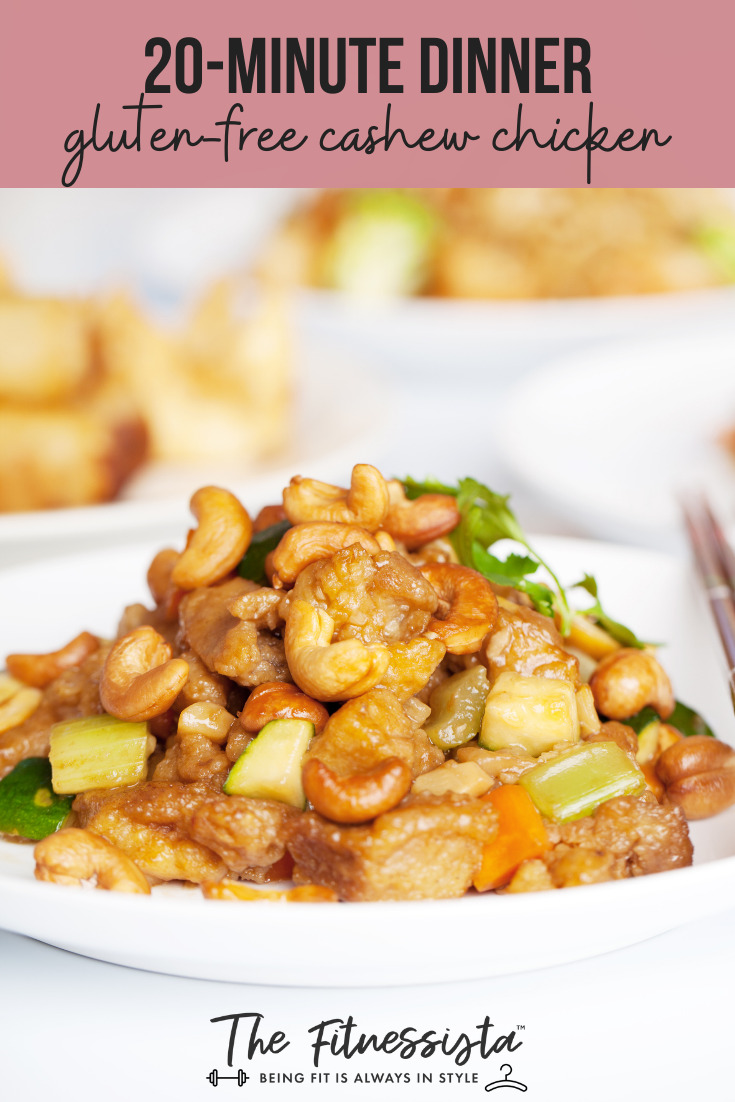 Sharing a recipe for gluten-free cashew chicken that will change your liiiiiife. Not even joking.
Hi hi! How's it going? I hope you're having a lovely morning. Today is a day off from the gym (taught dance cardio, barre, and aerobics all in a row and ya girl is spent), so I'm looking forward to reading by the pool with the crew and also getting some content done for an upcoming partner post with NOW Foods (you can use FITNESSISTA for 20% off sitewide! They have SO much amazing stuff). I also have a 1:1 client call and am getting some stuff done around the house.
For today's post, I have a new quick and easy dinner recipe for you that was a home run: gluten-free cashew chicken.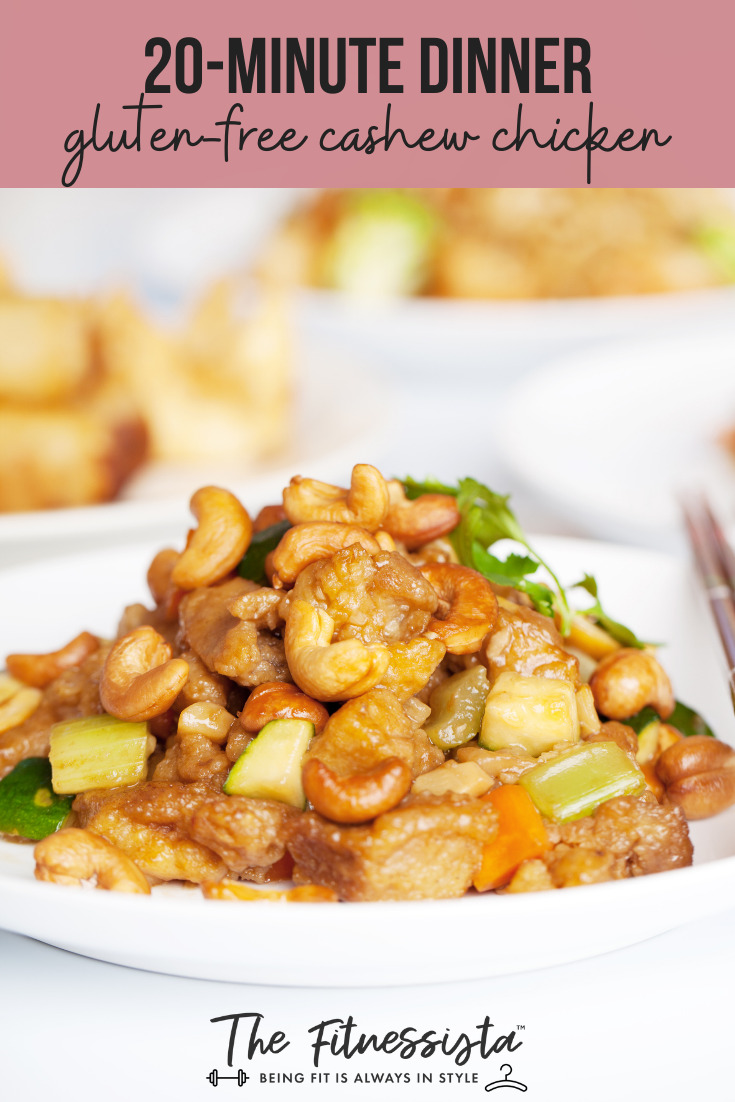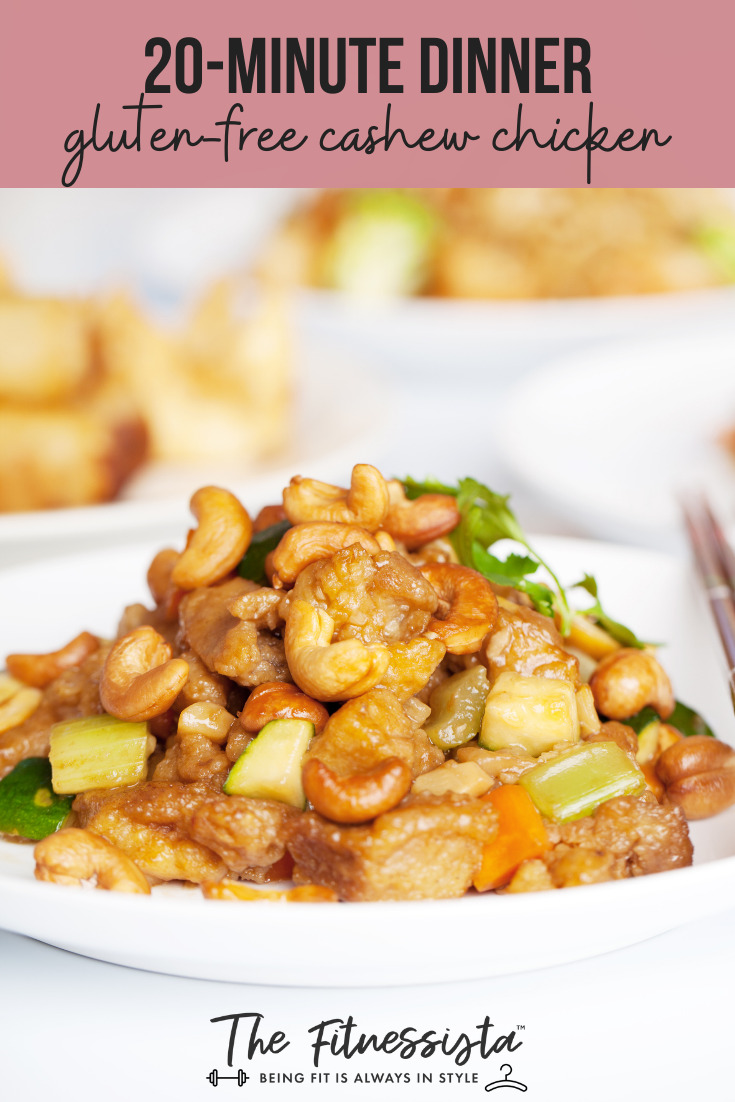 TBH, I LOVE Chinese takeout. It makes my soul so happy, but I typically end up feeling a little bloated afterwards and kind of blah. Fried food just doesn't love me back, so I don't eat it super often.
I was craving cashew chicken, but didn't have the things I usually like to coat chicken for air frying: out of almond flour, coconut flour, arrowroot, everything.
In the pantry, I saw this bag of pancake mix staring at me, and figured I'd give it a whirl.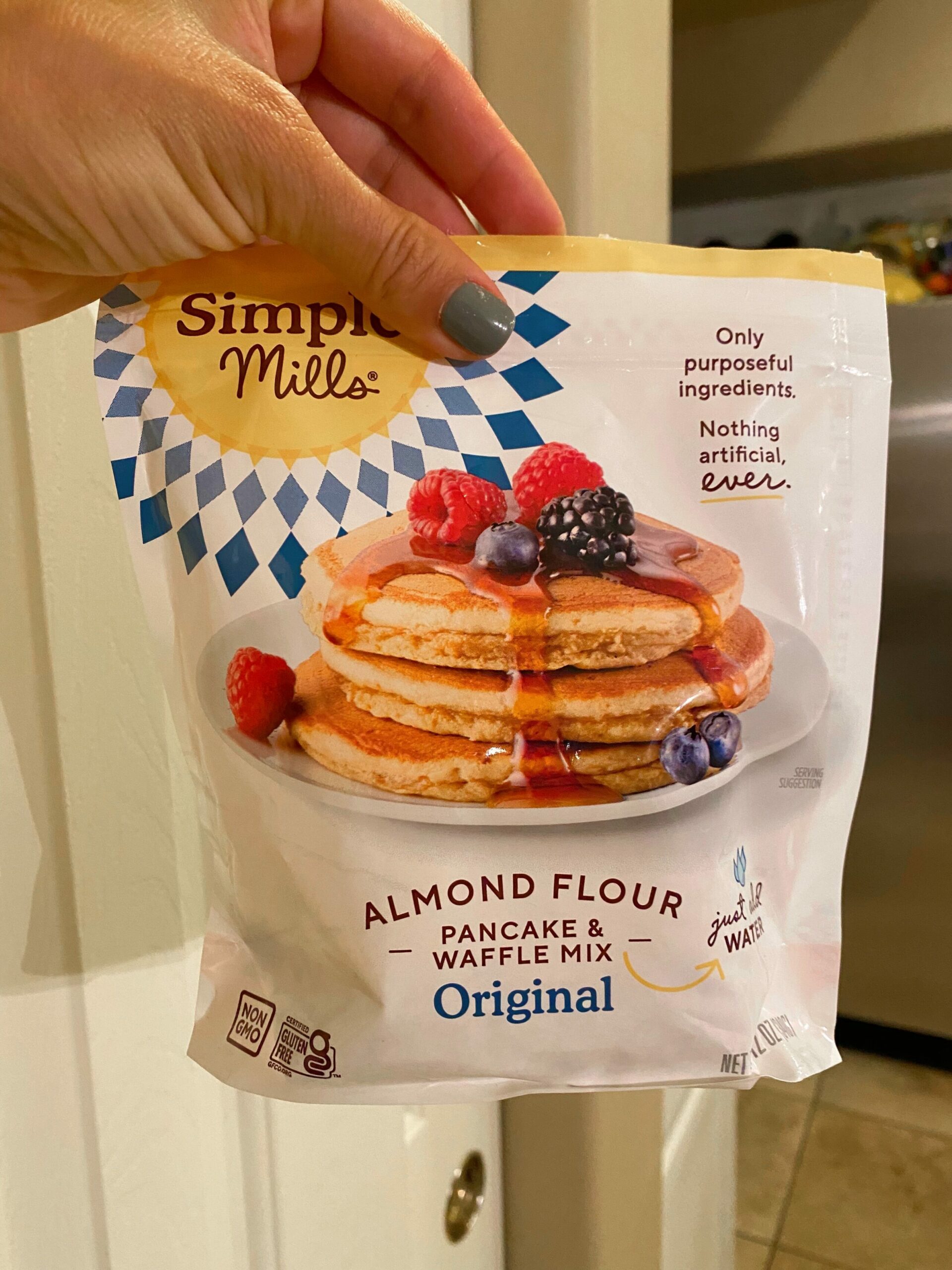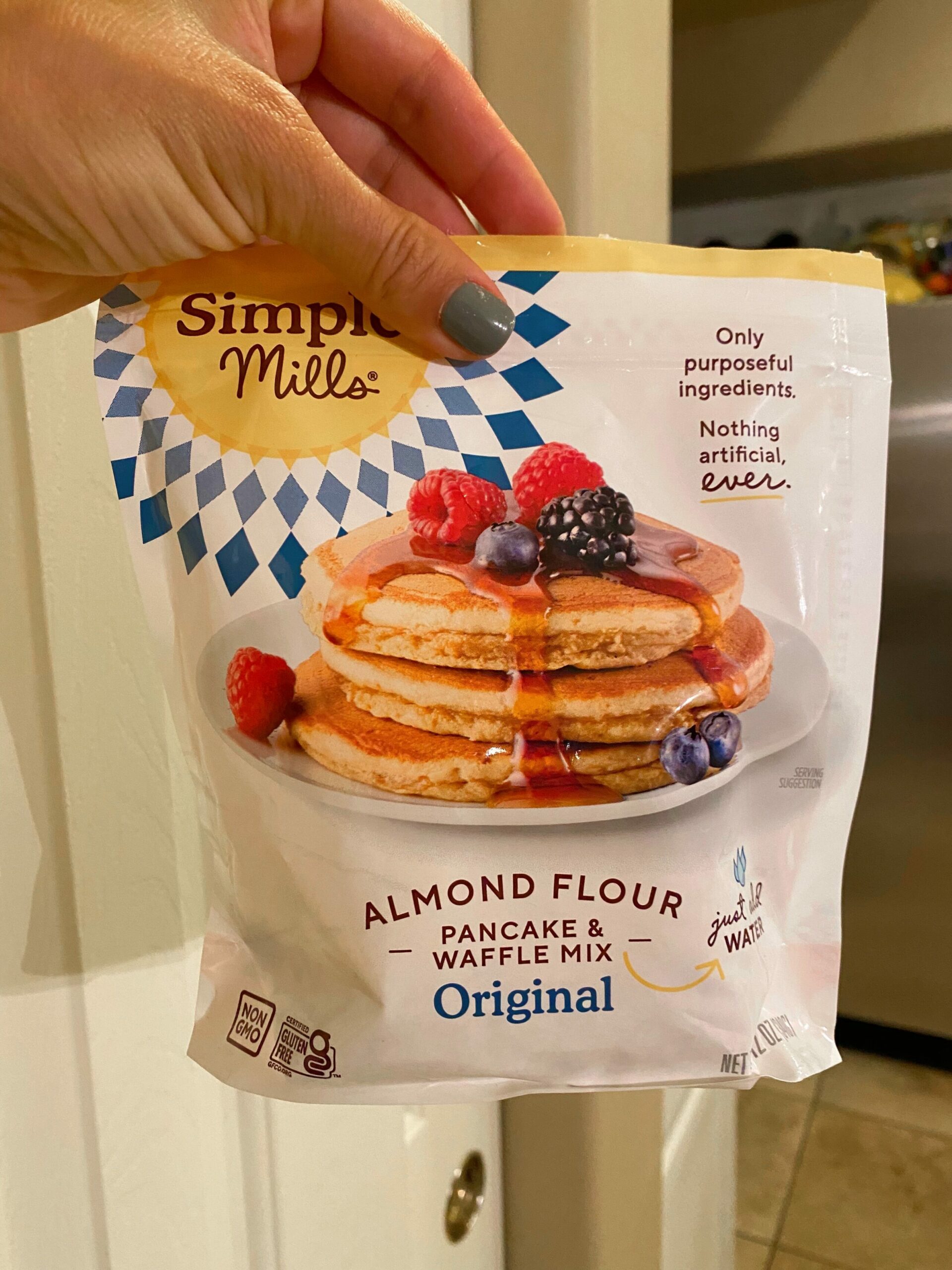 This is a game changer, friends.
It has so many great ingredients for coating or breading chicken (you could totally use this for fish, shrimp, or tofu) and very little mixing required. Just season the heck out of it with salt and pepper, make a little egg bath (about 2 eggs with a little water) and you're good to go.
Heads up with this recipe: you do need an Air Fryer. (It's $87 right now!)
I fought buying one for at least two years and now that I have one, I'm like how the heck did I live without you for so long?! You can cook so many things in the air fryer, but our favorites are frozen fries (they crisp up beautifully), teriyaki salmon, chicken wings, bacon (the BEST way to cook regular and turkey bacon!) and quick veggie and protein dinners (like chopped chicken sausage, veggies, and potatoes).
I coated some diced chicken with egg and then popped it into a bowl with the pancake mix, and stirred to coat. Next I sprayed the air fryer basket (preheated at 375), added the chicken and cooked for 12-15 minutes, flipping once. I made sure it was done – always use a meat thermometer- and crispy.
While the chicken was cooking, I made the sauce with Tamari, avocado oil, garlic, ginger, honey, hoisin sauce, and rice vinegar. It heated up on the stove, I added the cooked chicken, stirred it to coat, and topped with chopped cashews and scallions. We enjoyed the chicken on top of white rice (cooked in the Instant Pot) and sautéed zucchini.
Leftovers were bomb dot com, too.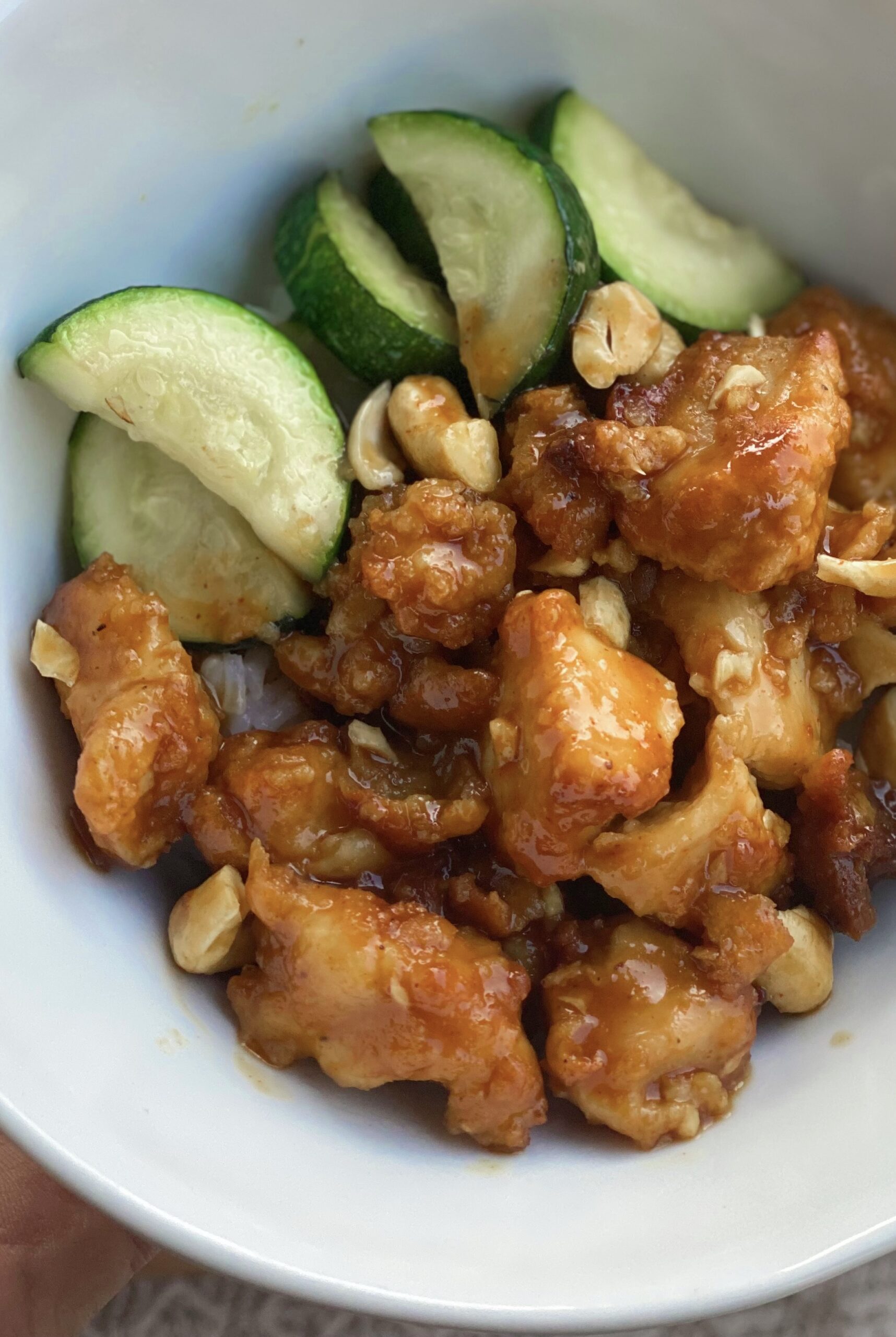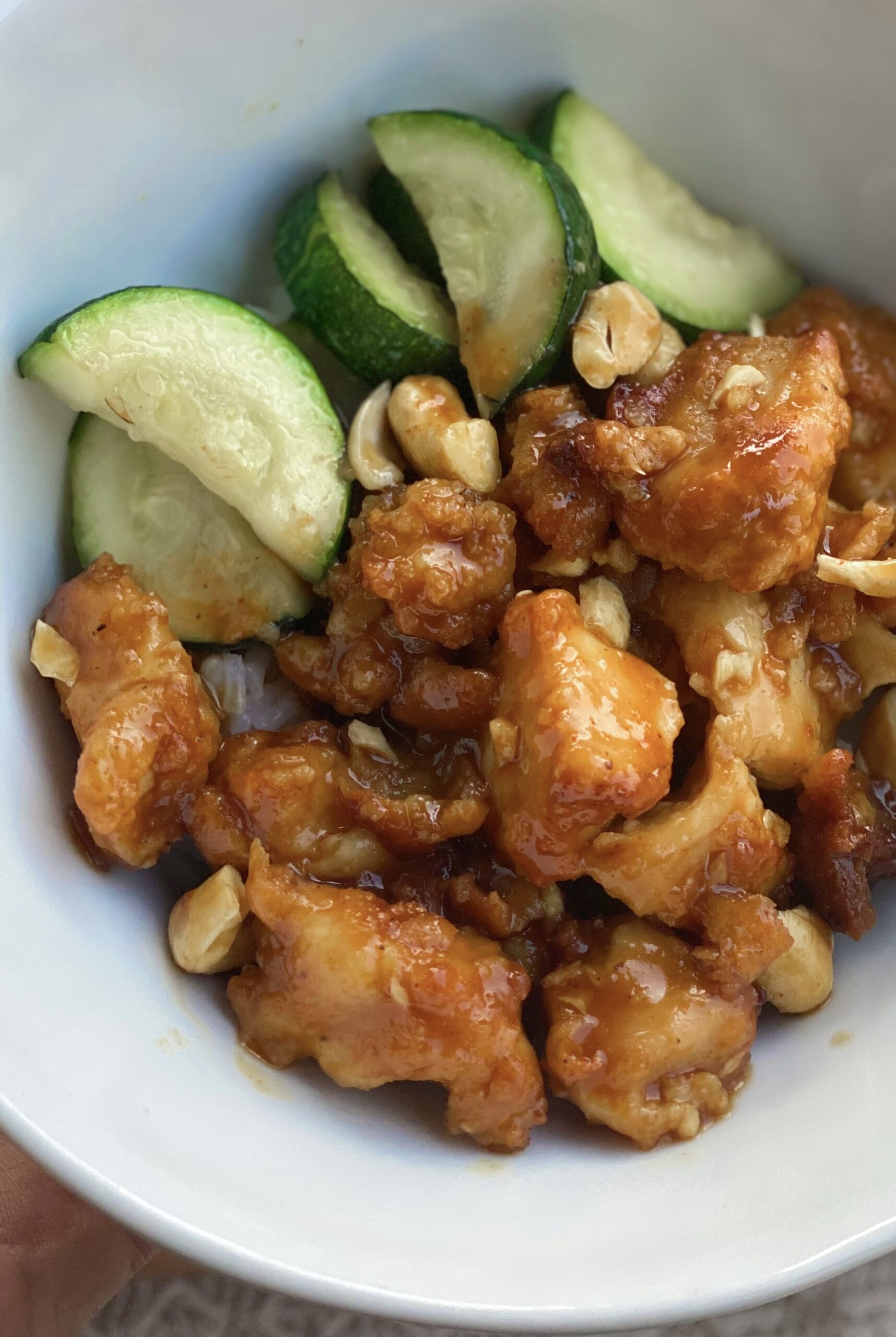 It was one of the easiest dinners ever (the whole thing took maybe 20 minutes) and the whole fam LOVED it. I can't wait to make it again!!
gluten-free cashew chicken (with a secret ingredient!)
This is a super delicious gluten-free cashew chicken that you can make in the air fryer in about 20 minutes.
1 lb chicken breast, cut into 1-inch pieces
2 eggs plus 1 T water
1 cup Simple Mills pancake mix (I order ours from Thrive Market)
Salt and pepper
For the sauce:
1/2 cup hoisin sauce
1/3 cup avocado oil
2 T Tamari
3 cloves of garlic, minced
1-in piece of ginger, minced
1 tablespoon honey
1 tablespoon rice vinegar
1/2 teaspoon sesame oil
To serve:
1/2 cup raw cashews, chopped
Scallions
Preheat the air fryer to 375 degrees.
In a large bowl, whisk the eggs and water.
In a separate bowl, add the pancake mix and season well with salt and pepper.
Add the chopped chicken to the egg bowl, and stir to coat well. Scoop out the chicken with a spoon (letting the excess egg fall off in the process) and add to the bowl with the pancake mix. Stir to coat well.
Spray the basket of the air fryer with avocado oil, and add the chicken to the air fryer. It will clump together, but when you flip it in 5 minutes or so, you can use a wooden spoon to break apart the pieces. Air fry for 12- 15 minutes, flipping and adding more oil spray as needed, until temp reaches 165 degrees and it's crispy and beautiful on the outside.
While the chicken is cooking, make the sauce! In a mixing cup, add all ingredients and whisk until smooth.
When the chicken is finished. Bring the sauce into a large pan to medium heat. Add the chicken to the pan and stir as it heats up, about 3-5 minutes.
Serve on top of rice, with cashews and scallions on top.
Notes
Want to amp up the veggie content? Add chopped bell pepper and celery to the sauce as it cooks, before adding the chicken.
Let me know if you give this one a try. 🙂 What's your current fave FAST dinner recipe?
Have a great and I'll see ya soon!
xo
Gina
PS new Fit Team workouts for June go out this weekend! Join us here for $7 and get your whole month of workouts, ready to go.
More healthy dinner ideas:
Healthy homemade hamburger helper
Mediterranean chicken with cauliflower rice