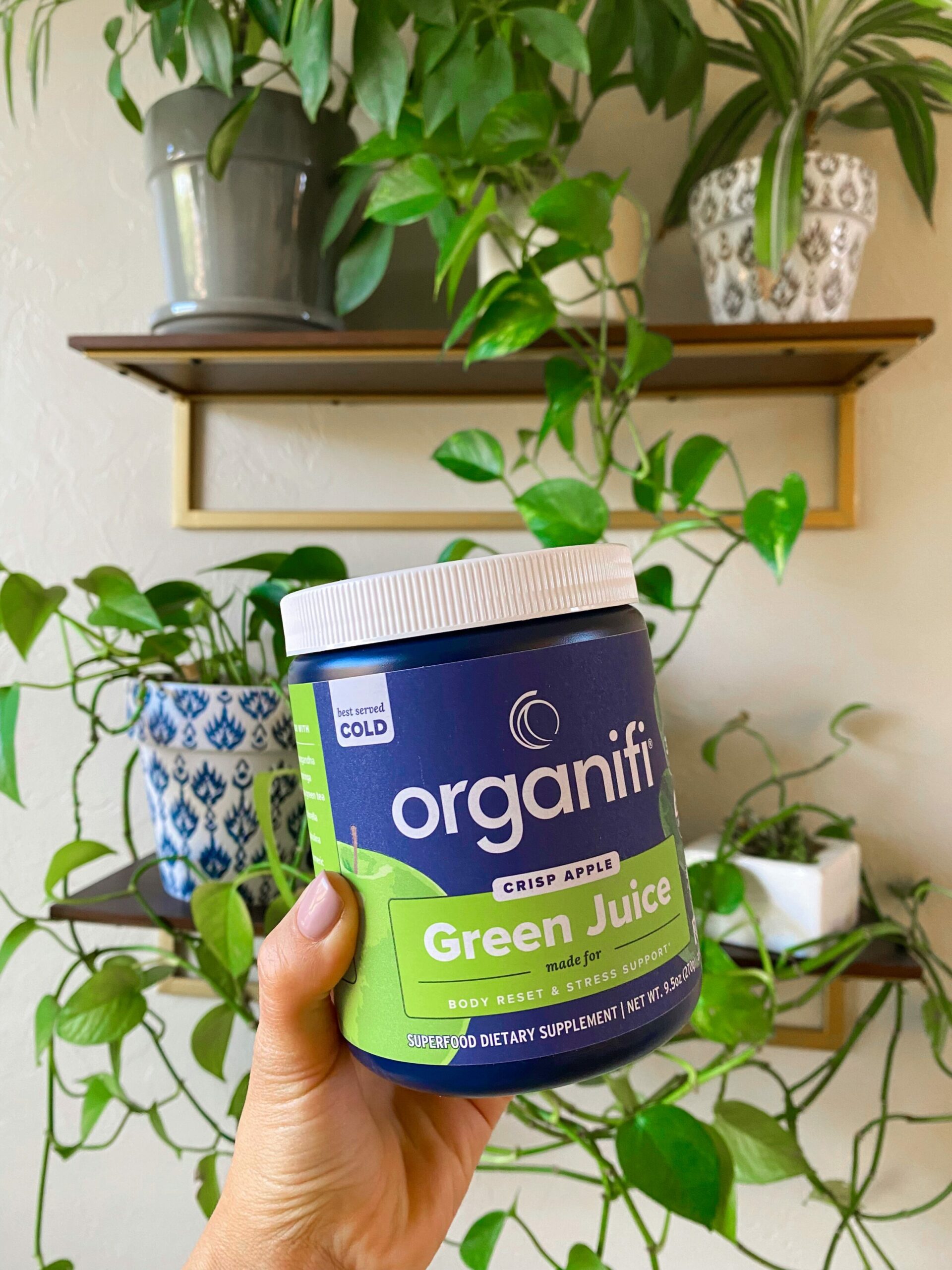 Hi hi! Happy Friday! What are you up to this weekend/ We're headed to Phoenix for a dance competition and then have double birthday parties on Sunday after I train a client. I don't even care that our weekends are jam-packed again and loving every second. I hope you have a fun weekend ahead and still get time to relax, too!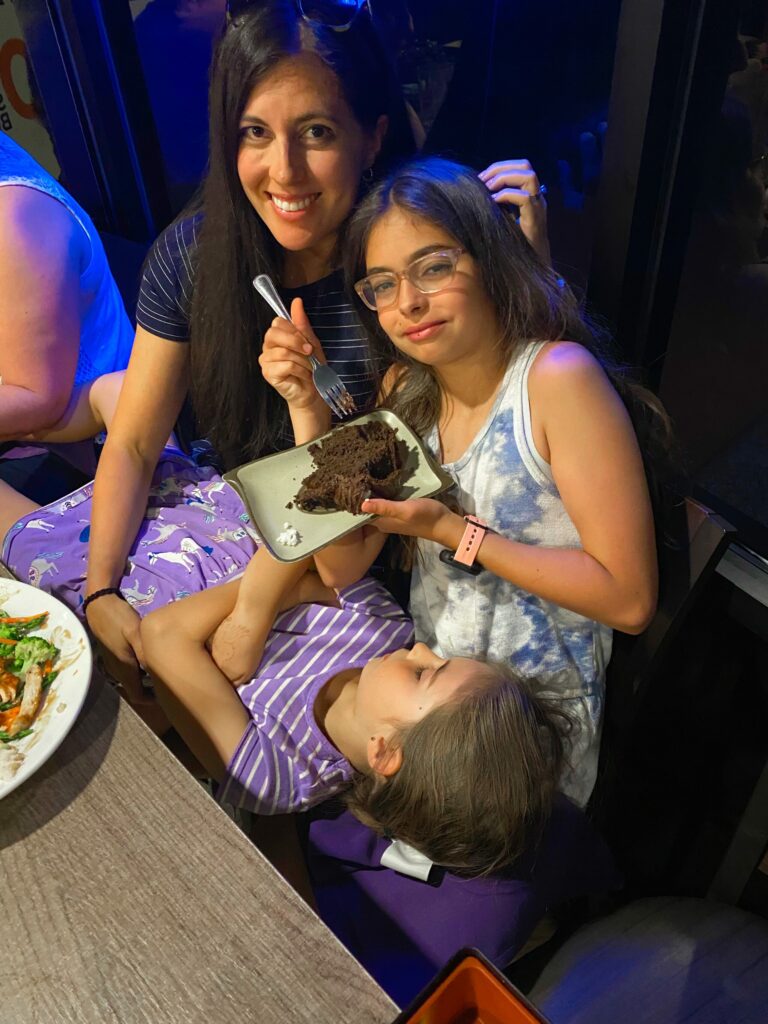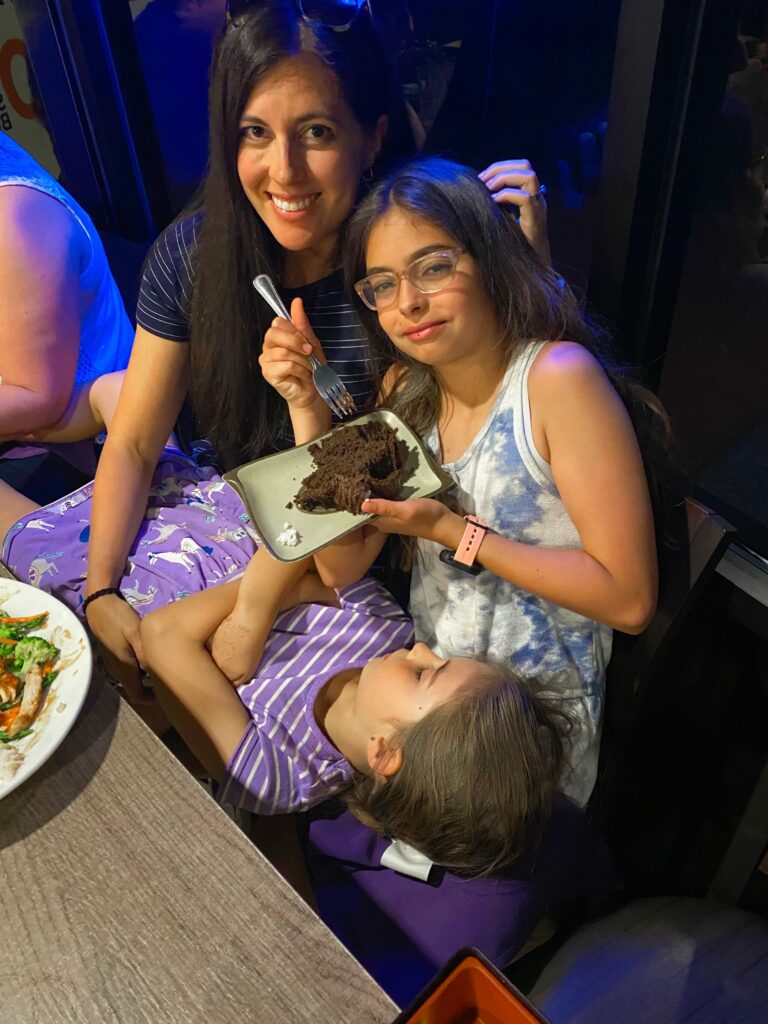 (P fell asleep during our late-night dinner to celebrate my brother Trevor's bday)
We also went to see Sonic the Hedgehog 2 (10/10 would not recommend, but the popcorn was excellent), and I asked the girls to pose by the Top Gun poster. I was like, "Come take a picture by Tom Cruise! He's SO cool! We can send it to dad."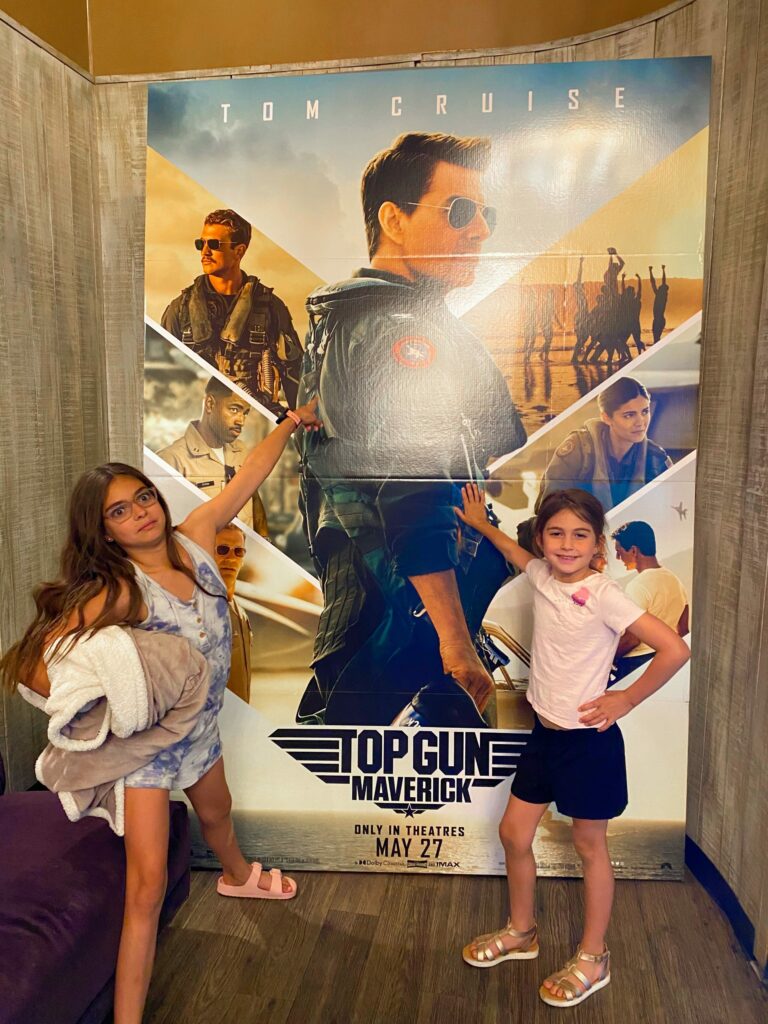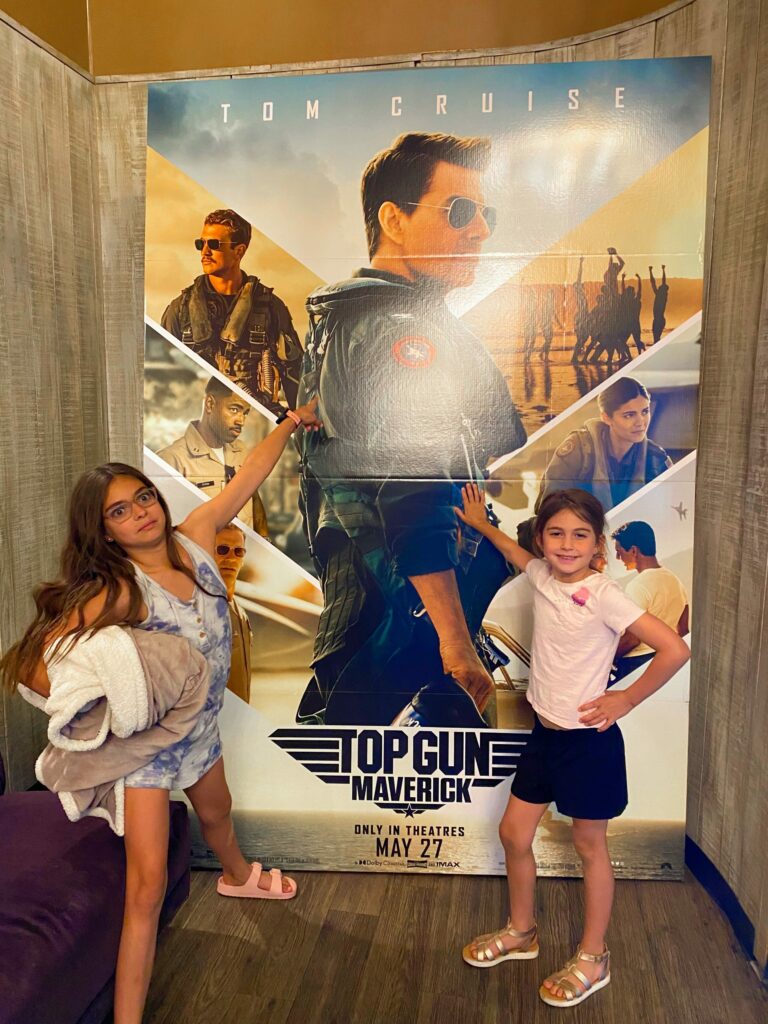 They were not as enthused. They're like, "I see a guy in a flight suit every day."
(Also worth mentioning here that our squadron rented out an entire theatre for the premiere and "costumes are encouraged." I can't wait. Even though the guys will be heckling at the screen and pointing out all of the inaccuracies the entire time.)
Before I get into the Friday Faves fun, I'm excited to announce the winner of the 100th podcast episode giveaway!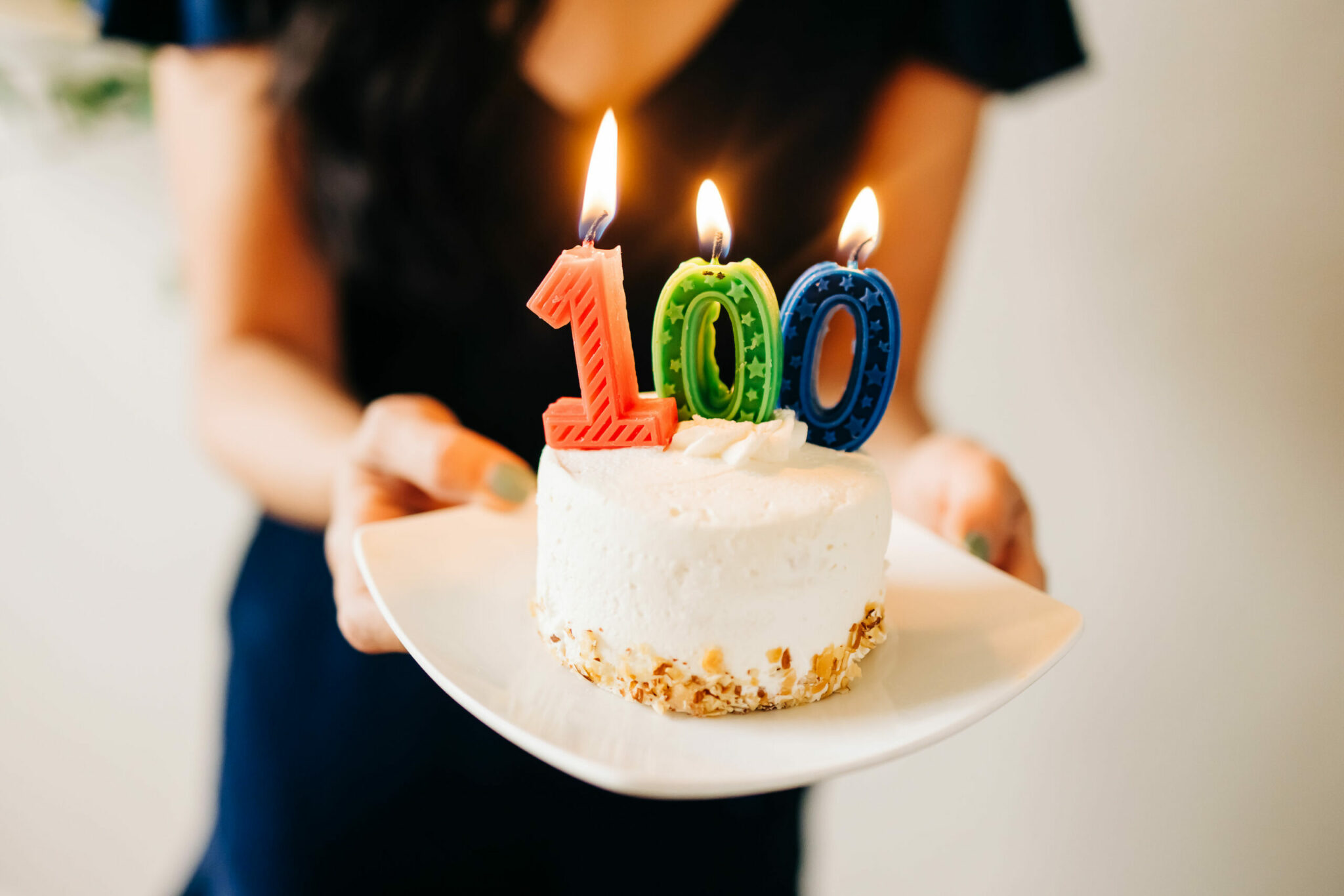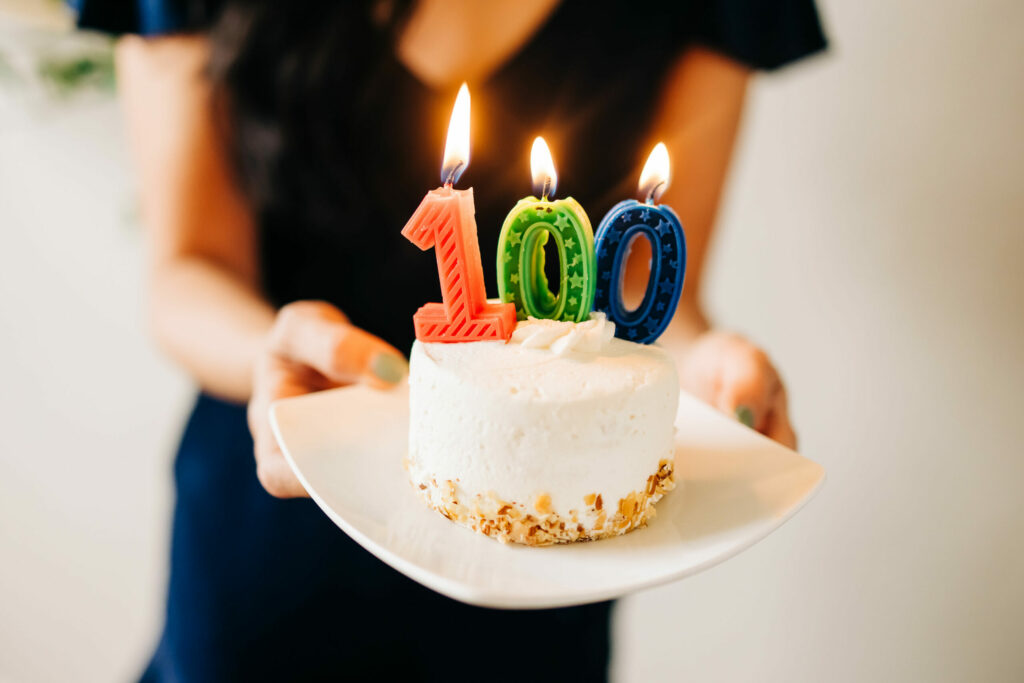 Congrats to Bonnie! She'll be getting Sakara meals, Beautycounter goodies, Fit Team membership, and a custom movement assessment and nutrition guidelines
Stay tuned for more amazing giveaways, and can you sneak in a last-minute Inside Tracker entry here, too!
It's time for the weekly Friday Faves party! This is where I share some of my favorite finds from the week and around the web. I always love to hear about your faves, too, so please shout out something you're loving in the comments section below.
Read, watch, listen:
 Things I've learned from diets I've tried. (Just ICYMI)
Don't forget to check out this week's podcast episode here! This one turned my world upside down.
3 things I realized when I stopped people-pleasing and received.
Powerful ways to improve confidence and self-worth.
Fashion + beauty:
LOVE this Club Monaco dress from RTR Unlimited, especially with white sneakers! One bummer about RTR Unlimited is that many of the clothes are sold out online, which makes it hard to link to things, buuuuut Amazon has a similar dress here. I actually have this one in red and it's SO cute and flattering. They have a ton of colors and it's only $32 right now.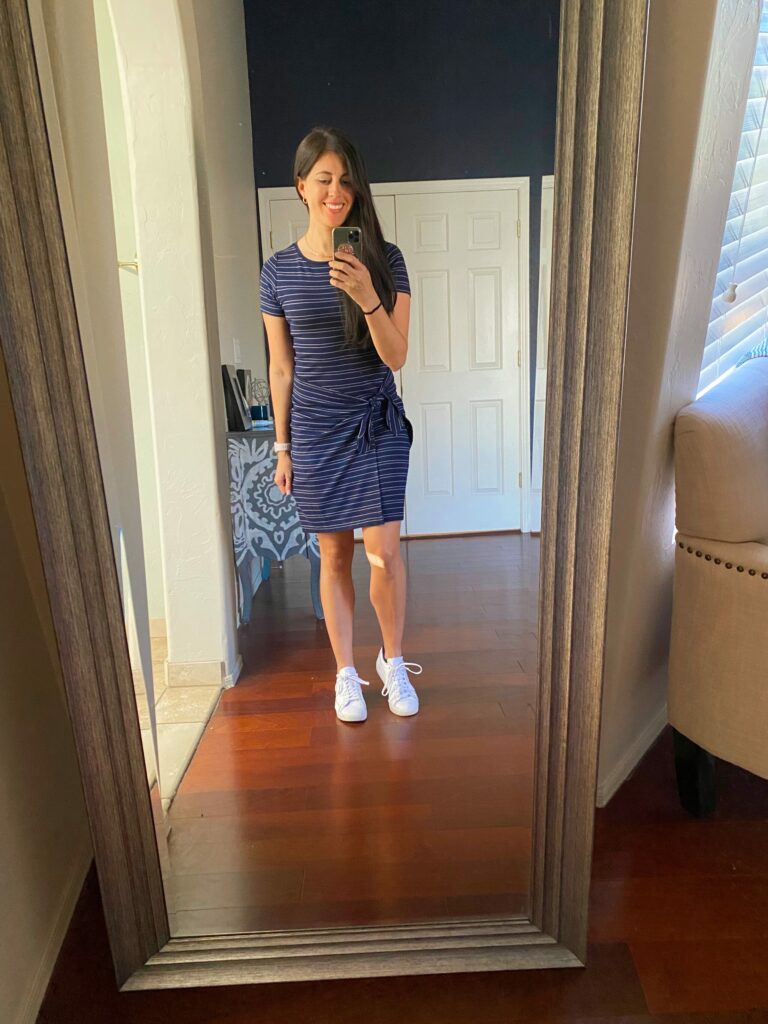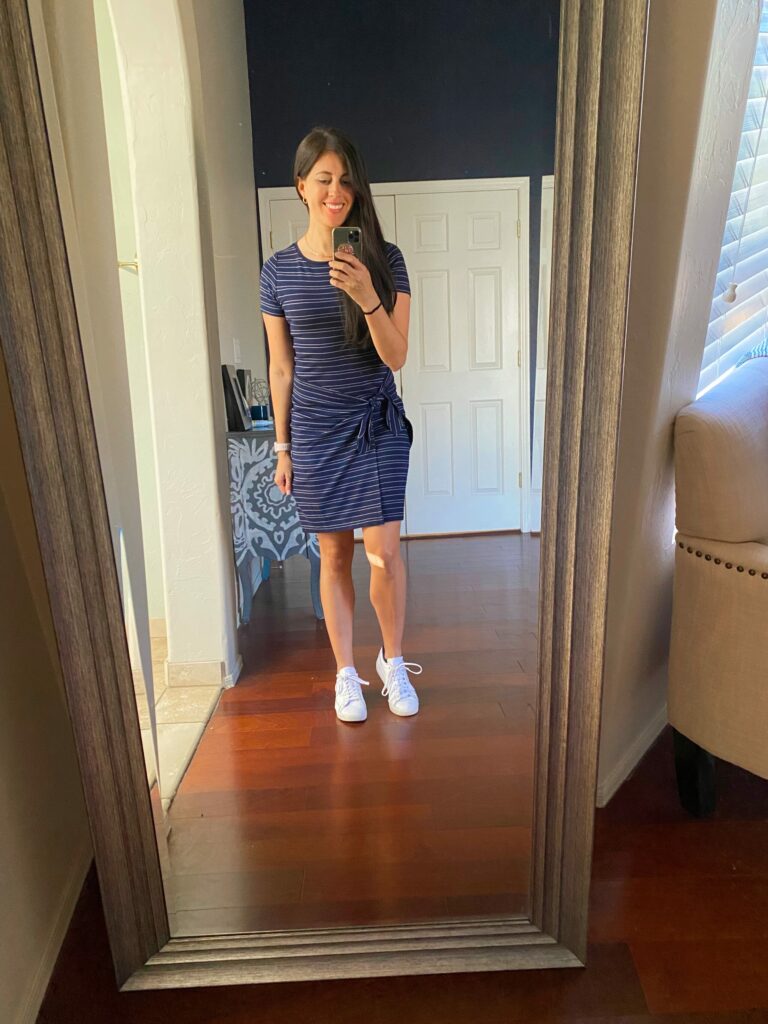 I'm currently on a mission to find a swimsuit that is NOT cheeky. I'll find a cute style, then look at the booty coverage and see that it's a thong haha. The current styles are very cute, but I don't need my kids and their friends to see my entire booty at the pool lol. I put the call out on Instagram last night and here are some of the recs I received!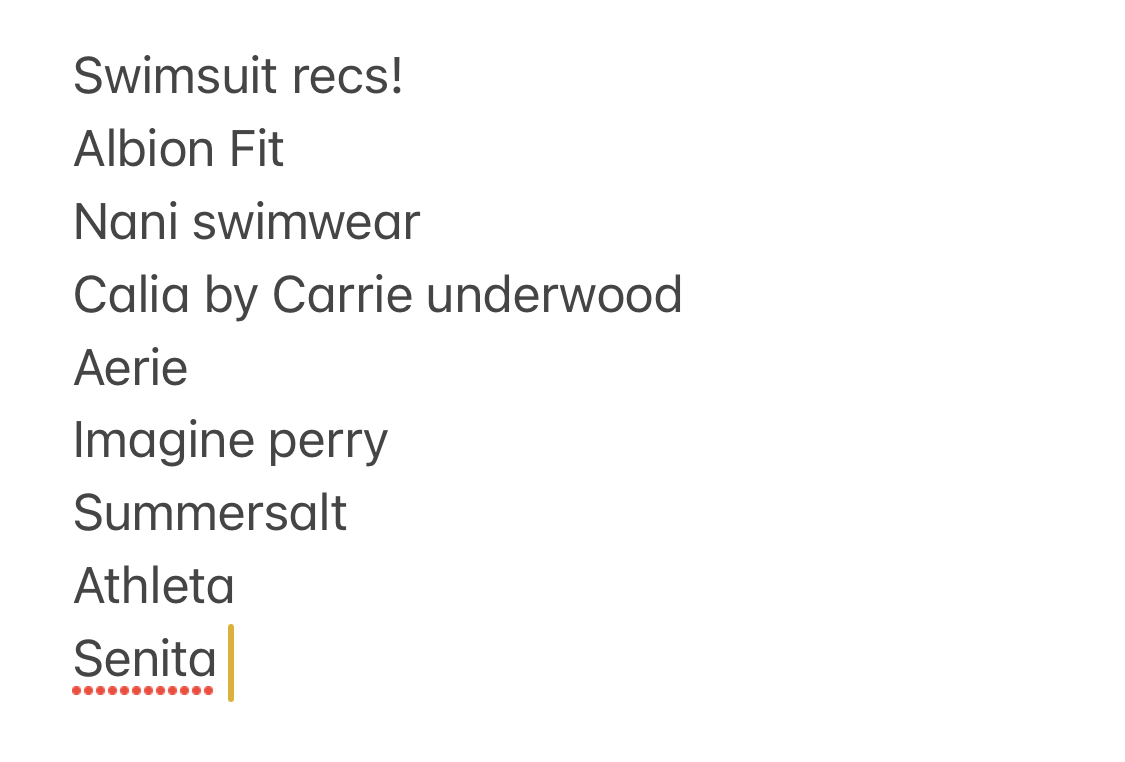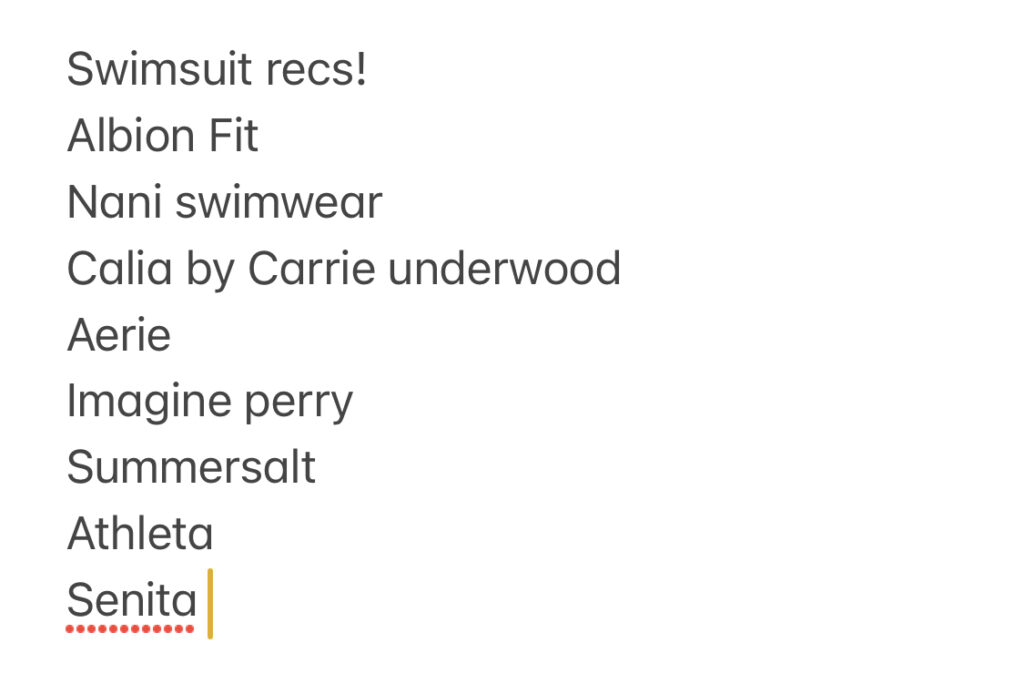 If you have any recs, please send them my way!
LOVE all of the smocked tops that are in right now, especially with high waist jeans and hoops.
Fitness + good eats:
You guys. The Sakara grilled cheese and rustic tomato soup was a dream.come.true. I wish they offered this meal every week! It was SO savory and delicious. Sakara is doing some 30-day resets coming up, which include some amazing goodies (a baseball cap, Pilates collaboration, my favorite metabolism bars, and a 30-day guide), and you can use my code XOGINAH for 20% off, including regular meal plans and their clean boutique items. It's an awesome little treat to gift yourself!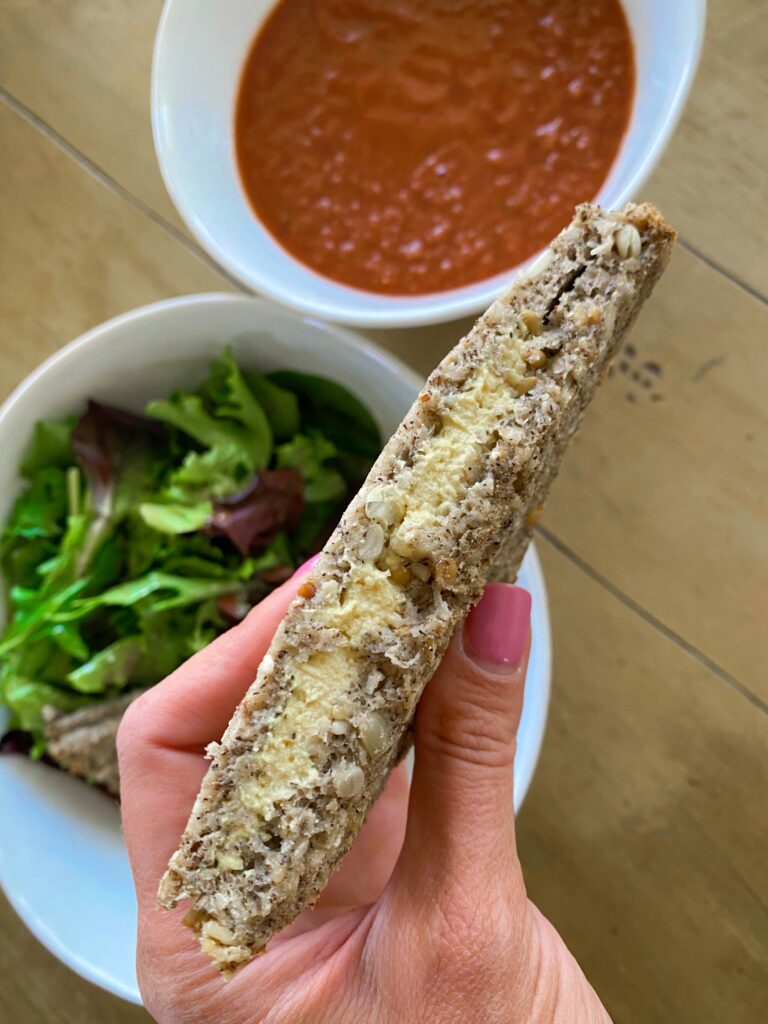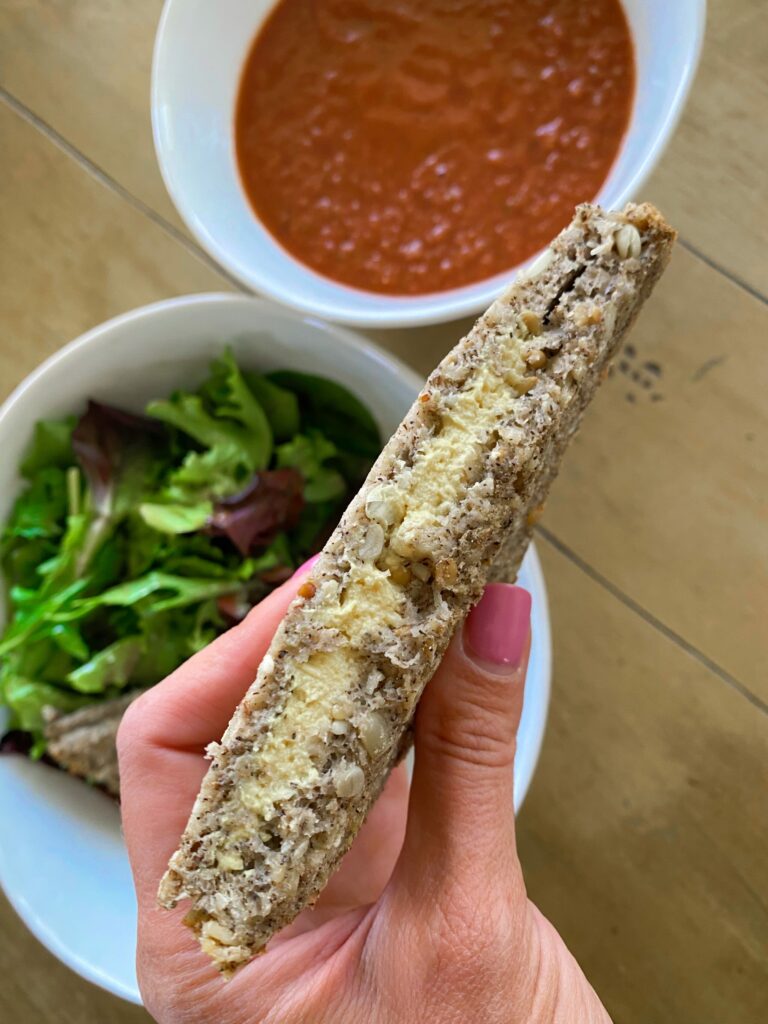 30-minute at home barre video.
Crockpot lentil soup. Going to sneak in a couple more soup nights before it's a thousand degrees here.
The new Organifi green juice! It has a light apple flavor, instead of the minty-lemon original flavor. I expected it to taste like an apple Jolly Rancher and this was incorrect. It's much more subtle, lightly sweet, and very clean and delicious. Code is FITNESSISTA for a discount!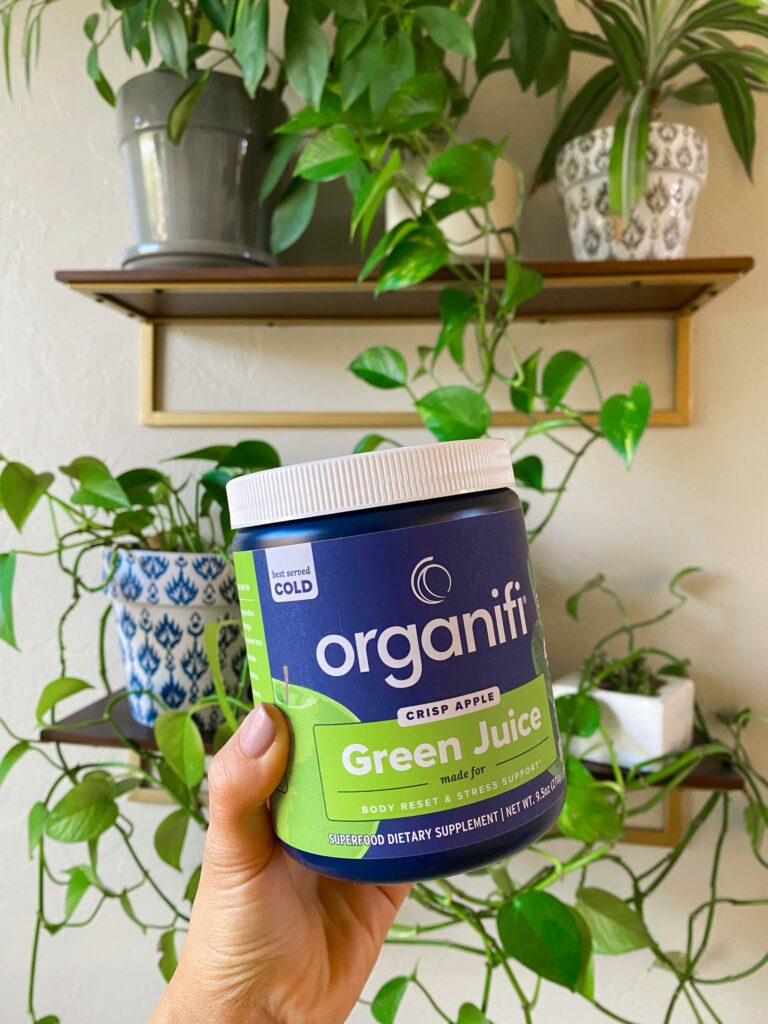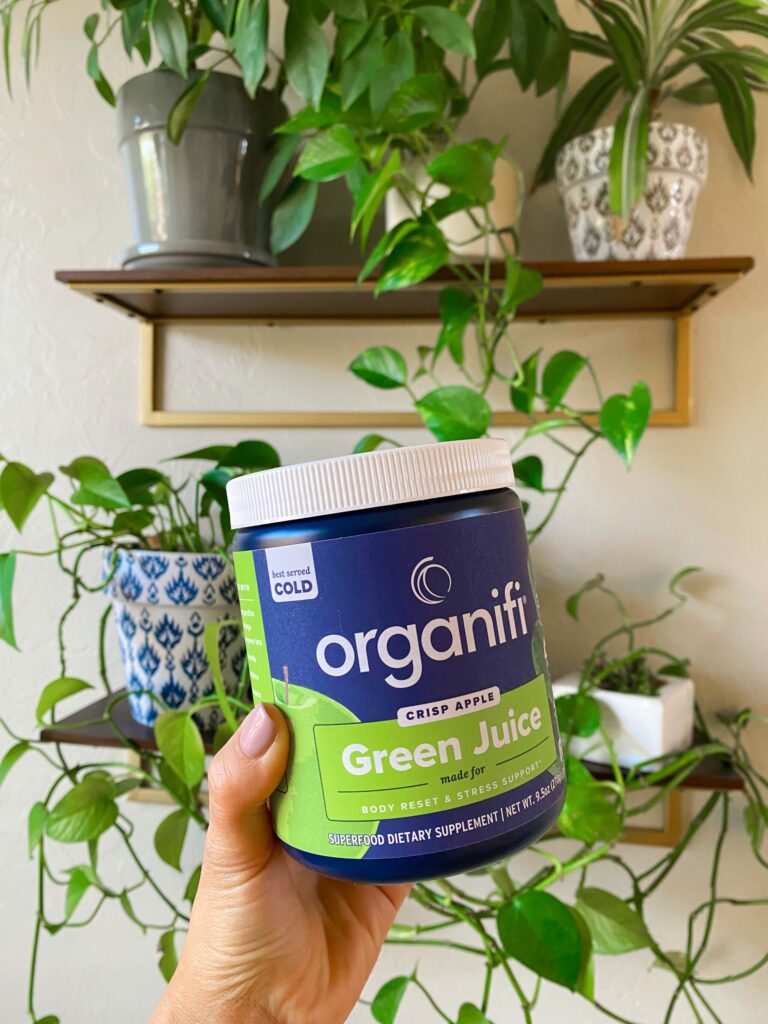 TONS of dessert ideas here for summer get-togethers. 
Happy Friday, friends!
xoxo
Gina