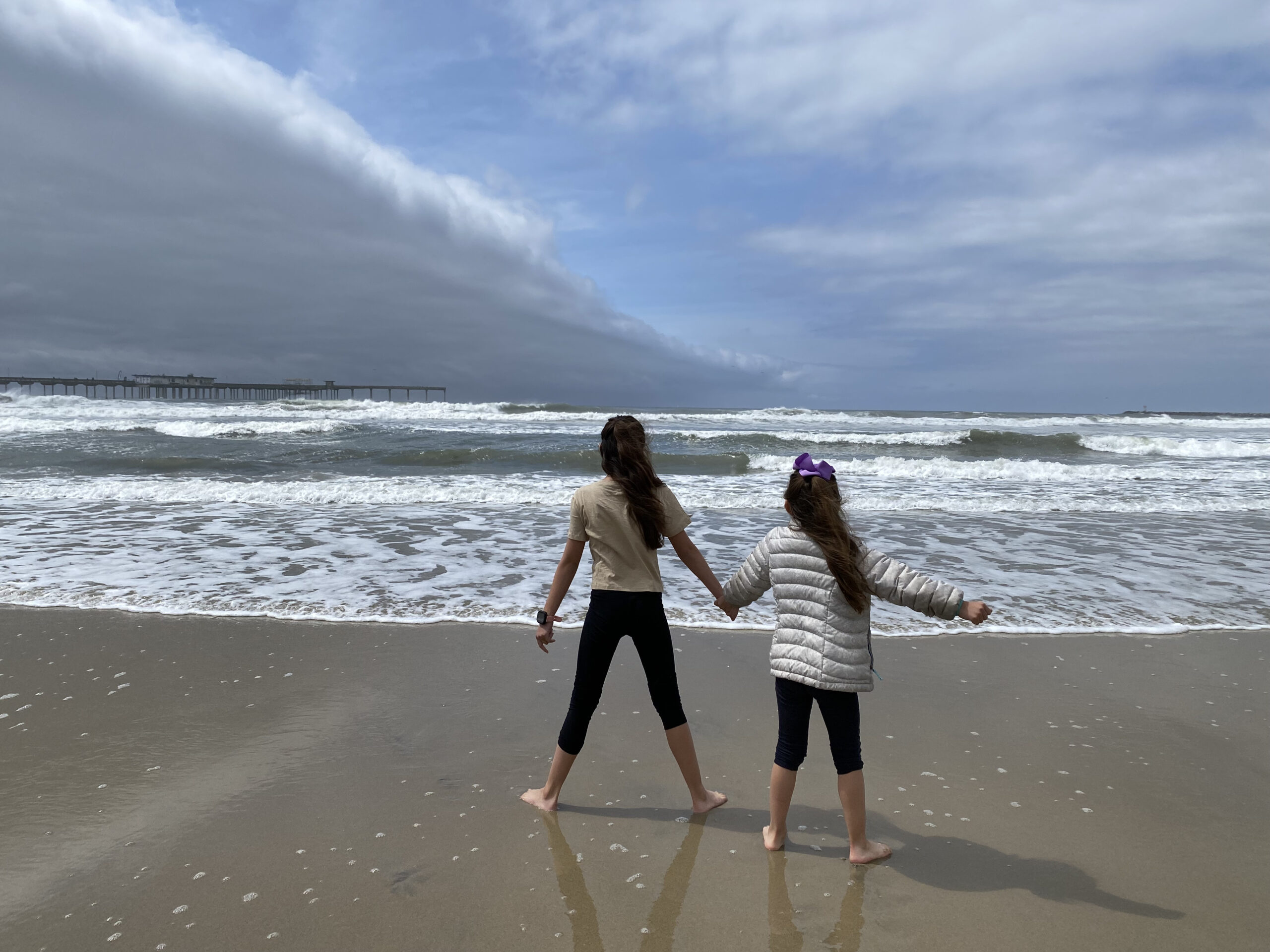 Sharing some adventures from our trip to San Diego, some of our favorite SD restaurants and family-friendly activities, and a trip to Disneyland with Dance the Magic!
Hi hi! Happy Wednesday! What's going on today? I'm headed to the girls' school this morning, catching an F45 class, and putting the finishing touches on podcast episode #100!! It will go live next week and yesss there's a giveaway.
For today's post, I wanted to share a recap of our trip to San Diego and Disneyland! Our last trip to Disneyland was fall 2019, so we were thrilled to be headed back. (We've been to Disney World a couple of times since it's reopened, but it was our first trip back to Disneyland.)
Here's a little recap of our trip, plus some of our fave spots.
Disney and San Diego recap
When we found out that Liv's dance team was going to be performing in the Disneyland parade with Dance the Magic, we knew we were IN. We also figured we could sandwich a San Diego trip along with it, since it's an easy flight to San Diego (an hour from Tucson) and rent a car to drive to Anaheim. We were so happy to be back in SD!!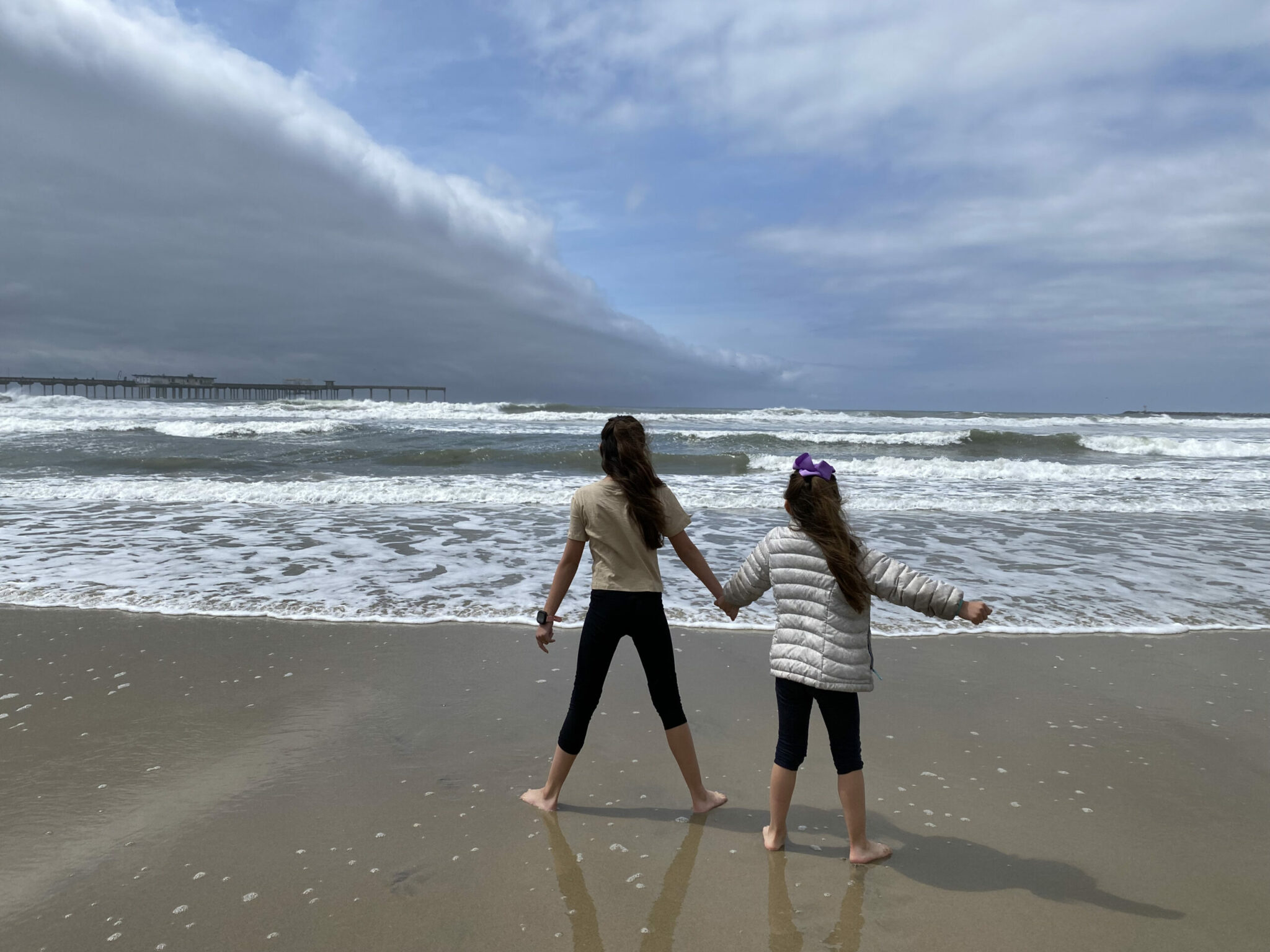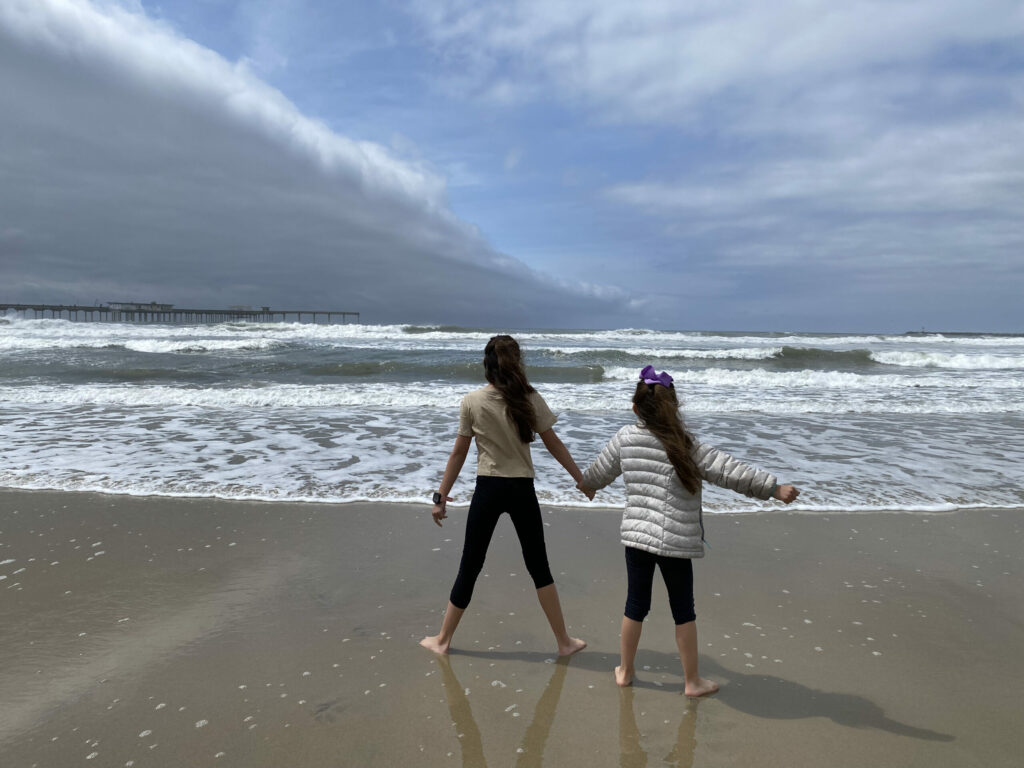 We went straight to Tiki Port, who welcomed us with possibly the BEST acai bowl I've had in my life. (And I've had many, many from Tiki Port.) The guy making them was truly an artist; I had chocolate chips, acai, granola, fruit, AND peanut butter in every single bite.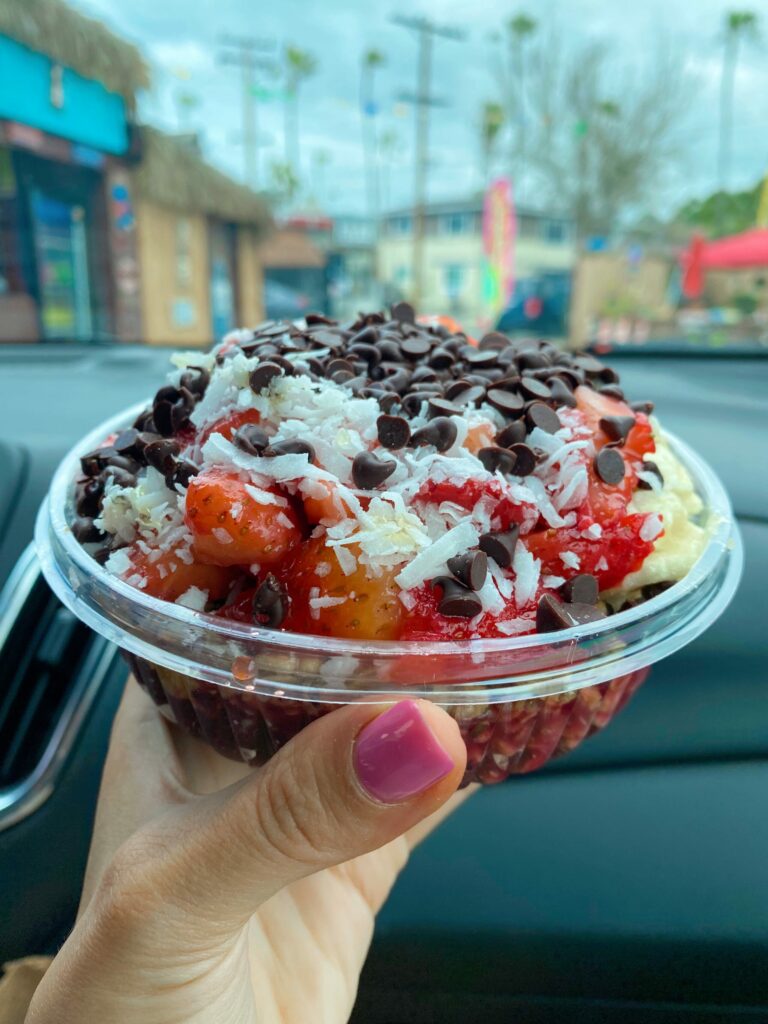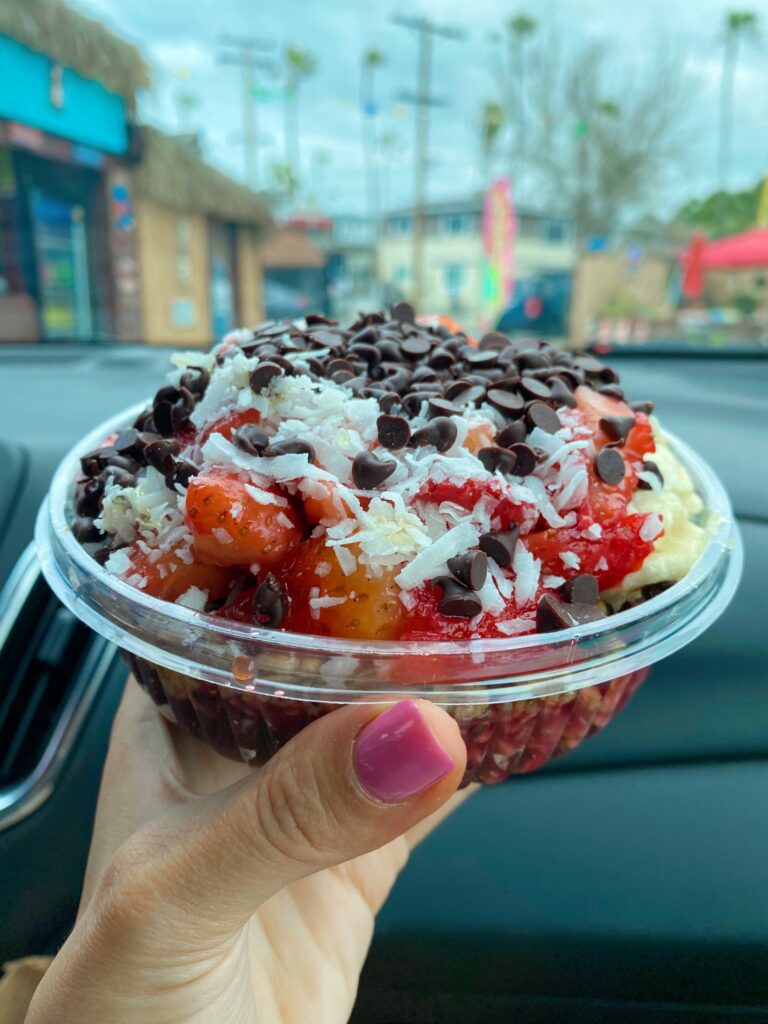 (This is the Drifter with peanut butter. If you go to San Diego, get it! You won't regret it.)
We also made a stop at the beach so the girls could wet their feet (aka their clothes and entire bodies), to the hotel to change, Belmont Park (where they rode ride after ride) and OB Noodle House for dinner.
The next morning's breakfast was at Great Maple, which is one of our favorite breakfast restaurants.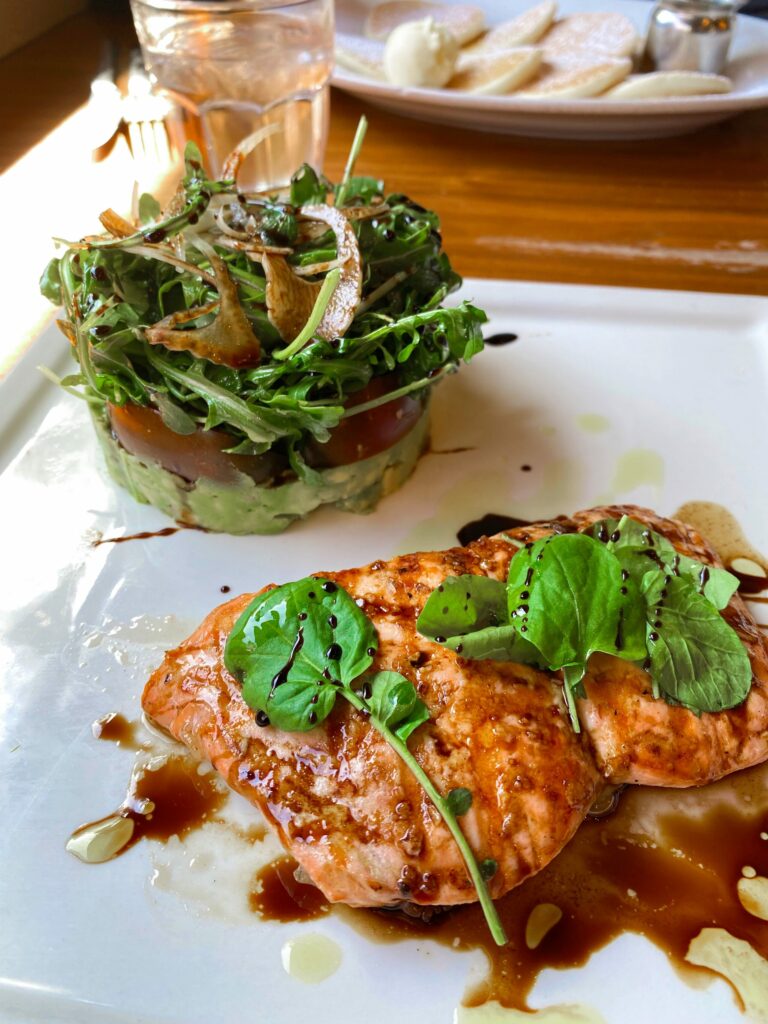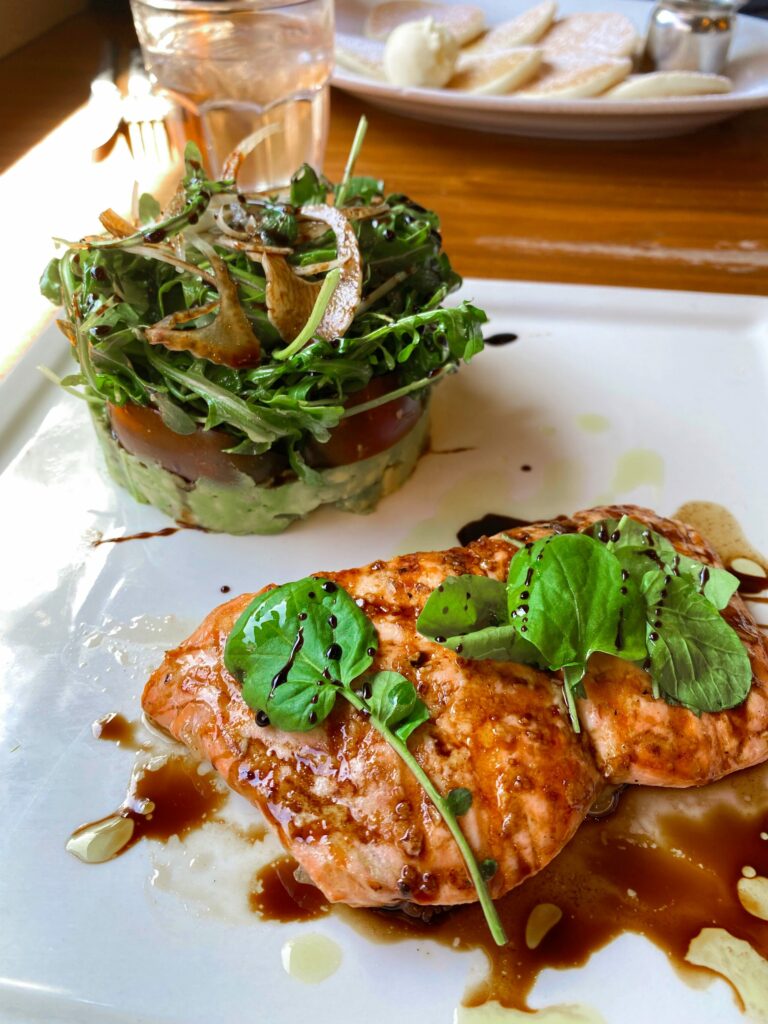 This avocado stack had arugula, avocado, balsamic reduction, and perfectly-cooked salmon.
We also shared maple bacon donuts with our entrees.
After breakfast, we played at the waterfront park for a while and then headed to the New Children's Museum, where the kids had a blast checking out all of the exhibits. It changes every time we visit, and it's truly a kids' dream come true. We got Tender Greens to-go for lunch, and hit the road the Anaheim!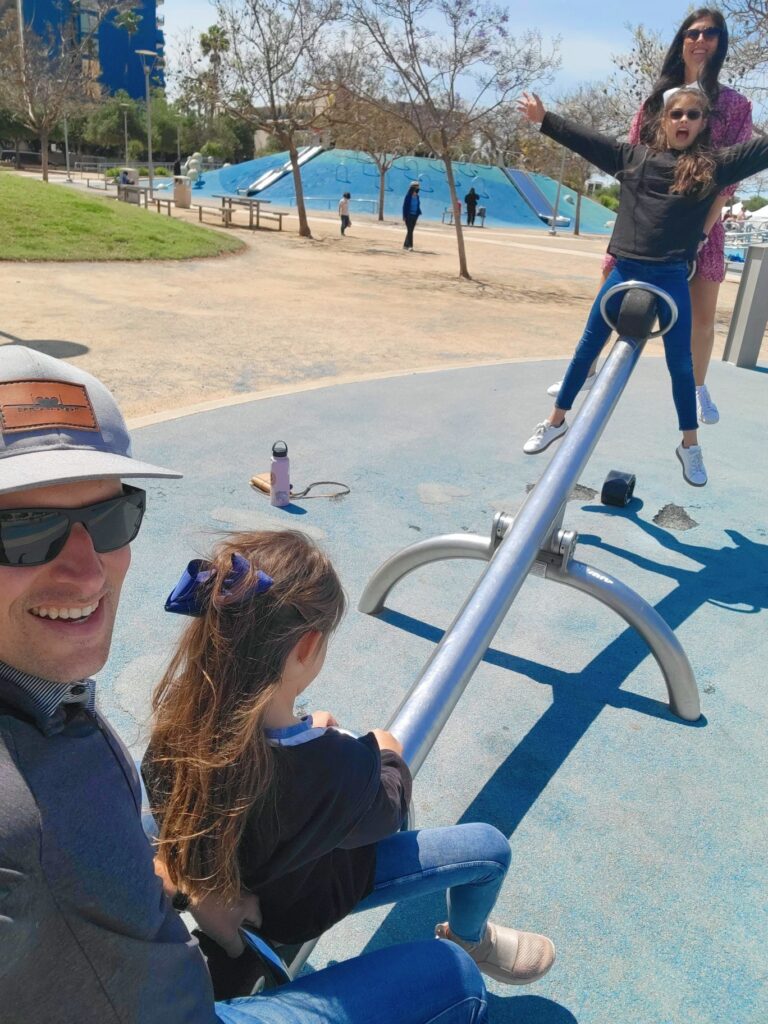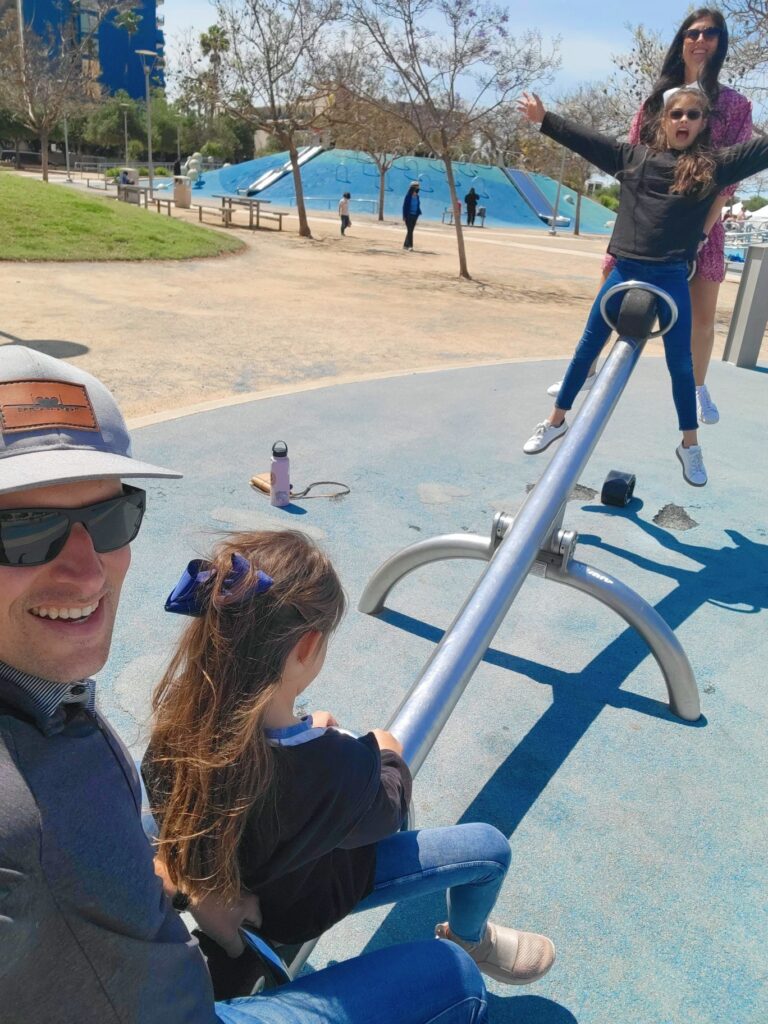 Our first stop in Anaheim was the hotel to drop off our luggage and then straight to character dining at Goofy's Kitchen!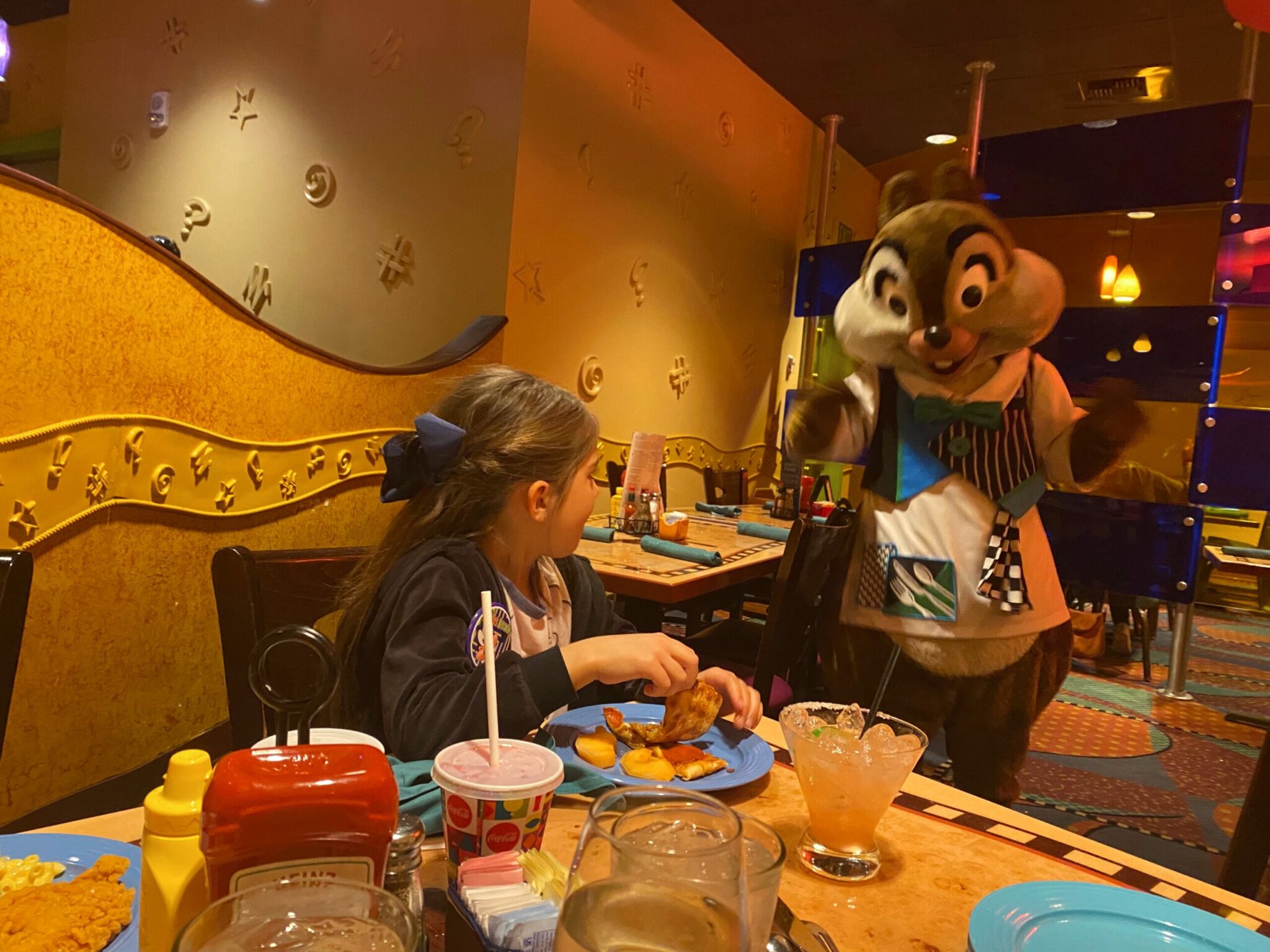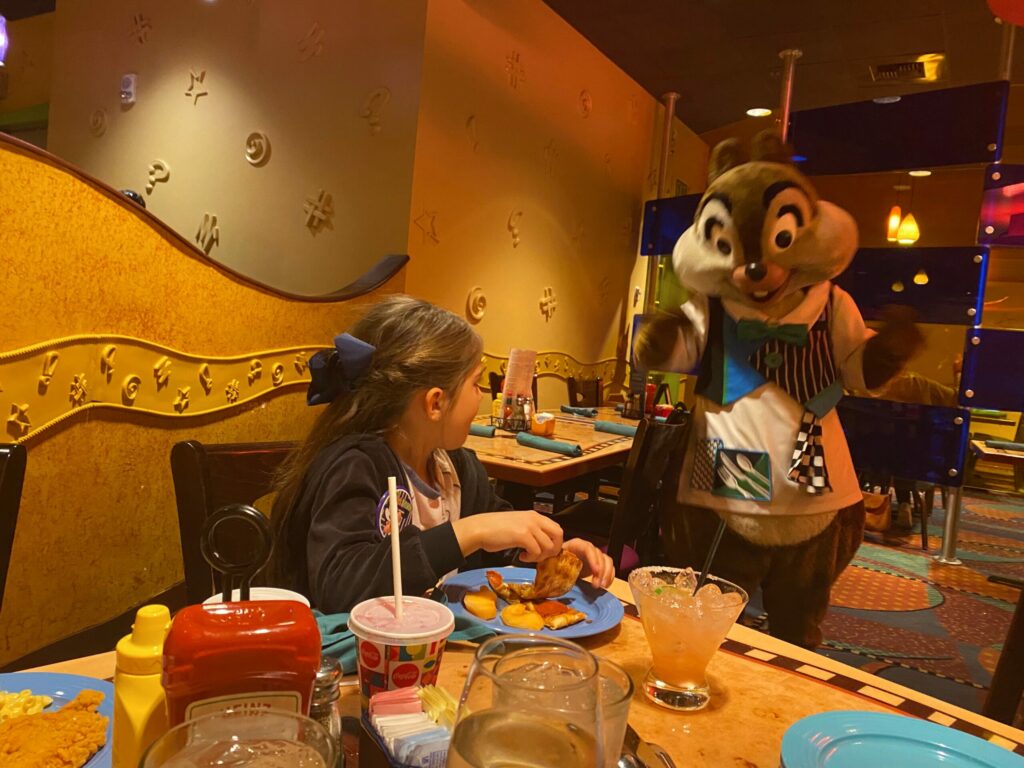 While we're at Disney, I always try to book one "real" (sit-down) meal each day. It's typically lunch, because everyone gets the chance to sit down and refuel. We got very lucky with reservations this trip and I was able to book Goofy's Kitchen, Tortilla Jo's (Downtown Disney) and Blue Bayou (Pirates of the Caribbean) while we were there!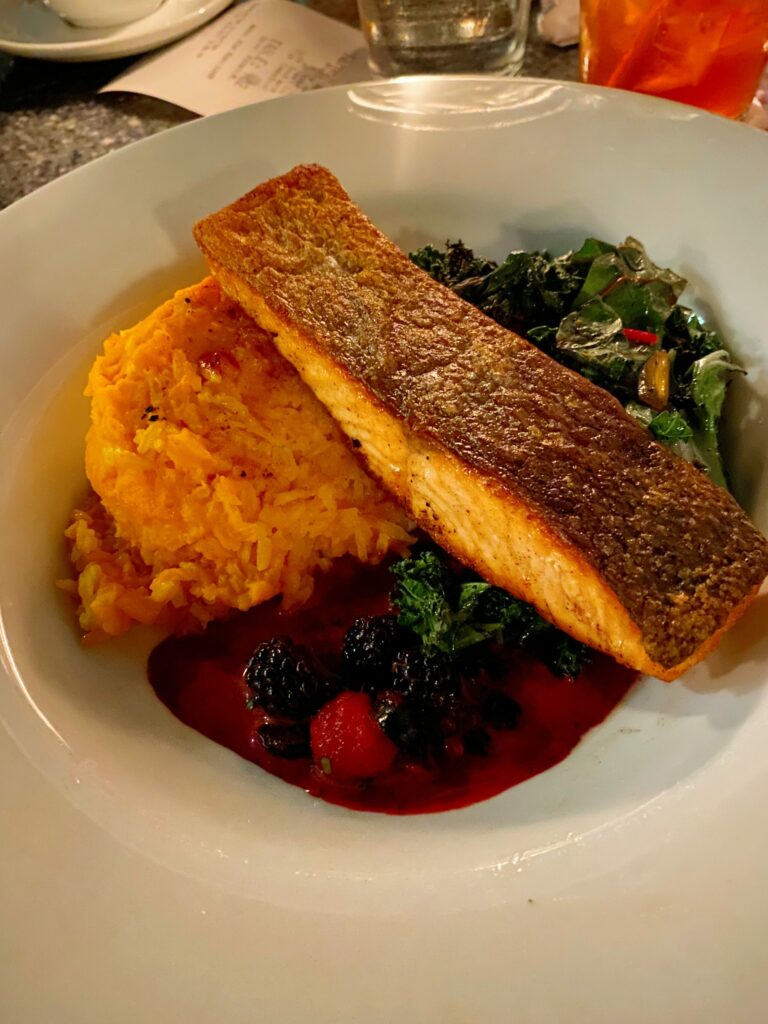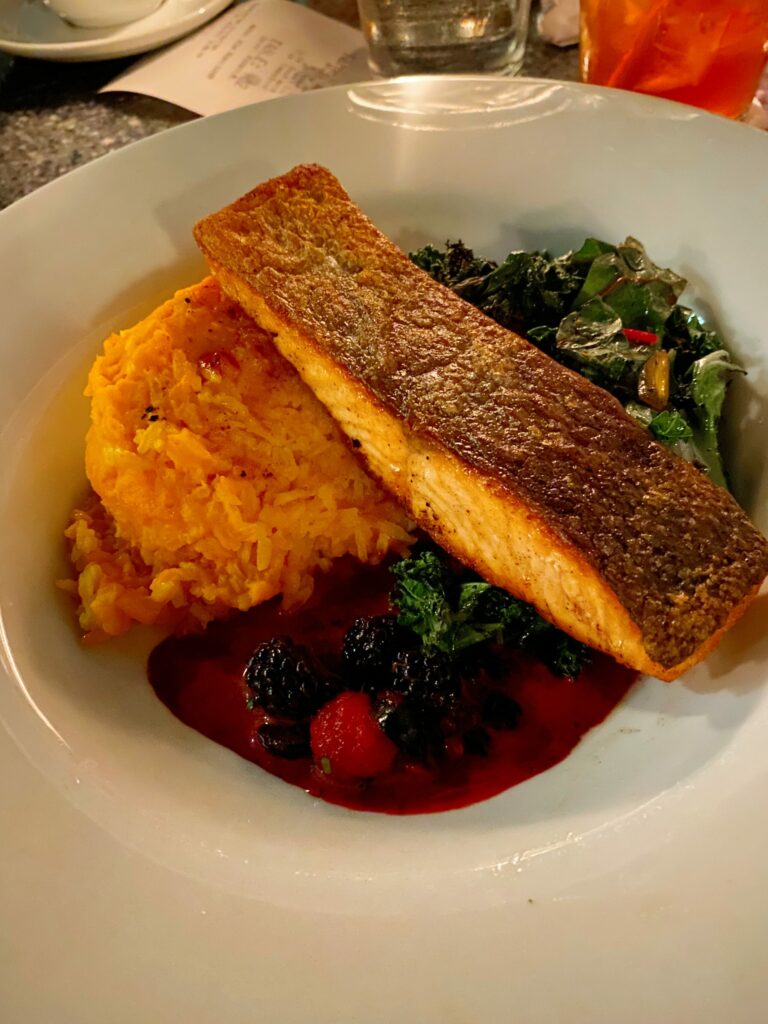 (Lunch at Blue Bayou. Salmon, rice, veggies, and we shared a chocolate cake for dessert)
Goofy's Kitchen is a buffet with everything you could ever want, a ridiculous dessert selection, cocktails, and the characters come to each table dancing to music while you twirl your napkin above your head. It's everything.
The rest of the weekend was spent riding rides,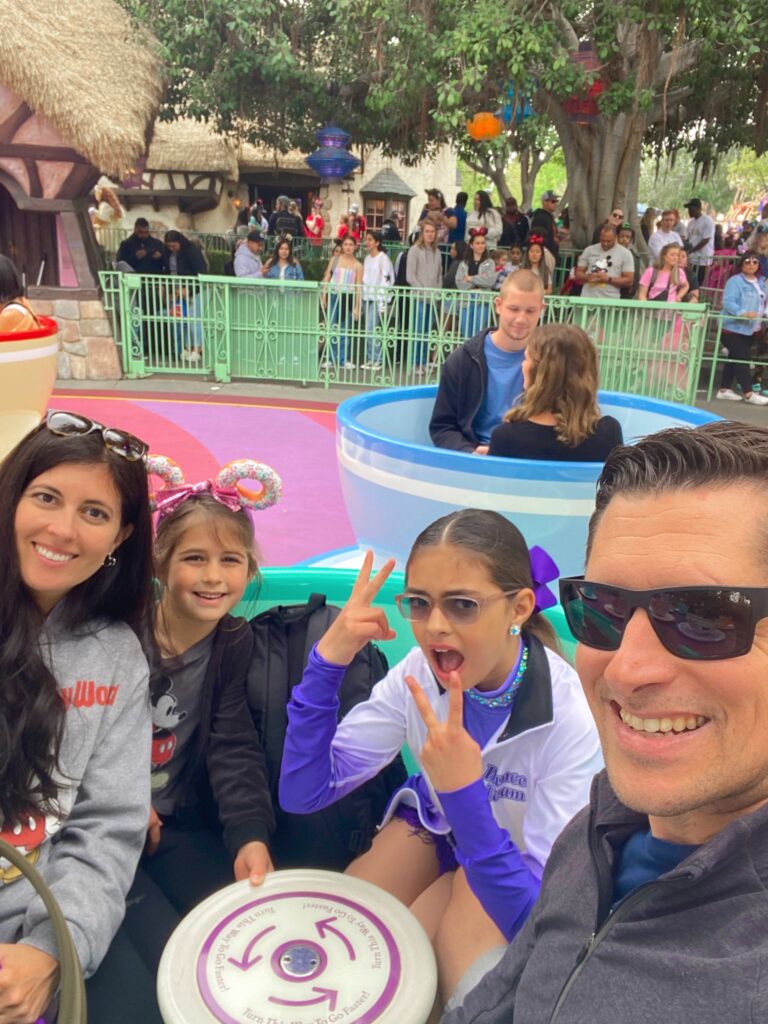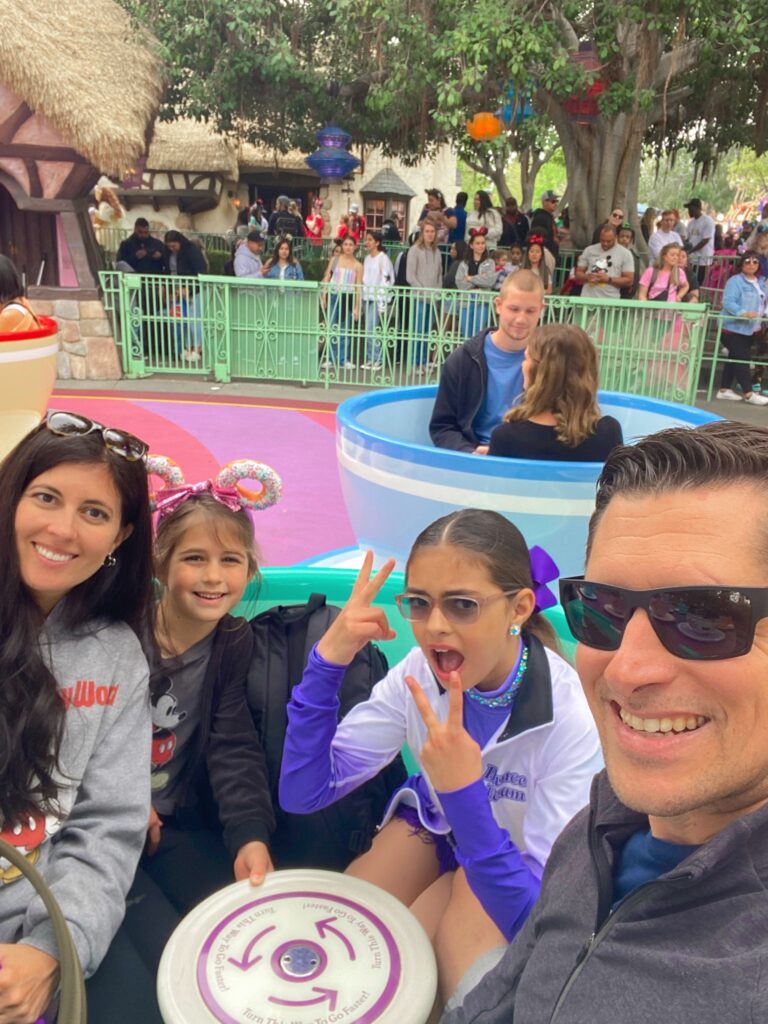 (P rode the Incredicoaster 3 times… our daredevil child, lord help us)
eating ALL of the Disney treats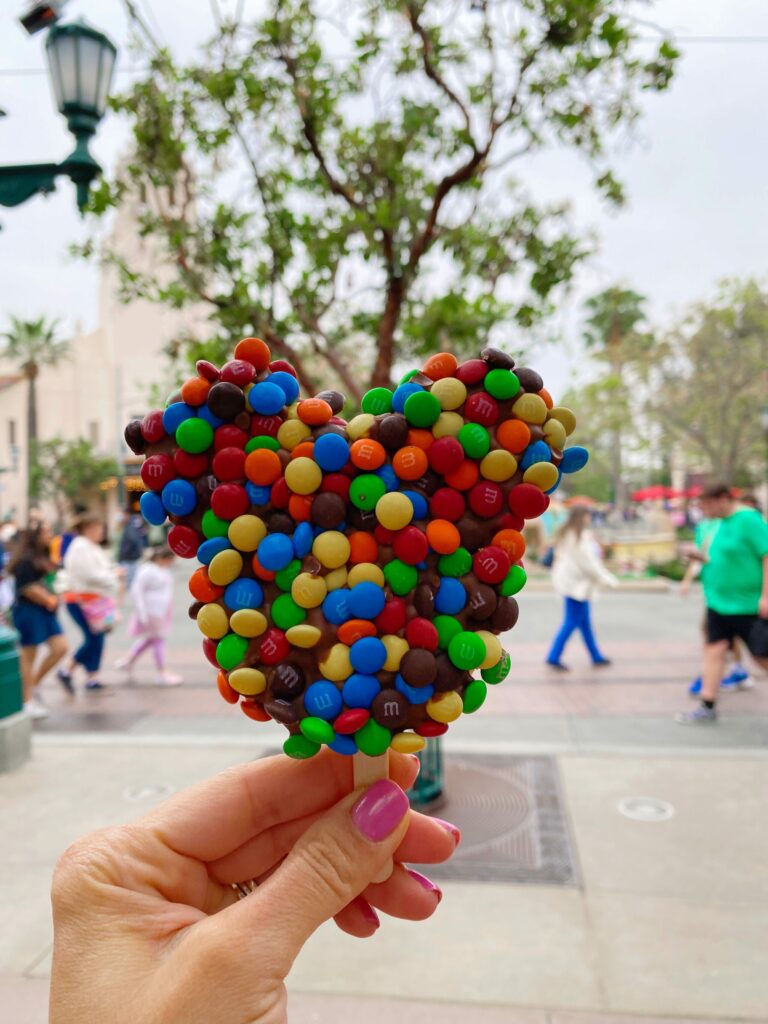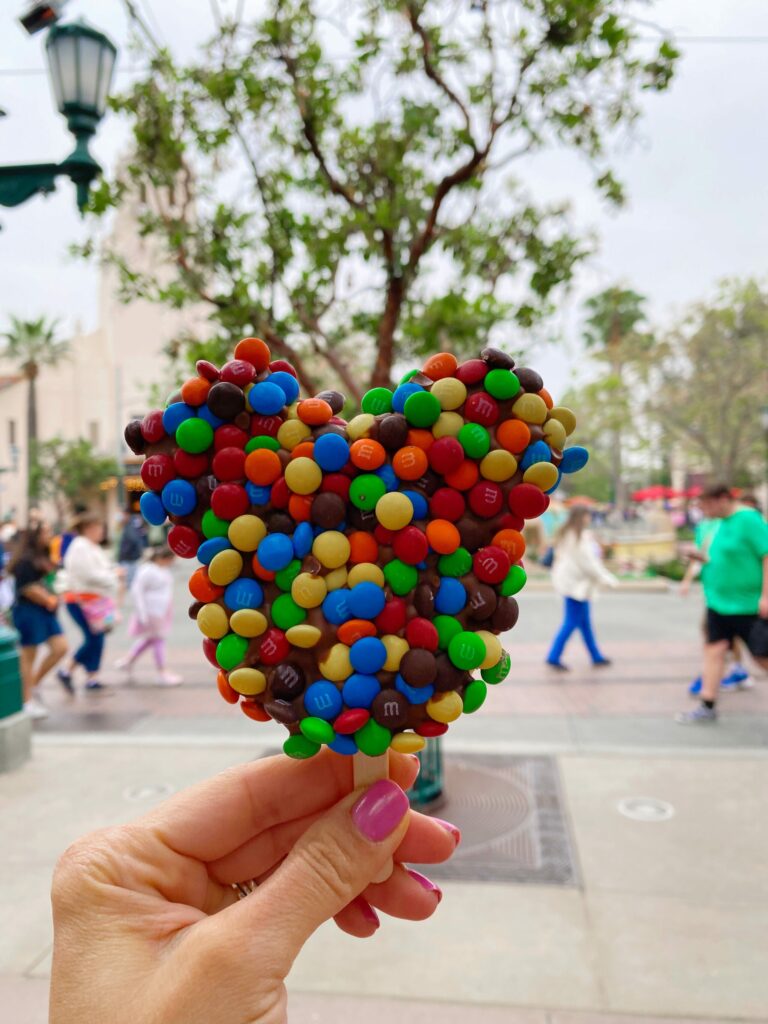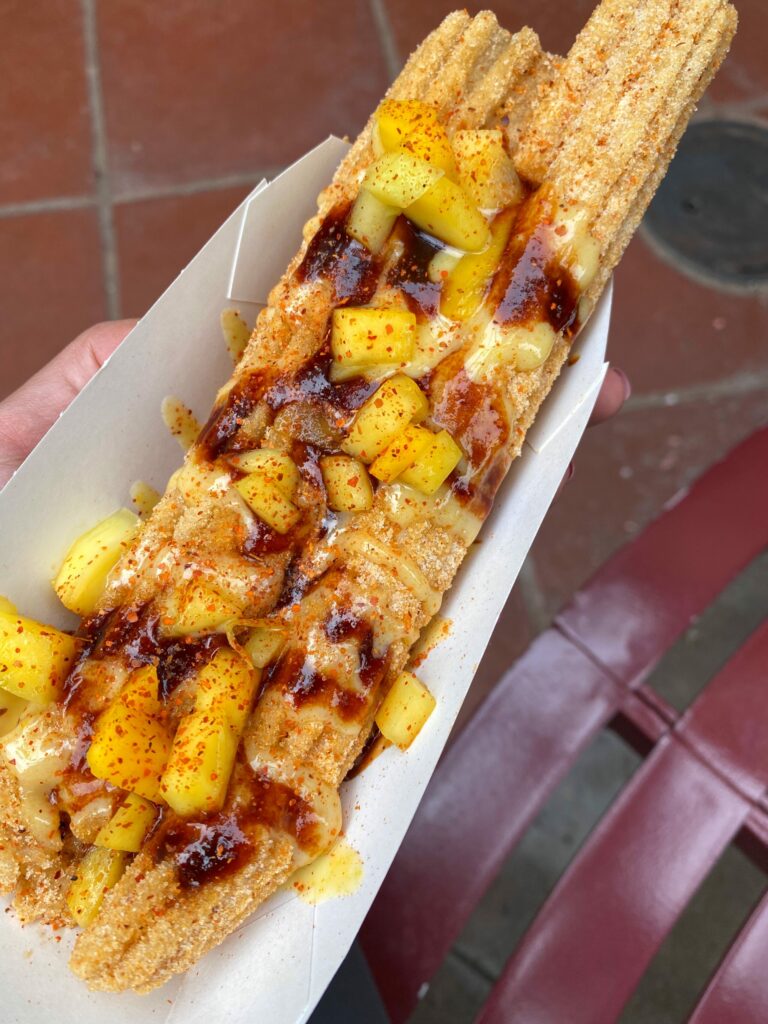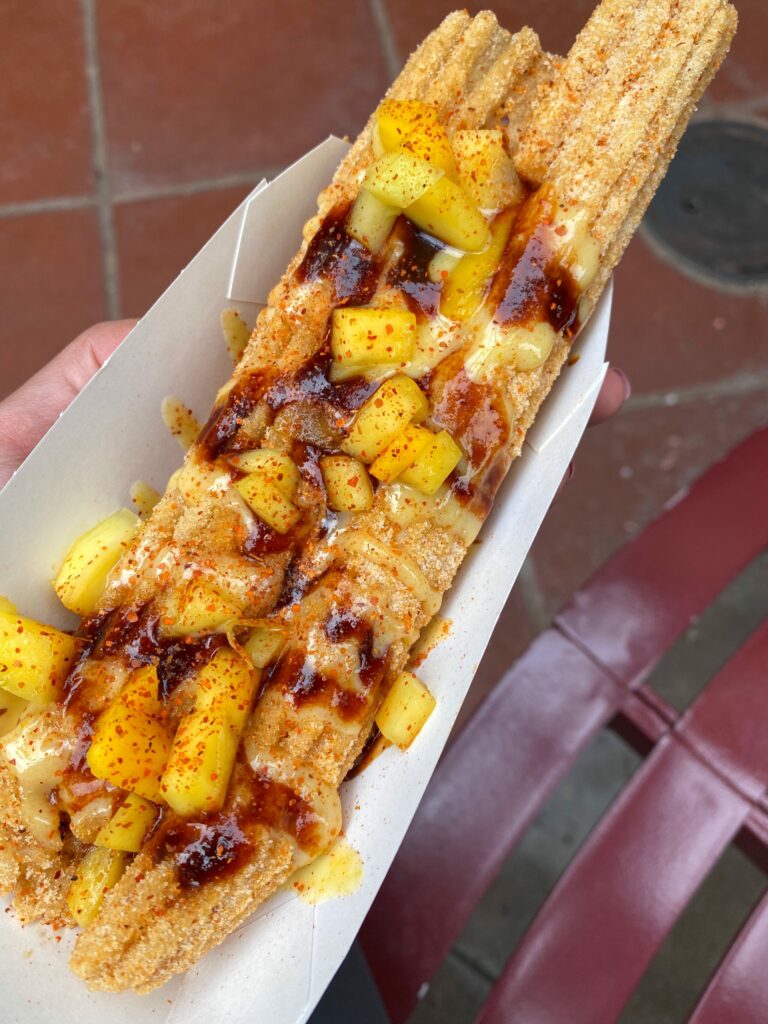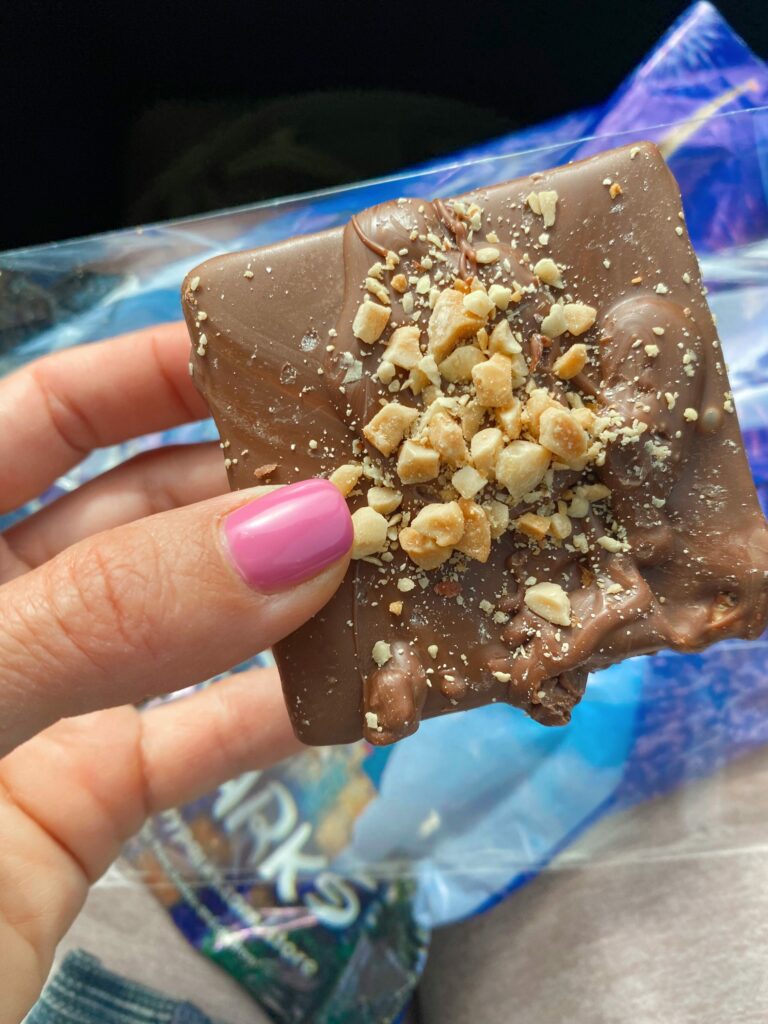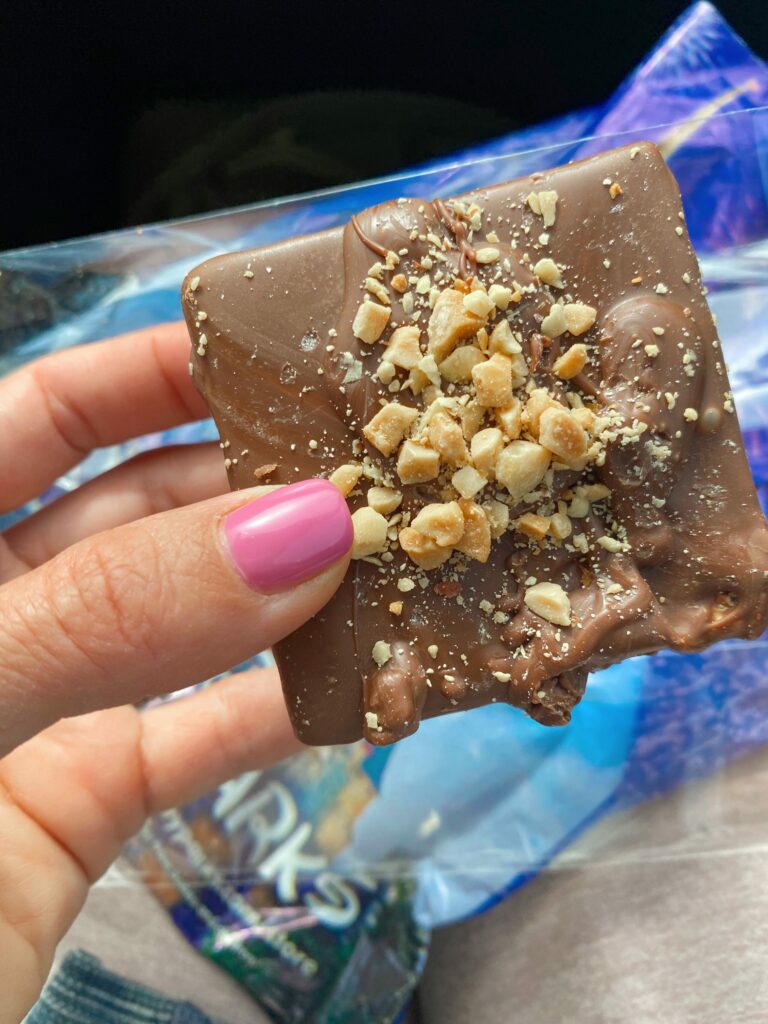 (my faves are the M&M rice crispy and the chocolate peanut butter sandwich, which is like a giant amped up Reese's)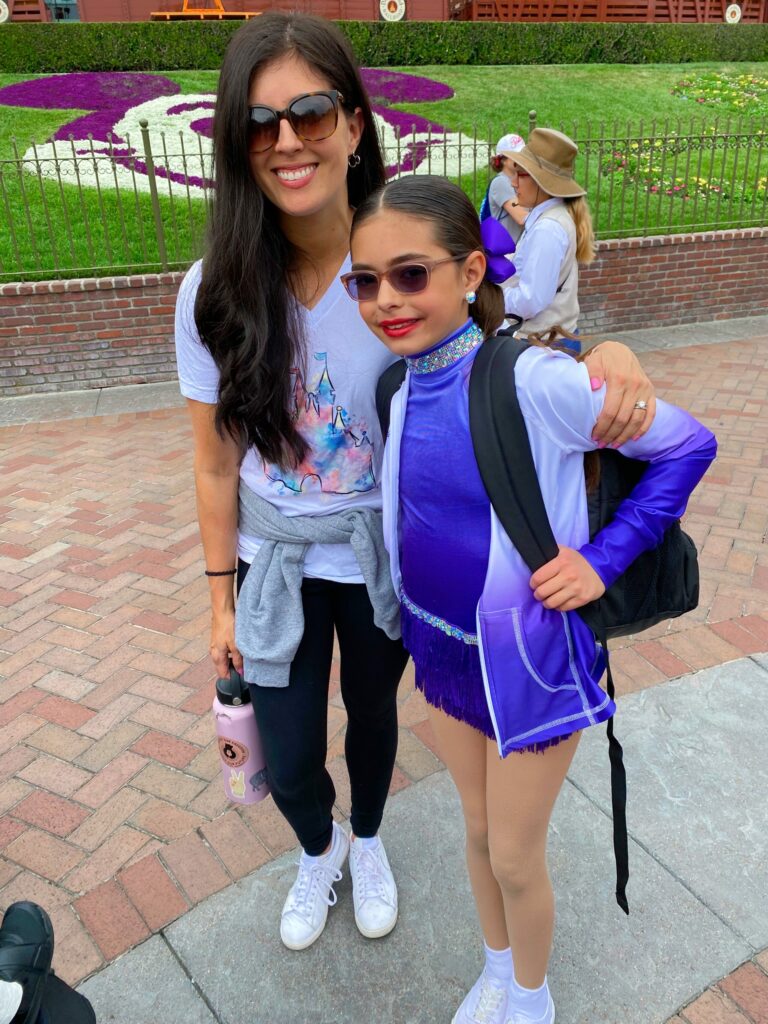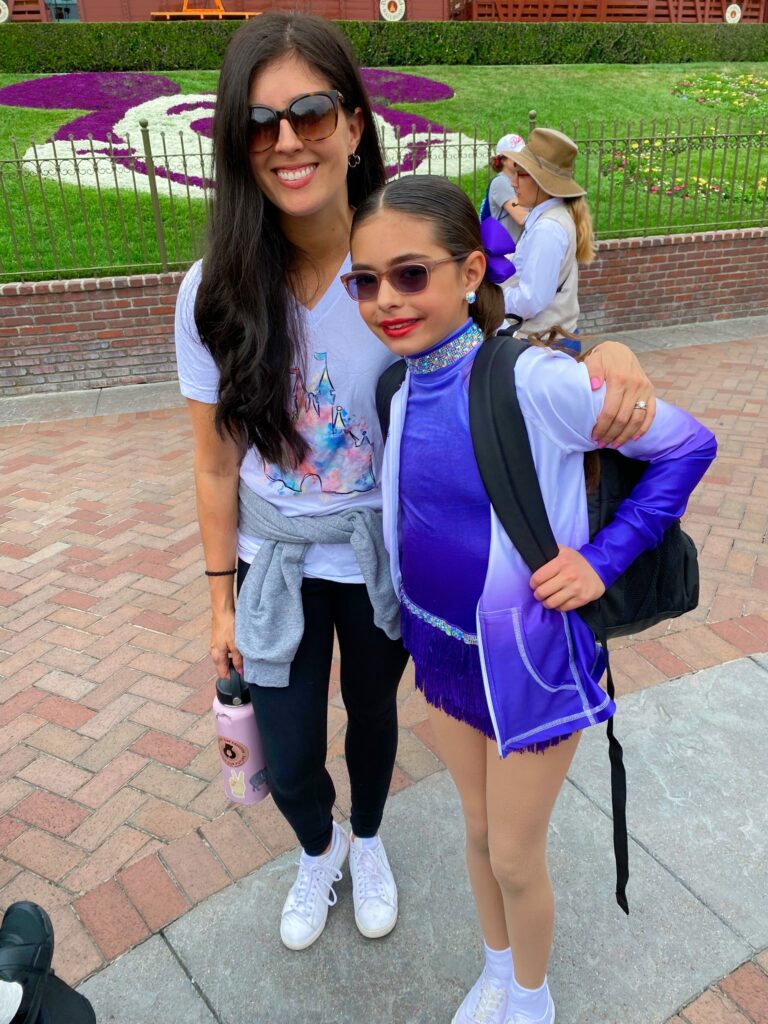 and watching Liv and her team perform in the parade!! It was the first Dance the Magic performance since they've reopened and I had full-body chills the entire time. It was SO amazing, so magical, and all of the studios did such an incredible job. The streets were completely lined with spectators and everyone was clapping and cheering. I heard there were about 600 total dancers and they marched down the parade route, dancing to "Zero to Hero" from Hercules.
Lining up to head into the park before the parade: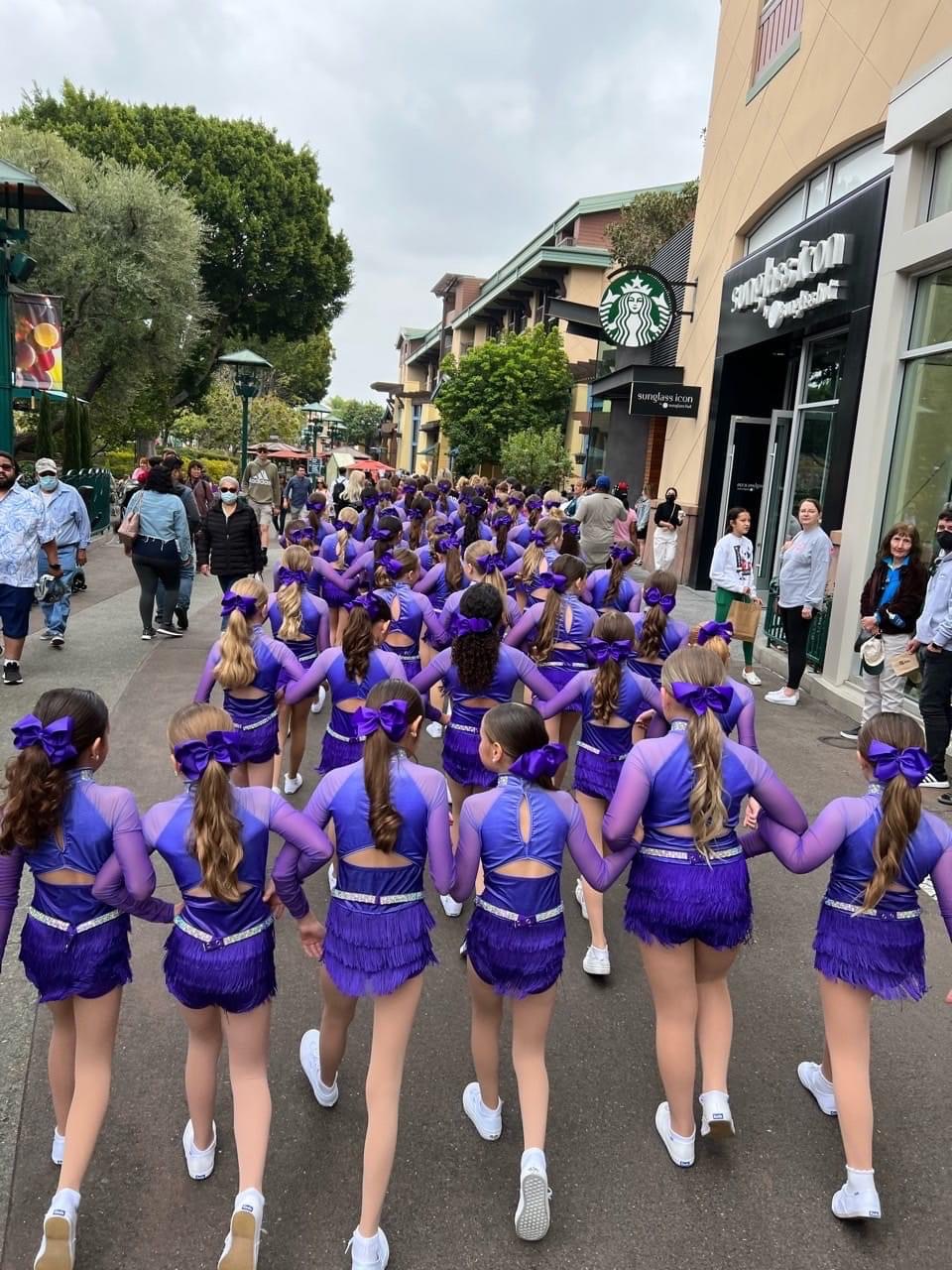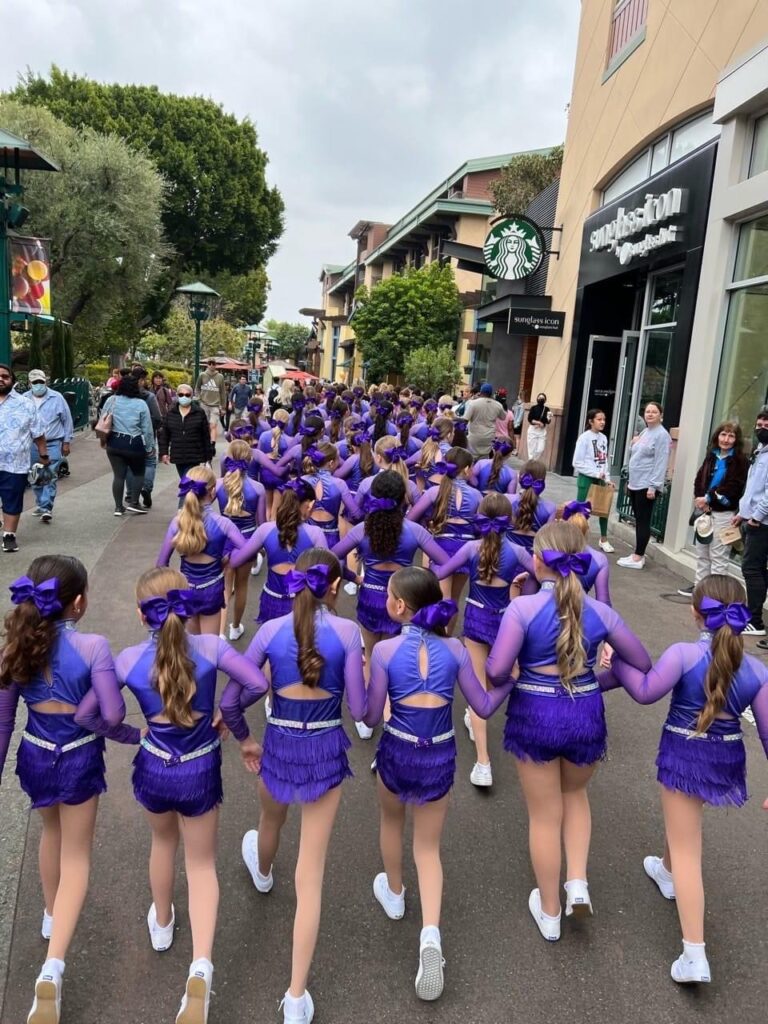 I'll never forget it.
As part of Dance the Magic, we were also able to attend a VIP breakfast in California Adventure, which started at 5:30 Sunday morning. Ya'll know me and how much I LOVE my sleep, but I rallied and made it happen. It was really cool to ride some rides before the park was open and to watch Liv run around with all of her dance friends who have become like family.
Some Disney questions I figured I could chat about in this post (and things I was wondering about myself before our trip):
Was it crowded?
After reading some things on Instagram and other blog posts, I expected it to be PACKED, especially since it was a weekend trip over high season. As someone who is used to walking shoulder-to-shoulder with complete strangers down Main Street, I thought it was lovely. It felt very very open and not too crowded at all. They're still using a reservation system to limit capacity, so you have to book reservations for each day you'll be in the parks. (You need a ticket before you can book reservations but can explore the calendar online to see what availability looks like.)
What were the character interactions like?
The characters were still separated from park guests using some type of barrier, and you could walk in front, take a picture, and talk with them. Apparently this is changing at the end of the month, and character hugs will be back! P LOVES hugging the characters, so this makes my heart happy.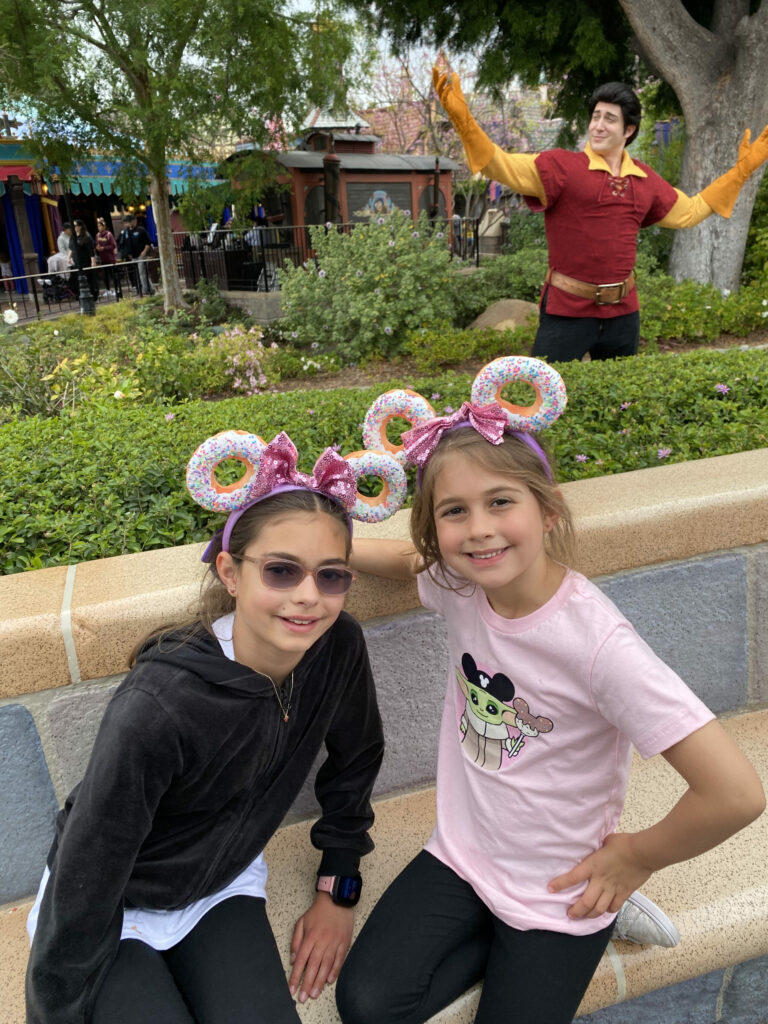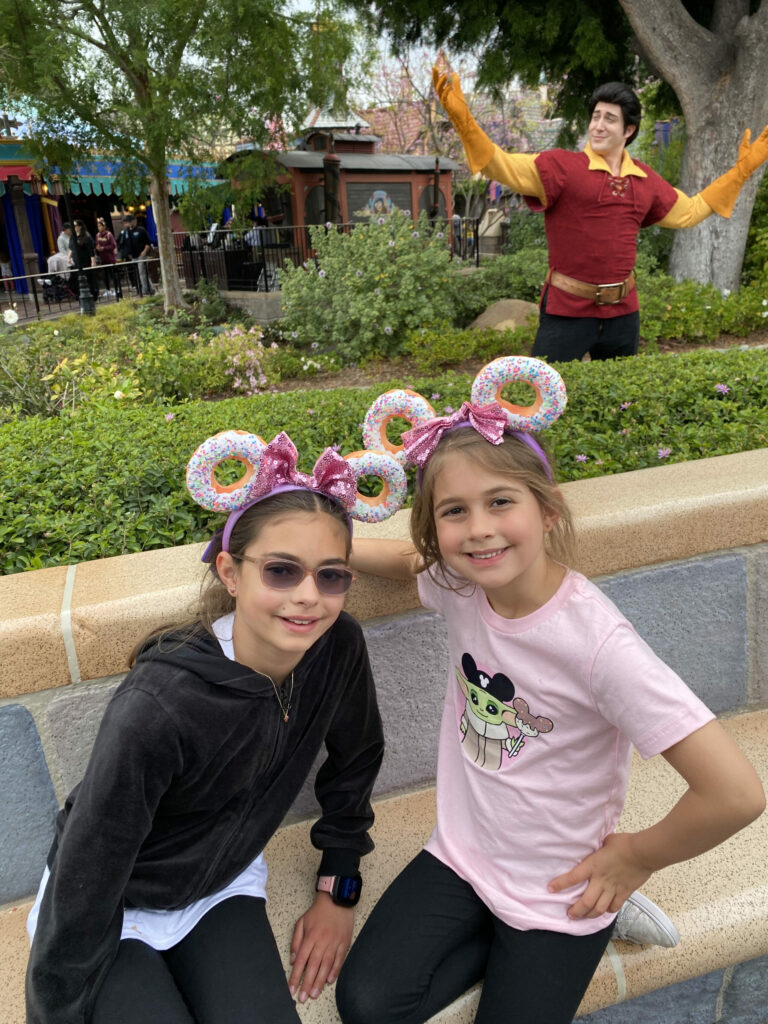 What are the current mask rules?
Masks were not required outdoors and recommended indoors. Most guests were not wearing them.
What is the new Genie+ system? Are there Fast Passes?
Disney has done away with Fast Passes. Previously, you could book up to two rides at a time, and once you finished those, you could book new ones throughout the day using the app. In the past, it was also free. Fast Passes are gone, and they've introduced two new paid options: Genie + ($20 per person per day) and Lightning Lane for premium attractions (which you can only use with the paid Genie+ and it's an extra $12-20 per ride, per person).
With Genie+ you have the ability to book time slots for some of the more popular rides (like Thunder Mountain, Splash Mountain, Indiana Jones, Incredicoaster, etc). It's $20 per person per day and we found that it was DEFINITELY worth it. We didn't buy it the first day since Liv was doing parade practice for most of the day, and the lines were very long. I was chatting with a cast member and they told me that they have to push through the Lightning Lane people first because they paid for a spot. So this means that if the Lightning Lane line is long, and you're in the Stand-by line, they won't let you move until the Lightning Lane is shorter.
The second day, we did Genie+ and it was absolutely worth it. We hardly waited for longer than 5 minutes for each ride, and ended up doing about 19 rides that day. You can't book Lightning Lane passes for some of the newer or premium attractions without paying an additional fee (like Star Wars Rise of the Resistance, Radiator Springs, Web Slingers, etc) and this is where I have mixed feelings.
Let's say you want to do Web Slingers, Radiator Springs, and Rise of the Resistance in one day. You have to have Genie+ to even have the ability to book these rides ($80 for a family of 4) and you book Lightening Lane with the paid fee for each of these ($48 for Web Slingers + $48 for Radiator Springs + $80 for Rise of the Resistance). This comes out to an extra $256 for a family of 4, just to ride these 3 rides, in addition to your park tickets. It just feels like a huge money grab to me.
I will say that Genie+ is absolutely worth it if you want to ride a lot of rides, and to be strategic on the premium attractions. We ended up paying $80 to do Rise of the Resistance and it was probably the coolest ride I've ever experienced (and I know nothing about Star Wars lol).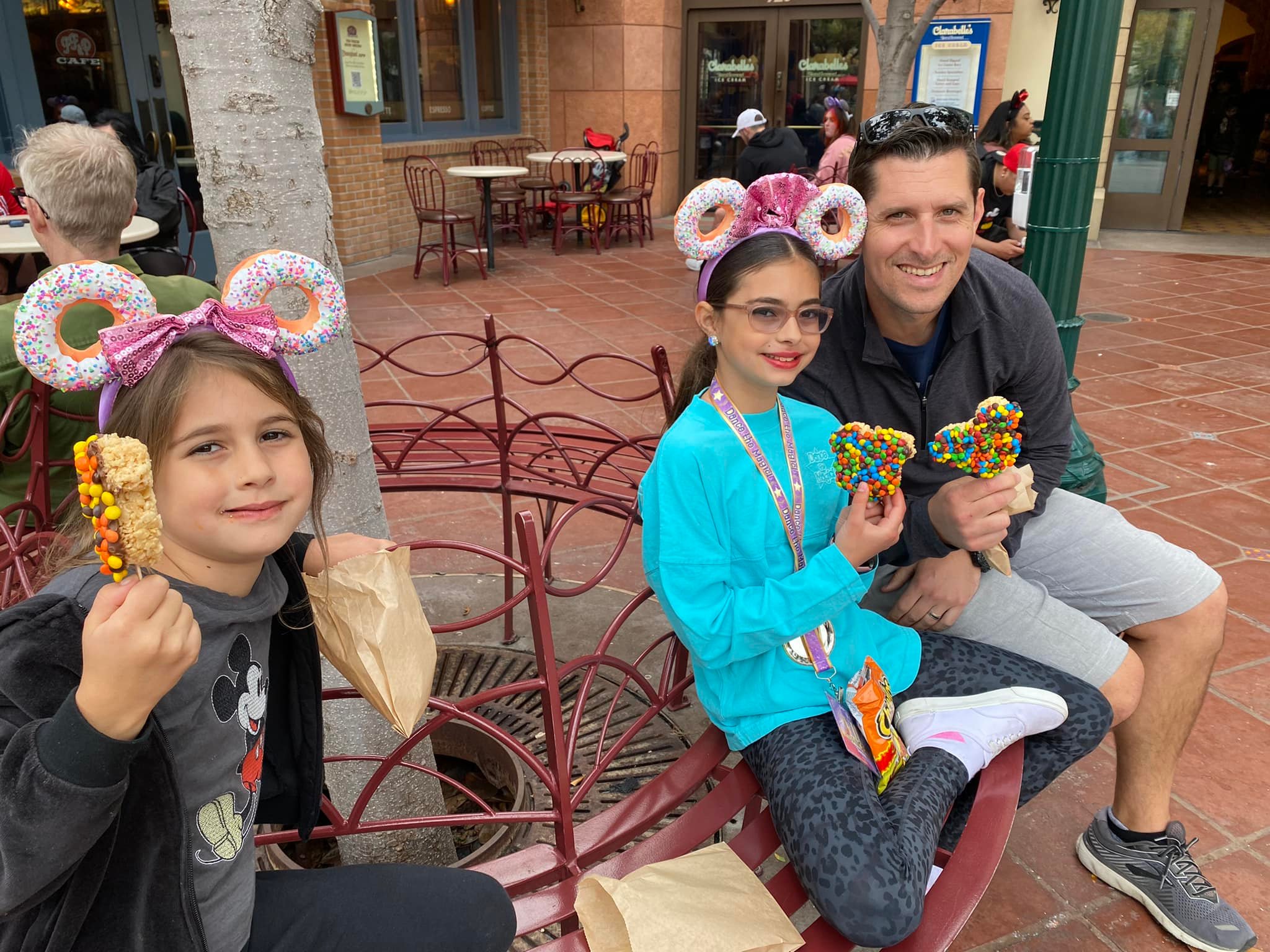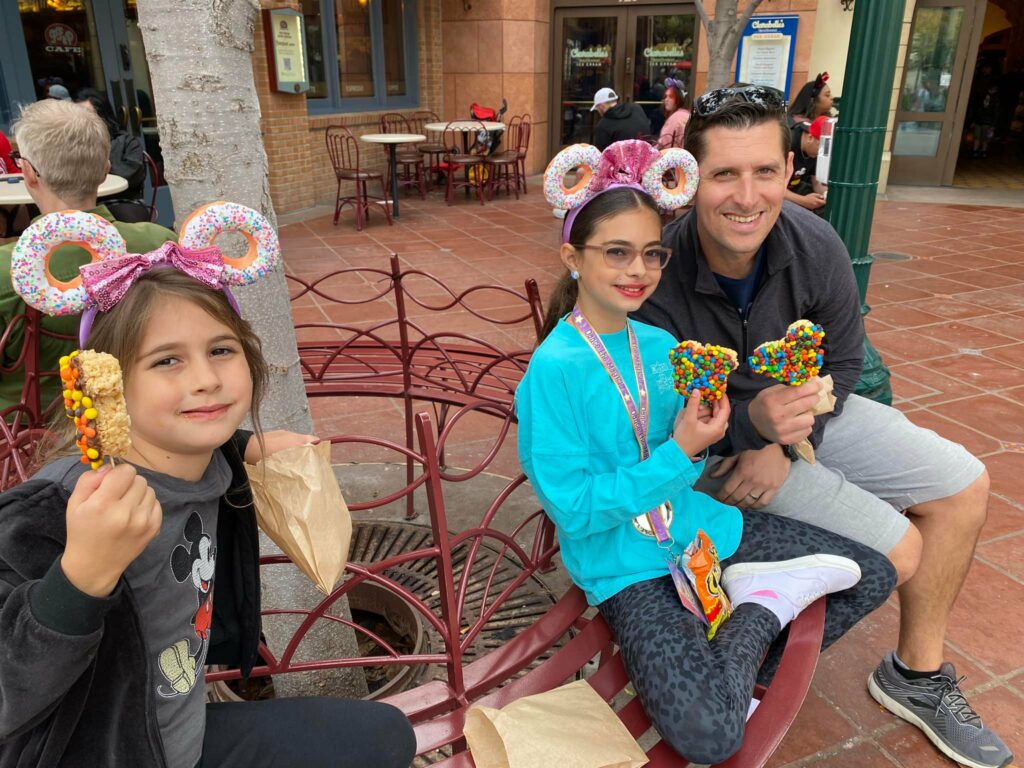 This trip genuinely felt like a vacation and it was such a blast to get away and enjoy the weekend. Spending time with our family is my favorite thing ever, and I'm looking forward to more adventures this summer. 🙂
So, tell me friends: any vacations on the radar for this spring/summer? What's your favorite place to visit with kids?? Also, fave Disney treat?!
xo
Gina