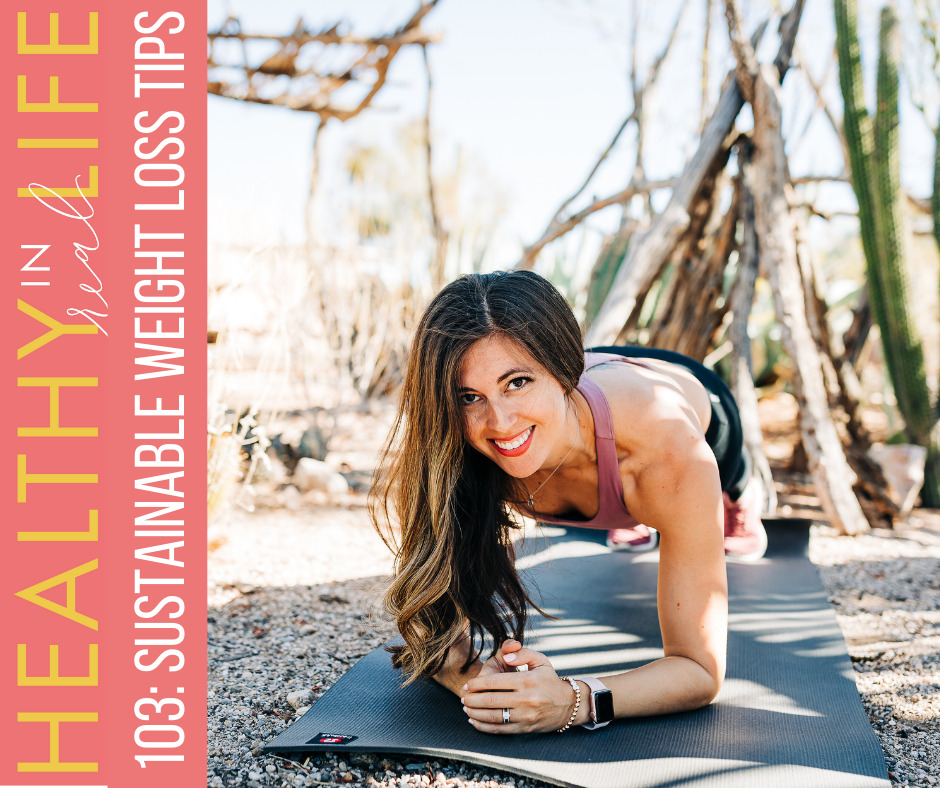 Hi friends! In today's podcast episode, I'm chatting all about sustainable weight loss tips. This is a common request I receive on Instagram and while I did a series of stories on this subject, I feel like it would be better to have it all in one spot in a podcast episode!
Disclaimer: due to today's topic, I don't recommend listening with kids in the car. They shouldn't worry about how much they weigh —  they should focus on playing with their friends and enjoy being a kid.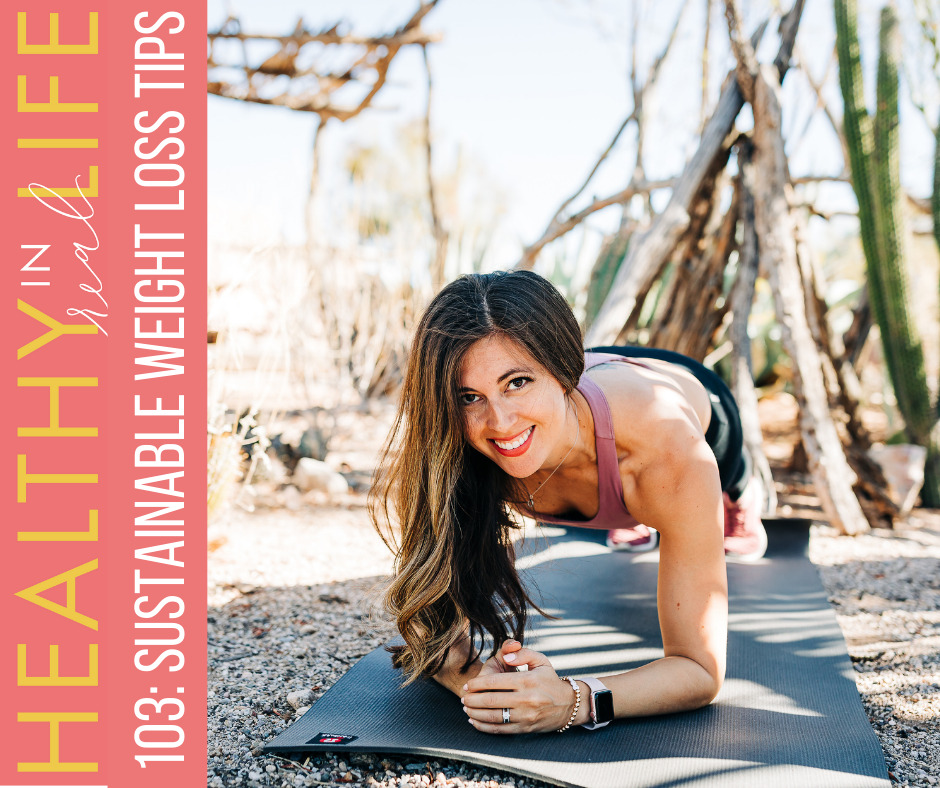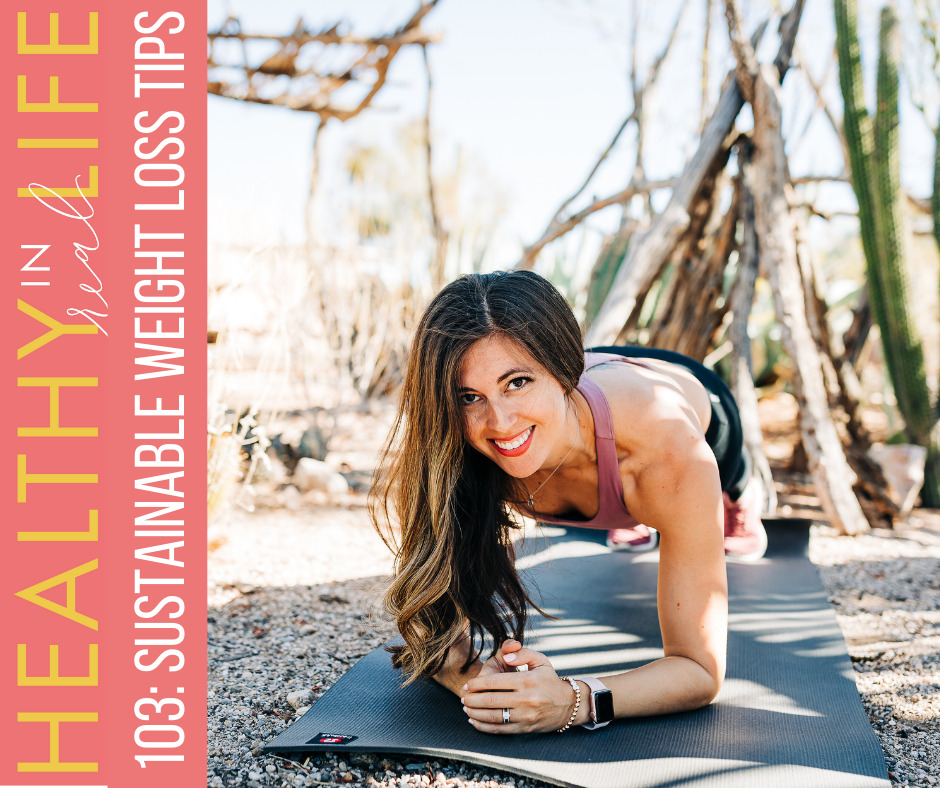 Something worth mentioning here: weight loss is not the holy grail of health. Do not tie your worth to how much gravitational pull your body has towards the earth. It is possible to be considered *overweight* and feel amazing, and also have beautiful blood work and be healthy and vibrant. It's also possible to be *underweight* struggling with health complications and feeling horrible. This episode is about finding a healthy weight for yourself, whatever that looks like, if that's one of your goals. In certain circumstances, weight loss can correlate with many health benefits, like improved energy, blood lipid profiles, insulin response, blood pressure, etc.
I'm a big believer in having goals that aren't focused on soley weight loss. Take pictures, notice how you *feel*, focus on all of the health foundations (nutrition, sleep, hydration, stress management, mindset, fitness), write down your strength or speed improvements, get your body composition checked (DEXA or hydrostatic), celebrate your wins along the way.
If your goal is weight loss, the key is to do this in a way that doesn't make your hormones angry and give you the opposite result (increased inflammation, plateaus and/or weight gain) and do it in a sustainable way you can maintain. You want a method that doesn't feel like you totally flipped your routine upside-down — to do this, build on habits over time.
103: Sustainable weight loss tips
Here are some of my tips:
– Assess your FULL routine (foundations of health, alcohol intake, stress, sleep)
– Add where you can and continue to build over time
– Give yourself patience and grace – look at failure as feedback
– Some of the things I think are the most important (protein intake to preserve muscle tissue, sleep, hydration, trying new recipes, move more)
– Only track servings/macros/calories if this is something you want to maintain
– Have a deep *why*
For all of the details, check out the full episode!! If you enjoyed this one, please take the time to leave a rating or review for the show – it means the world to me and helps me continue to book amazing guests!
Resources from this episode:
If you don't have the famous sauna blanket already, it's one of my favorite things ever and feels SO good. Check it out here and use the code FITNESSISTA75 for $75 off!
Join us for Fit Team! You can try it out here for just $7. I've extended the promo through tomorrow just so you can get May's workouts and be ready to go this weekend! If you are looking for a phased workout plan based on results, this is your chance.
I love love love the meals from Sakara Life! Use this link and the code XOGINAH for 20% off their meal delivery and clean boutique items. I'm enjoying a shipment this week and it.is.life.
Get 15% off Organifi with the code FITNESSISTA. The green juice and gold powder are my favorites! I recently fell in love with Harmony and drink it like a hot cocoa in warm almond milk or add it to my smoothie.
Thank you so much for listening and for all of your support with the podcast! Please be sure to subscribe, and leave a rating or review if you enjoyed this episode. If you leave a rating, head to this page and you'll get a little "thank you" gift from me to you.